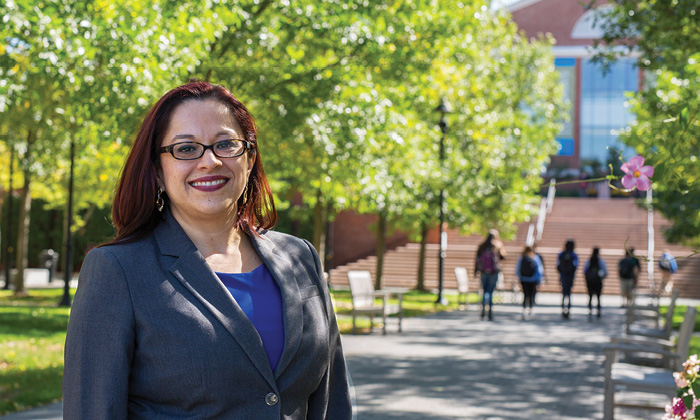 Recruiting Talent
Meet the new VP of Enrollment Management
What's your working definition of enrollment management?
It is about planning and balancing a complex mix of priorities. These include attracting the right students, who will persist, succeed and eventually become engaged alumni, while also meeting the institution's academic and financial goals.
What drew you to the field, after having studied biological sciences and information systems management?
Coming from a science and systems background, I was naturally attracted to the area of higher education administration that could benefit the most by data-driven study and innovation. Admissions and enrollment also allows me to make a difference in how an institution provides access to education.
What do you consider must-haves for success in enrollment management?
It certainly helps to start with an institution with great outcomes such as Bentley. However, regardless of the institution, for me success has required patience, stamina, and an ability to see the big picture. Another must is having the right team in place and being able to attract and retain talented staff.
Have you seen the field evolve over time? 
Absolutely. Technology gives prospective students access to more information without ever having to visit campus or speak to an admissions counselor. Over the last 10 years, paper applications have practically disappeared and most students apply to between eight and 10 institutions. An increased awareness of the impact of loan debt after graduation has also changed the competitive landscape. 
Does your background inform how you think about college rankings by U.S. News and others?
It does from a data analysis perspective. At my last institution, I looked at how competitors had performed in the factors that go into a particular ranking over a number of years. This helped me get a sense of competitor investments as they relate to the rankings and how we compared.
Are there ways you part company with traditional thinking about EM?
Since I am always looking for opportunities to innovate, I'm willing to use tools and lessons from outside higher education perhaps more readily than the traditional enrollment manager. This doesn't mean chasing every shiny object — but finding ways to test new ideas with potential to improve our ability to attract and enroll the students we seek.
Have you seen college admissions from other vantage points, say, as a parent?
My oldest child is in middle school, so not quite yet. However, I am advising my nephew and, this summer, I joined him and his mother on various campus tours. I already understood how overwhelming the college search can be for families, but this drove home how time intensive the process is and how much information there is to sort through. So anything we can do to make a campus visit more welcoming and information easily digestible can help Bentley make a good impression.
What is your advice for those immersed in a college search?
To me, the most important part is finding a school that is the right fit, where your student can succeed academically and take advantage of the best opportunities the school has to offer. This means something different for each family and student, depending on their interests, background and financial considerations. The college search process can be stressful, but keeping in mind what is important to the student and being flexible with options will help them zero in on the right schools.    
Does EM strike you as an art or a science?
Relationships (art) and data (science) are both are crucial to a successful operation. Having an admissions and financial aid team that has strong relationships with students, parents and guidance counselors is just as important as having the best market data and enrollment models. I think this is why enrollment managers can come from a variety of career backgrounds; the role does not tend to fit a mold.
Do other people and departments have a role in EM?
It takes a village. EM is a cyclical loop and the better the output, the better positioned we are to recruit the next class. Staff and faculty are a key part of the student experience but also involved in many levels of interaction with potential applicants. The same goes for alumni. They are ambassadors that can spread the Bentley story at a more personal level than any marketing publication we could produce.
What were some items on your immediate to-do list?
During my first 60 days, I focused on getting to know my team while assessing the health of a variety of enrollment indicators. Since graduate admission was recently moved back under this role, I have also focused time on the graduate side.
Do you stay connected to the experience of current students? 
Yes. I look for opportunities to talk with students, to get their stories of why they chose Bentley and how we've met those expectations. I like to have some solid examples of what we are doing, beyond what we may be able to get out of a report or a survey.
Any initial impressions of the students who apply to Bentley?
Driven. Well-rounded. Caring.
What else should we know about you?
My sister [Marianella (Avendano) Grieco] is a Bentley graduate and thus I feel personally connected to the university. I am lucky to have inherited a fantastic team and I look forward to all that we will accomplish.