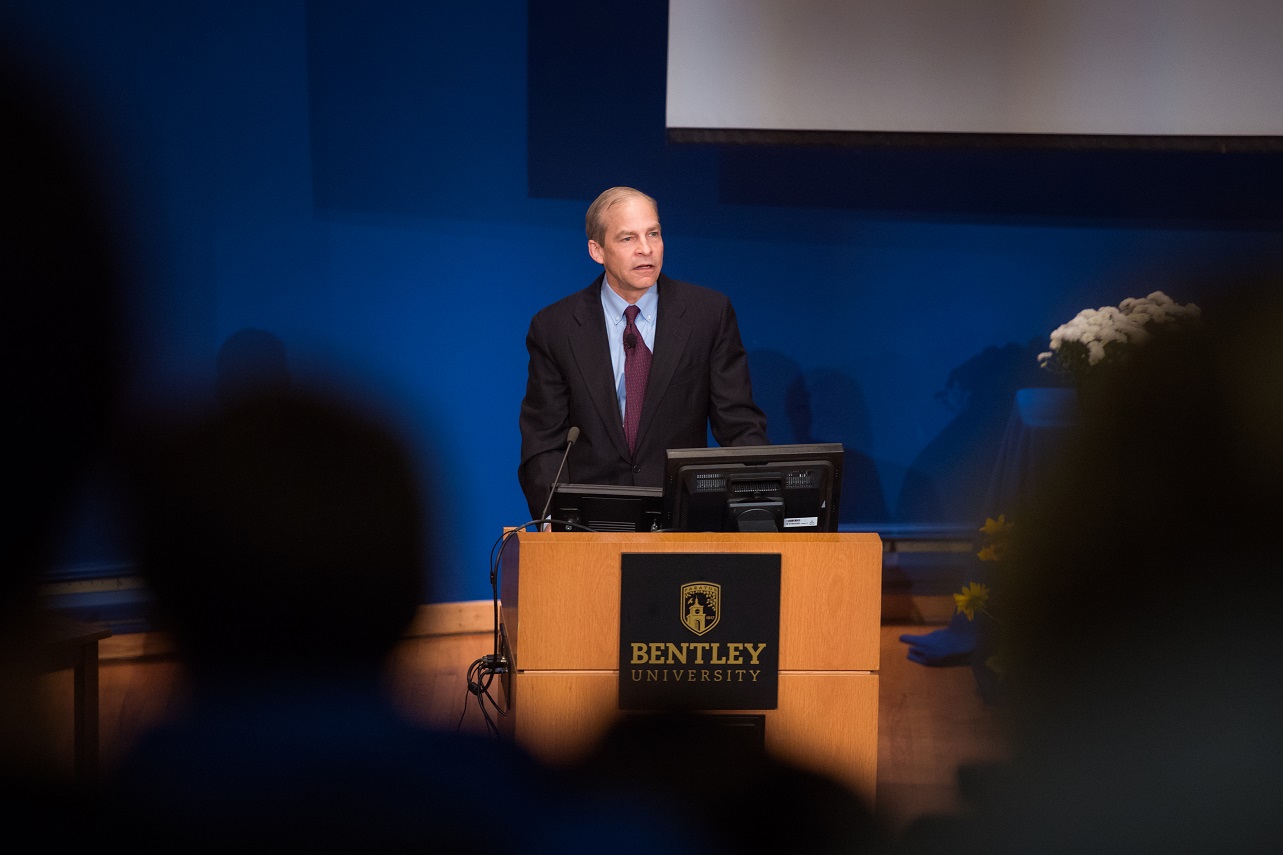 SC Johnson CEO H. Fisk Johnson speaks at Bentley University
SC Johnson's CEO Shares Three Ways to Earn Consumer Trust
When nearly half of the American population does not trust businesses to act ethically, that's a crisis, said H. Fisk Johnson, chairman and CEO of SC Johnson. During a lecture sponsored by Raytheon and hosted by the Center for Business Ethics at Bentley University, Johnson shared tips with students on how they can practice earning trust and goodwill in their future careers and how to spot an ethical company when choosing a future employer. 
Johnson told students there are certain areas of goodwill at the forefront of SC Johnson's everyday decisions, and abiding by these practices can help employees and executives define the success of any company. Although profits are important, Johnson says, "Profits are a means of achieving success and are not success itself."
Make safety the number one priority
When it comes to consumers and stakeholders, safety should be the top priority. By maintaining an environmentally conscious profile, SC Johnson is able to protect employees, consumers and communities surrounding operating facilities. Although decisions can sometimes create backlash from the industry, it is important to put the safety of the consumer first even if it presents new challenges, creates media vulnerability, or comes a significant cost or competitive disadvantage. Industry leaders and students entering corporate careers must think carefully about when, where and how to make decisions involving unclear environmental concerns.
Transparency is crucial
When consumers are armed with all the information necessary to make a selection and they thoughtfully choose to purchase your product, that's how loyalty is created. SC Johnson believes that by supporting consumer choice in this way, it has benefited their brand as a whole. For example, SC Johnson is particular about disclosing the ingredients present in all of their products. They were the first company to disclose all fragrances, down to component level, and provide ingredient lists for all products regardless of the fact that household product ingredient disclosure is not required in the U.S.
Communicate honestly and authentically
Students entering the business world must learn to communicate transparently and honestly with stakeholders. Products often make vague marketing claims, about how "green" or "natural" their product is because it is an effective selling tactic. Johnson said, "95% of green washing products are sold with misleading claims of greenwashing… everything is natural, even chemicals, and 'nontoxic' is too vague. Everything is toxic with sufficient exposure and, conversely, everything is safe if you are exposed to a small enough amount." Providing consumers with all of the information they need to make a safe choice is an important part of ethical excellence.
Earning consumer trust in a highly competitive market is not straightforward or easy, but it should always be priority if you want to succeed. Johnson asked students to think about their own future and if they will measure success "in terms of material and wealth [they] will accumulate, or in the amount of goodwill [they] brought to the world." Johnson encouraged students to make a positive impact. "Do the small things, and do the important things that can make a difference."