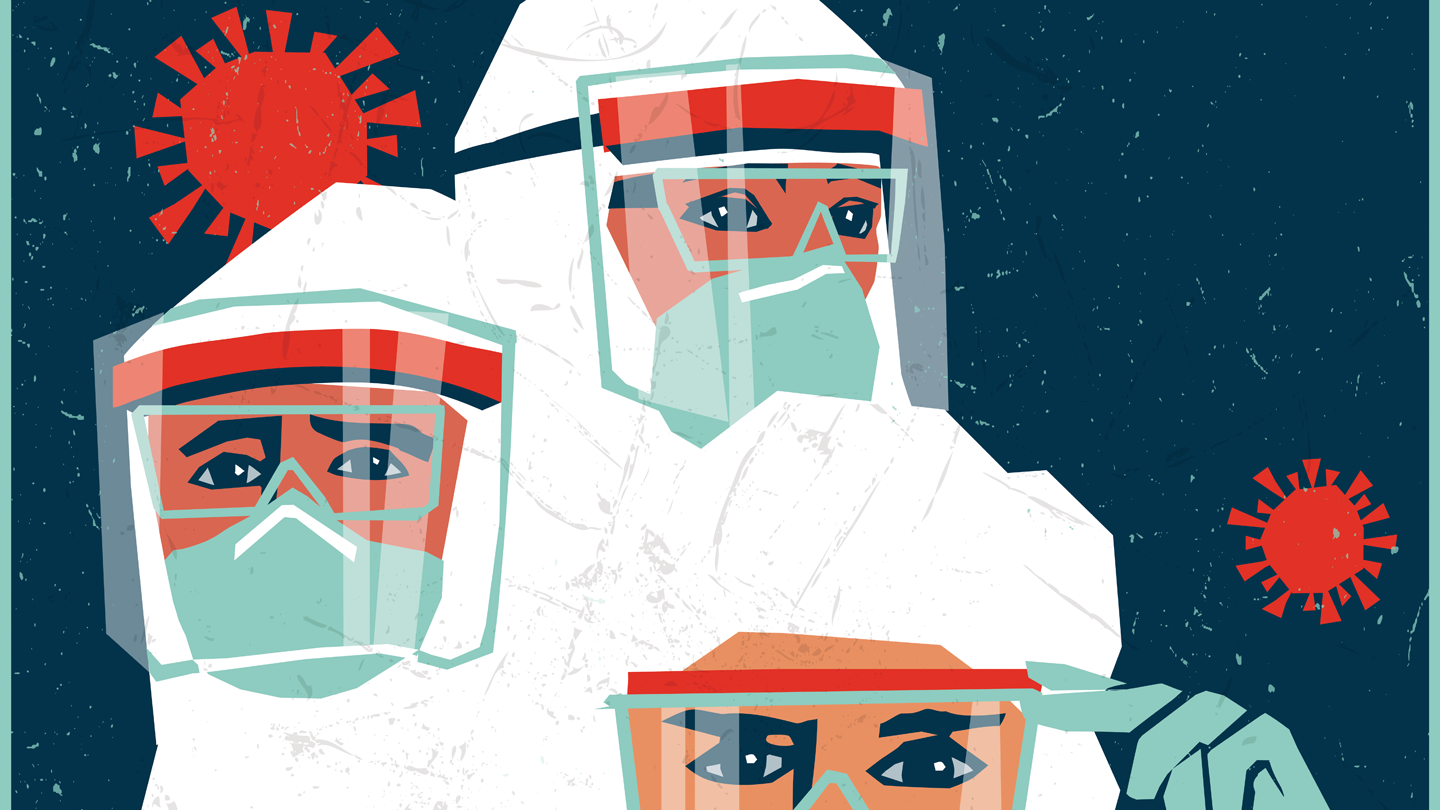 Shielding the Front Line
Daryl Flynn '93 is making Navy-grade protection for frontline workers
Unlike other alumni who are running into production roadblocks due to a lack of materials amid the pandemic, Daryl Flynn '93, co-president of Plastic Design, Inc. is lacking people. Namely, workers at his custom plastic fabrications company in Chelmsford, Mass. When we spoke, Flynn was overseeing a limited staff of 13 — far lower than the usual 40 on the factory floor. 
"It's fear," he says. Pick a crisis: fear of the virus, fear of spreading the virus. "You can't manage fear," he adds. "That's something they really don't teach you." However, Flynn himself isn't afraid. "I'm a realist," he explains. "I look at the numbers. I wash my hands. It's contagious, but I'll take my chances."
Because what's on the line are nine-inch face shields — thousands of them. A plastic line of defense far surpassing any cloth mask an essential worker can find on Etsy.  
Flynn's parents bought Plastic Design, Inc. in the mid-'80s. At 19, Flynn started working at the company, and joined up full-time after graduating from Bentley in 1993, as did his brother Kurt '95, two years later. Since then, the duo has kept the family business in stride with the times, evolving from custom display cabinets to biomedical products and even casino tables. If you're playing roulette at Foxwoods, chances are you're sitting at a table made by the Flynn brothers.
When COVID-19 struck, Flynn answered the call of a friend: an anesthesiologist looking for safety glasses. "I had some extra material lying around, so I asked him if I could make a face shield instead," Flynn says. He went into work the next day and mocked up a design using existing materials from a project he had done for the U.S. Navy — plastic shields used to encase wires on the ships. "He said it was great." 
I was always brought up to help people, so it was easy to just say, 'OK, we have the ability here. We have the supplemental materials. Let's contribute.'
Co-president, Plastic Design, Inc.
Flynn spoke to another friend in the medical field; she sent a picture of what they were using at her hospital. Again, Flynn drew up a design. The final product was a reusable polycarbonate face shield with a forehead pad and a huge bonus: the entire piece can be bleached. Flynn did that testing himself. 
"I literally left it in a bucket for 72 hours," he says. "No ill effects. Most of the PPE [personal protective equipment] people are making right now is single use. I wanted to make something and I wanted it to last."  
Flynn donated the first 1,000 shields to hospitals, caregivers, nonprofits and others on the front lines. "One woman just ordered 300 to donate," he says. "I was always brought up to help people, so it was easy to just say, 'OK, we have the ability here. We have the supplemental materials. Let's contribute.'" Working with other local manufacturers, he's also behind a new website that makes it easier for medical personnel to order his shields and other products that aren't single use — but, rather, investments they'll be making for the long haul of the virus. 
In the meantime, Flynn's prepared to ramp up production when the orders arrive, and his workers are back.
Meet more alumni giving back in the time of the coronavirus.