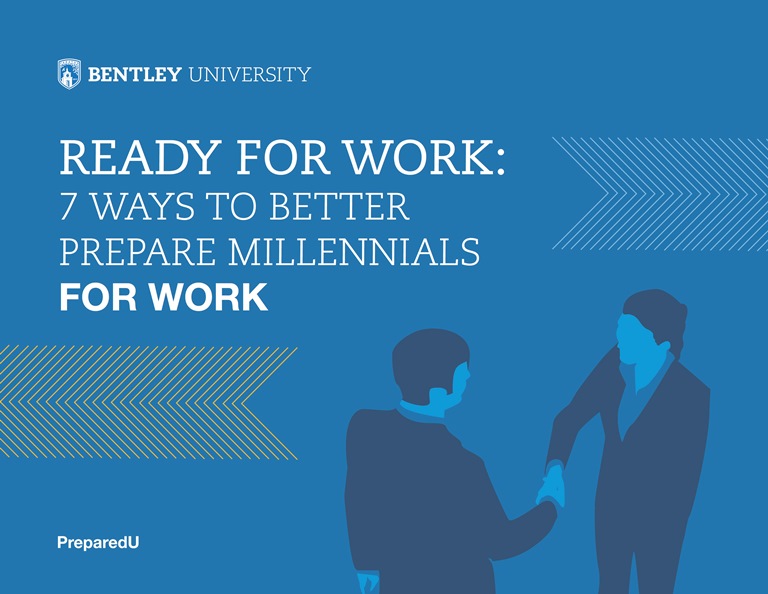 The U.S. unemployment rate for people aged 20 to 24 is nearly twice that of those aged 25 to 34, according to the Bureau of Labor Statistics. So how can we better prepare millennials for work and help them find jobs?
We asked leaders in higher education and business to identify skills that recent graduates are missing and propose specific ways to fill those gaps. The outcome of those ongoing conversations, supported by survey research conducted by Bentley and KRC Research, is Bentley's "Ready for Work: 7 Ways to Better Prepare Millennials for the Workplace."
The seven solutions in the report include:
Colleges must blend classroom teaching and hands-on learning
Students in all majors should be required to take at least one business class
Career services should begin freshman year
Internships should be mandatory for all students regardless of major
Business professionals should lecture in the classroom
All students, including business majors, should be required to take liberal arts courses
Businesses should work closely with colleges to shape their career service offerings and inform the curriculum
"Colleges and universities are only as successful as their graduates," said Gloria Larson, president of Bentley University. "To meet the demands of the next-generation workforce, higher education and businesses both need to step up and work together to prepare our students for workplace success and make our economy as vibrant and robust as it can be."
Ebook
For more detail, see the Bentley "Ready for Work: 7 Ways to Better Prepare Millennials for the Workplace" ebook below:
Bloomberg Radio Broadcast
As part of a segment during Bloomberg Radio's "Taking Stock" program, 
Bentley and Bloomberg Radio broadcasted a segment in an ongoing series during Bloomberg's "Taking Stock" program, exploring the ways that businesses and higher education are helping millennials prepare for work. Listen to the interviews: 
Read more about the broadcast.  
The PreparedU Project
Learn more about the PreparedU Project research, findings and recommendations: