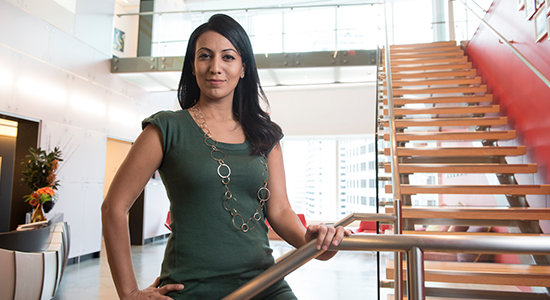 Solving the Experience Design Puzzle
For Neeta Goplani, experience design is a puzzle combining creativity and business.
"In today's world, having business acumen along with design and creative chops makes you a force," the vice president/director of experience design at DigitasLbi says. "You can't solve a design problem without understanding the business implications at stake."
Goplani credits Bentley's master's program in Human Factors in Information Design with giving her the well-rounded skill set to succeed. Bentley's integrated curriculum, state-of-the-art learning labs, and world-class faculty put her in a position to become a leader in her field.
"My experiences at Bentley taught me a valuable lesson," she says. "From Bill Gribbons's class on Human Factors that really built my strong foundation in this discipline, to Chauncey Wilson's prototyping class that gave me the tools to get started in this position. And the Experience Design lab at Bentley was instrumental in my career. It gave me client-management, project-management and research skills that have helped me immensely."
As she did with her Bentley professors, Goplani says making strong connections with mentors — whether in school or on the job — is crucial for young professionals in such an emerging field.
"Look for mentors in this field to help you understand what you are really interested in and the type of jobs out there," she explains. "Experience design has a lot of facets and while an overall understanding of the discipline is very important, certain jobs focus on some aspects over others. Some might lean toward user research, some toward visual design, IA, or content strategy. Working with a mentor will help you identify your strengths and help you find a job that fits your interests and skills."
The close-knit nature of Bentley's graduate programs, where classmates are colleagues, not competition, was key in helping Goplani hit the ground running in a leadership position where she is responsible for managing a team of experience designers from project conception through execution and presentation to the client.
"I feel the team working environment that Bentley cultivates has been really helpful in being successful in this highly collaborative environment that most workplaces require," says Goplani. "One of my favorite classes was Negotiating and my favorite memory is of the group negotiations that kept the team up until 5:00 a.m.! We were really tired but the final result was so gratifying that it was totally worth it. And yes, the skills that class teaches you will help you a lot in your career."
Putting that sometimes complicated experience design puzzle can be a challenge, but it's one that Goplani loves.
"I get to solve puzzles, work with really smart people and have loads of fun doing it," she says. "There is definitely more than one thing I love about this job!"