Speaking in Harmony
Students teach English to Afghans as a way to bring peace to their war-torn country
Above: Mary Sullivan ˊ22 with one of the Afghan students she tutors over Skype. Photo by Kevin Maguire.
An online English tutoring program by Bentley students for students living in Afghanistan is more than a language lesson; it is an effort to bring peace to a country at war. 
"The Internet made it possible to bring together people from all over the globe to help people facing stressful situations due to a war," says Robert E. McNulty, director of programs for Bentley's Hoffman Center for Business Ethics, who launched the program known as Pax Populi in 2009 on his first trip to Afghanistan. "Rather than relying on the United Nations, the government, diplomats or even non-governmental organizations, I wanted to create an organization that would put the tools of peace-building in the hands of ordinary people."
According to McNulty, learning English opens economic opportunities for Afghans by enabling them to participate in the global economy. "If you are poor and don't have a voice, you are very susceptible to extremism. If you have a good job, you want to preserve that, perhaps by buying a home and raising a family. That is where education can be very helpful."
Pax Populi – which in Latin means "the People's Peace"—has been working with Bentley's Service-Learning and Civic Engagement Center since 2010 when the first group of Bentley students began to work as tutors with Afghan students. The Bentley students use Skype video conferencing to connect with the Afghans, who range in age from 14 to their early 20s, though the youngest was 10 years old.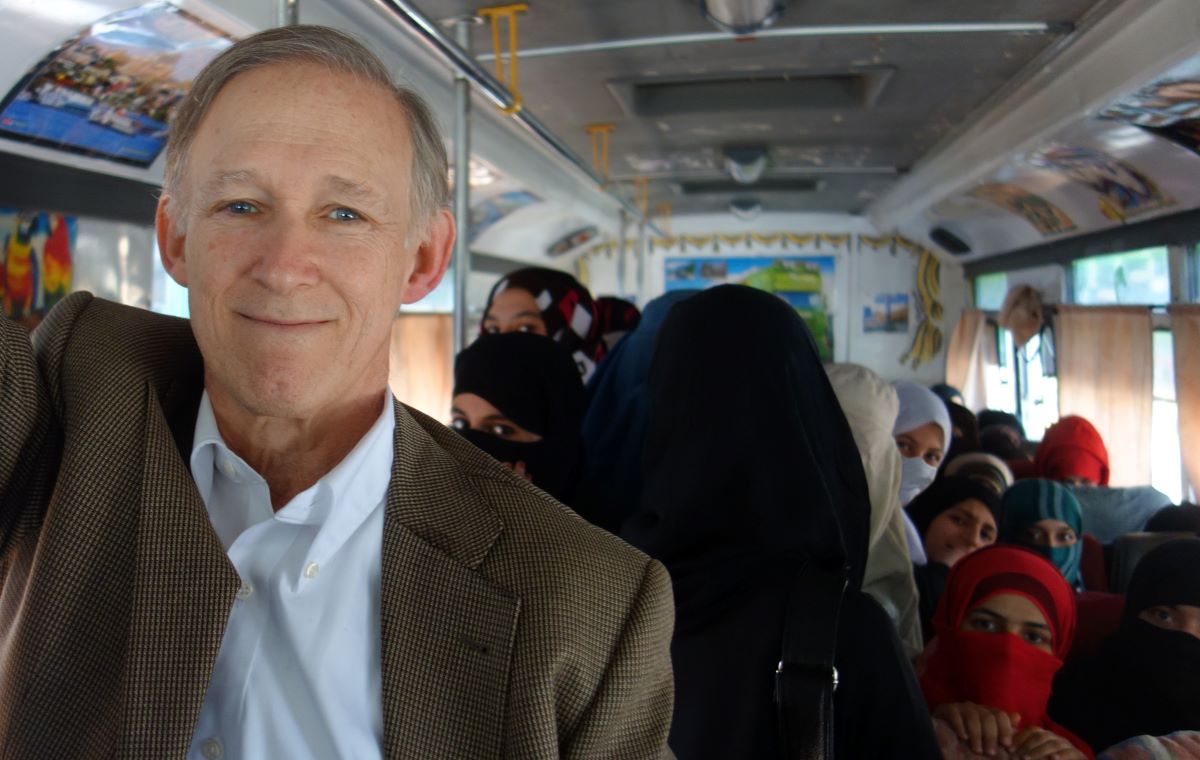 Jacob Kalish ˊ20 joined the program as a tutor during his first semester. "Before we would start the lesson, my student and I would catch up on what had been going on in our lives for the past week," Kalish recalls. "He spoke English fairly well but wanted to improve his writing and grammar. It didn't take long for me to realize that he is one of the most motivated people I know, and throughout every lesson he would essentially beg me to give him more homework so he could keep practicing and continue to improve."
Public Policy major Mary Sullivan ˊ22 had a similar experience tutoring a 17-year-old Afghan student. "My favorite part about Pax Populi is how enthusiastic and engaged my student is during our lessons," Sullivan says. "In addition to completing our curriculum, we also work on his applications to universities in the United States. It's so rewarding for me to see his dedication to his education."
For both the Bentley and Afghan students, online tutoring sessions are often the first time that each is exposed to the other's culture. McNulty says the experience lends itself to the human understanding that is so critical to peace. "When people see each other as humans with the same aspirations, love and fears by which we define ourselves and our own existence, it opens up the door for compassion rather than violence." And he's right.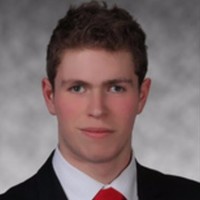 "I was expecting to meet a student with whom I had little in common and for our differences to overshadow our student-tutor relationship, but I could not have been more wrong," Kalish says. "After breaking down the surface-level barriers, we are all just people made of the same stuff. I learned at least as much from my student as he did from me."
Haroon Ehsan, an Afghan student who was 15 years old when he enrolled in the Pax Populi program in 2015, says the intercultural exchange was a way to break stereotypes. "Our discussions helped me to open my mind to new ideas, cultures and beliefs. Every Skype session would leave me wanting more discussion because I could feel myself transforming into a more informed and intelligent person in just an hour-long session."
Sullivan says she came to appreciate the differences between the lives of Afghan and American students. "As a student at Bentley, it is easy to forget what a blessing the ability to pursue higher education is. Working with my student has really made me appreciate the wonderful opportunities Bentley has provided me. In the short time I have been participating in Pax Populi, I have grown so much more grateful for all that I have."
Ehsan's knowledge of English — thanks in part to his Pax Populi training — helped him secure full university scholarships. Today, he is studying International and Comparative Politics at the American University of Central Asia in Kyrgyzstan and is on exchange at the Philipps University of Marburg in Germany. In addition to his studies, he is involved with the C5+1 Youth Council, which brings together young people from the five Central Asian countries to develop projects related to security, climate change and renewable energy.
Learn about Yourself by Giving Back
This kind of success has a big influence on the Bentley tutors. "Seeing the impact of my teaching on my student was the first time in my life where I felt that I made a real difference in someone else's life," Kalish says, "and that's a powerful feeling." 
So powerful, that Kalish, who is pursuing a dual bachelor and master's degree in Finance at Bentley, is now a Pax Populi program coordinator, training 10 to 20 Bentley tutors each semester.  
"My perspective has definitely changed since joining Pax Populi," Kalish says. "I am more committed to promoting fairness and fighting inequality, and as I look at companies where I might work after graduation, I will consider what they're doing to promote these values and how I can contribute."
Sullivan's work as an online tutor has opened opportunities. "Since I first became involved in Pax Populi in an information technology course, I have realized how passionate I am about social justice. This realization has led me to train to become a service learning project manager for Pax Populi."
For Ehsan, the experience working with his Bentley tutor — learning English over Skype and talking about their lives — inspired him to choose a different future. "I began setting bigger goals for myself. I never thought I would continue my educational journey after high school because I had to help my family and find a job. But seeing another accomplished individual inspired me to continue my academic journey until I complete graduate school, despite social expectations to marry and settle down."
The program also helps inspire peace and understanding. "I learned that there are people who genuinely care about my country and want to help us despite my people's terrible experiences with exploitation by outsiders," Ehsan adds. "It gave me hope, and I learned about understanding, tolerance and love." 
Seeing the impact of my teaching on my student was the first time in my life where I felt that I made a real difference in someone else's life.