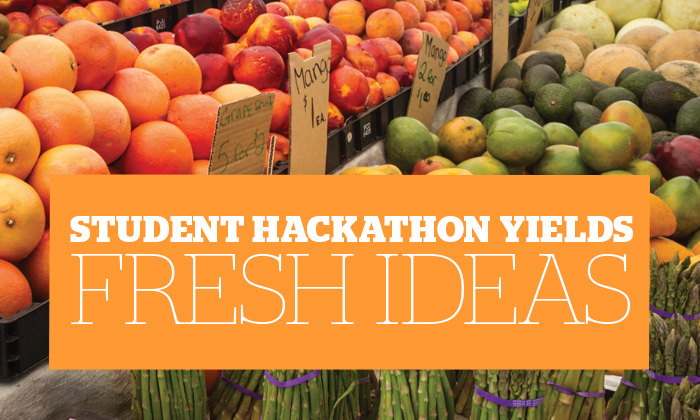 Student Hackathon Yields Fresh Ideas
Access to fresh, healthy food is a missing ingredient in many low-income communities. The problem inspired Bentley graduate students to fire up their business and technology skills, in partnership with mobile food organization Fresh Truck.
The nonprofit operates a retrofitted school bus that brings fresh produce to underserved neighborhoods. Student teams gathered on campus for a two-day "hackathon" to brainstorm strategies for making Fresh Truck more efficient, accessible and enjoyable for shoppers.
"Because teams had members from various Bentley graduate programs, they were able to combine their different skills and strengths to come up with really creative ideas," says event organizer Rivka Barrett, a candidate for the master's degree in Human Factors in Information Design (HFID).
Among the recommendations: Make the bus layout more efficient, add nutrition information and recipes to coupons, use data to create customer profiles, and offer pre-packaged grab-and-go bags for sale outside the bus.
"Hackathons are a great way to leverage students' ideas to help solve real community problems," says Bill Gribbons, director of the HFID program.
Josh Trautwein, Fresh Truck's co-founder, welcomed the students' suggestions and noted plans to keep all ideas on the table, as the organization moves to add a second bus in the coming year.