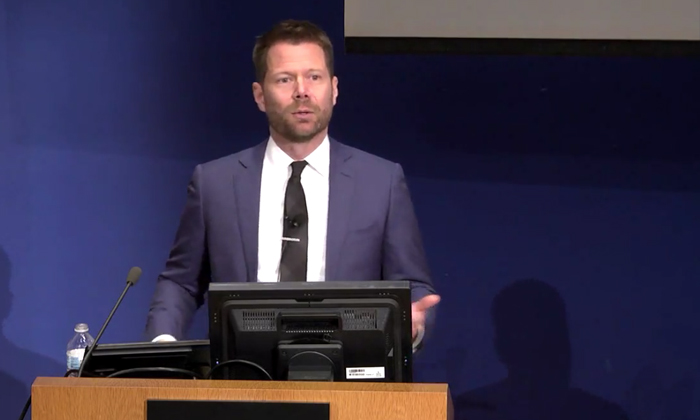 Paul Marvin, CEO of Marvin Windows and Doors, talked about leading with purpose and leading with value.
For This Successful Business, Family Matters
"What comes to mind when you hear the word 'family'?", asked founding executive director of the Bentley University Center for Business Ethics Dr. Mike Hoffman during a recent Raytheon Lecture on Business Ethics. For Paul Marvin, president & CEO of The Marvin Companies, this word "family" is followed by "business".
The fourth-generation family member and current leader of the family-owned, premier manufacturer Marvin Windows and Doors shared with students, faculty, and guests the importance of living one's purpose and values to ensure long-term viability and success in both life and business.
In a narrative encompassing 105 years of business success, the CEO of Marvin Windows and Doors attributed their strength "not what we do, but why we do it and the way we go about doing," said the CEO. "We truly believe that we have a higher purpose at The Marvin Companies and it's not making money or shareholder returns," he shared, "We view profits as just a means to an end of leading with purpose and leading with value."
When the housing market fell in 2008 and their industry was in a full blown depression, not a single one of the 4,000 employees at The Marvin Companies lost their jobs, a decision that earned the business repeated recognition in presidential addresses as a quintessential American company. This, and a number of lessons learned from previous generations of owners taught Paul Marvin the importance of using the values and purpose of the company as the North Star and guiding light to bond the customers, employees, and communities with whom they interact.
Good jobs for good people
Grandpa George Marvin established the Marvin Lumber & Cedar Company in 1912. To Grandpa George, the community in the small town of Warroad, Minnesota, that has yet to break 1,700 citizens, was incredibly important. He wanted to ensure that there were jobs for the hard working people he was surrounded by, and not just any jobs - good jobs. His focus on selling quality products and servicing the customer made his business a standout in the industry, setting the stage to become the middle- to high-end market leader for decades and his commitment to doing the right thing set the ethical standard for future generations of family and owners. Grandpa George inspired the vision statement, "To enrich the spaces and places where we live and work," that has led the family business to international success and recognition as a great American company.
Hands-on family learning
In the Marvin family business, by the age of 33 family members must work full-time in the business if they want to be an owner. Those who chose not to work fulltime are required to sell 100% of their ownership because the company is reliant on employee commitment. Commitment to the company also means commitment to making choices that serve the customers, employees, and community. Those choices and being successful are not mutually exclusive, either.  "Companies who do the right thing are rewarded over and over again," said Marvin, "Sticking to values and purpose doesn't just feel good, but it is a really sound business strategy."
The crowd at Bentley left with an important note in mind from president and CEO Paul Marvin - that "doing the right thing and the ethical thing creates a beautiful and compelling recipe for long-term success and viability."
About Bentley University
Bentley University is one of the nation's leading business schools, dedicated to preparing a new kind of business leader with the technical skills, global perspective and ethical standards required to make a difference in an ever-changing world. Bentley's diverse arts and sciences program combined with an advanced business curriculum prepares graduates to make an impact in their chosen fields. The university enrolls approximately 4,000 undergraduate and 1,000 graduate students. For more information, visit www.bentley.edu.