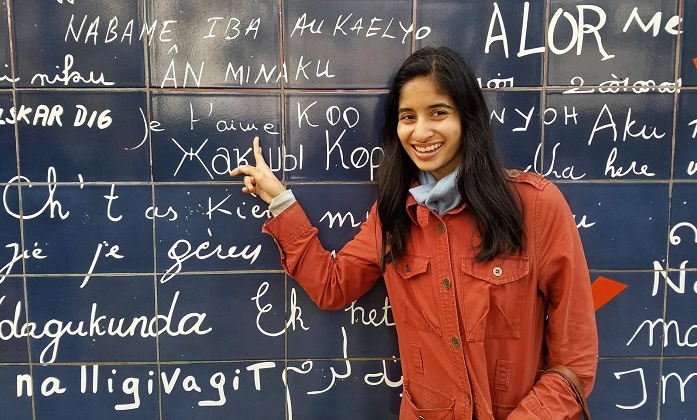 Neha Singh '15 in Paris at the famous "Le Mur des je t'aime" wall, which says "I love you" in 250 languages.
For Neha Singh '15, Junior Year in London Led to a Fulbright Scholarship in Paris
When Neha Singh ˊ15 arrived at Bentley, she knew she wanted to study in Europe. So when the opportunity arose to study abroad at the London School of Economics, known as "LSE," the Economics major jumped at the chance.
"London was a really humbling experience," she recalls of her junior year at LSE. "I learned so much not only about other countries but also about how people outside of the United States view Americans. Learning about all of these different perspectives was mind-opening."
Singh studied abroad for two semesters, which is not typical at most schools, according to Natalie Schlegel, director of international education at Bentley. Many Bentley students study abroad for a semester or more, bucking a national trend toward short-term programs, often of two weeks or less. Though Schlegel believes any amount of time spent abroad is impactful, long-term experiences allow students to immerse in the culture and "live like a local."
Bentley students who study abroad for longer periods report an increase in independence, self-reliance and flexibility. "They have a feeling that they can tackle anything after successfully living in a new country and culture," says Schlegel. "That's so translatable to the working world because companies need employees who can jump into projects without having all the rules written out."
See a Gallery of Photos by Bentley Students Who Studied Abroad
Singh did that in London, living alongside peers from England and other countries who were attending LSE while also getting out to explore the city. One of the biggest takeaways, she says, was learning how people's experiences inform who they are and how they think about the world.
She also fell in love with city life. So much so that after graduating from Bentley in 2015, the Vermont native moved to New York City to work as a consultant at EY. But Singh soon realized she wanted to explore the intersection of the private and public sectors, given her business acumen and long-time passion for volunteering.
With seven years of French language study in her background, she applied for and was awarded a Fulbright teaching assistant fellowship in France in 2017. She became a U.S. cultural ambassador at the Lycée Edmond Rostand, a public high school outside Paris, where she taught U.S. politics, history and literature. While there, she also conducted research on how refugees in France use entrepreneurship as a route to integration, including interviews with refugees in Paris to learn their stories. She presented her findings at a global entrepreneurship conference in Morocco.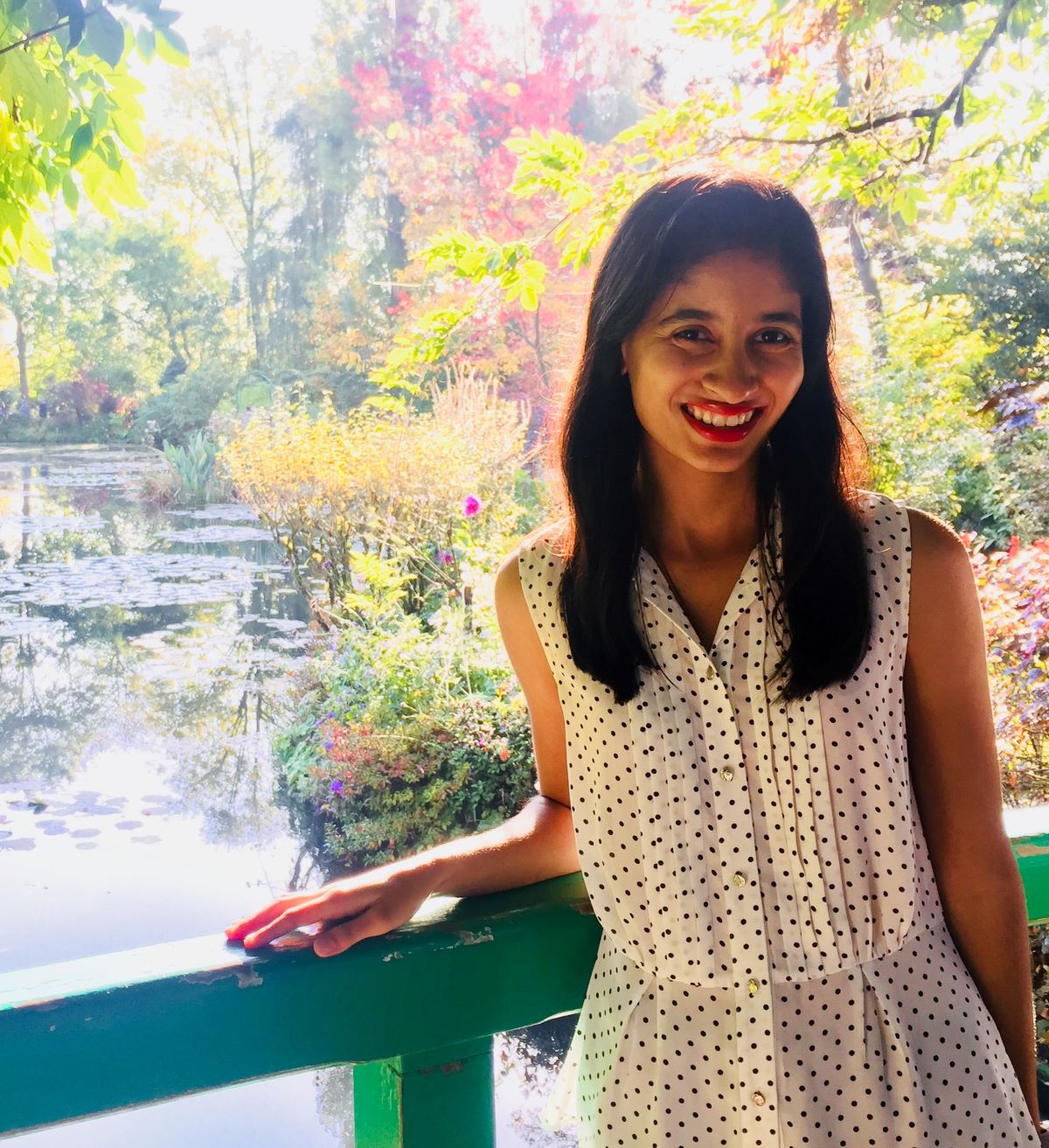 "Completing the research helped me learn how to think outside of the business box," says Singh [pictured at the home of painter Claude Monet]. Being a researcher and a teaching assistant, Singh says she got the chance to "live as a Parisienne," though she never got used to walking past the Eiffel Tower and Notre-Dame Cathedral. "I got goosebumps every time."
Learn More About Study Abroad at Bentley
Today, Singh works as a strategy analyst at the nonprofit Girl Scouts of the United States of America, where she is implementing a digital payment pilot program at eight of the organization's 112 councils. Her goal is to scale it nationwide by 2020.
The potential boost in sales would provide more money for programs for Girl Scouts across the U.S. "The Girl Scout Cookie Program is an opportunity for girls to develop key skills including money management, goal setting and public speaking as they get their first taste of entrepreneurship by running their own cookie business," Singh says. "The goal is to teach them to become leaders in whichever fields they choose and have a positive impact on their community."
She reflects back on her own transformative experiences kicked off by her Bentley study abroad and offers simple advice for students considering the same. "I know a lot of people who regretted not studying abroad but not a single person who regretted studying abroad," she says. "Just do it."