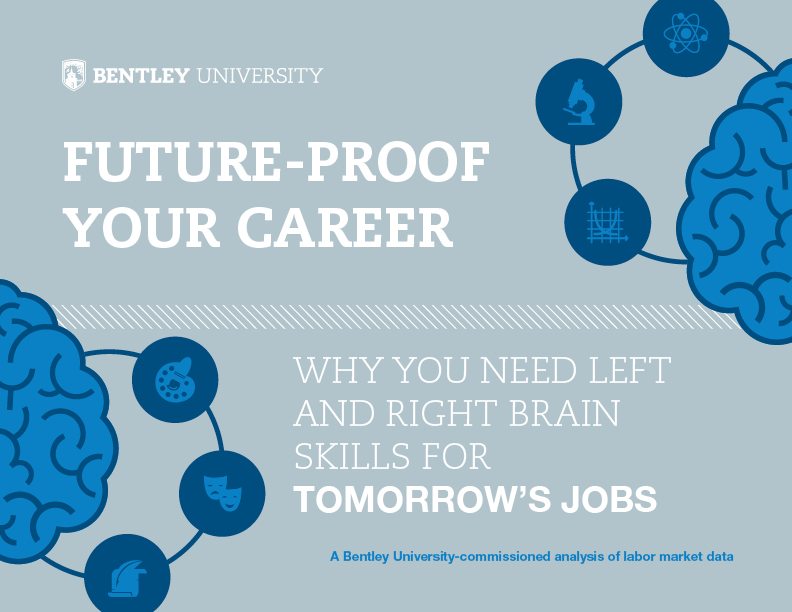 In today's job market, the IT professional must also be a sales representative and the HR manager is now expected to deftly navigate the world of social media. New labor market analysis commissioned by Bentley University has found job descriptions are expanding to include skills that used to represent standalone jobs, threatening to altogether eliminate positions such as the social media strategist or web designer.
The #job skills you'll need to future-proof your #career: bit.ly/bentley-job-skills #preparedu
TWEET THIS

The report analyzed key jobs and skills across nine job categories representing different business, IT, and analytics functions – such as marketing, HR, and data analysis. The analysis, which examined data from 24.5 million U.S. company job listings from September 2014 to August 2015, found that 71% of in-demand skills are required across 2+ job categories. Candidates that possess those cross-category skills will be best-prepared for the Hybrid Job of tomorrow.
Topping the list of key skills for the Hybrid Job: data analysis, social media, and business development. Click the infographic below for more.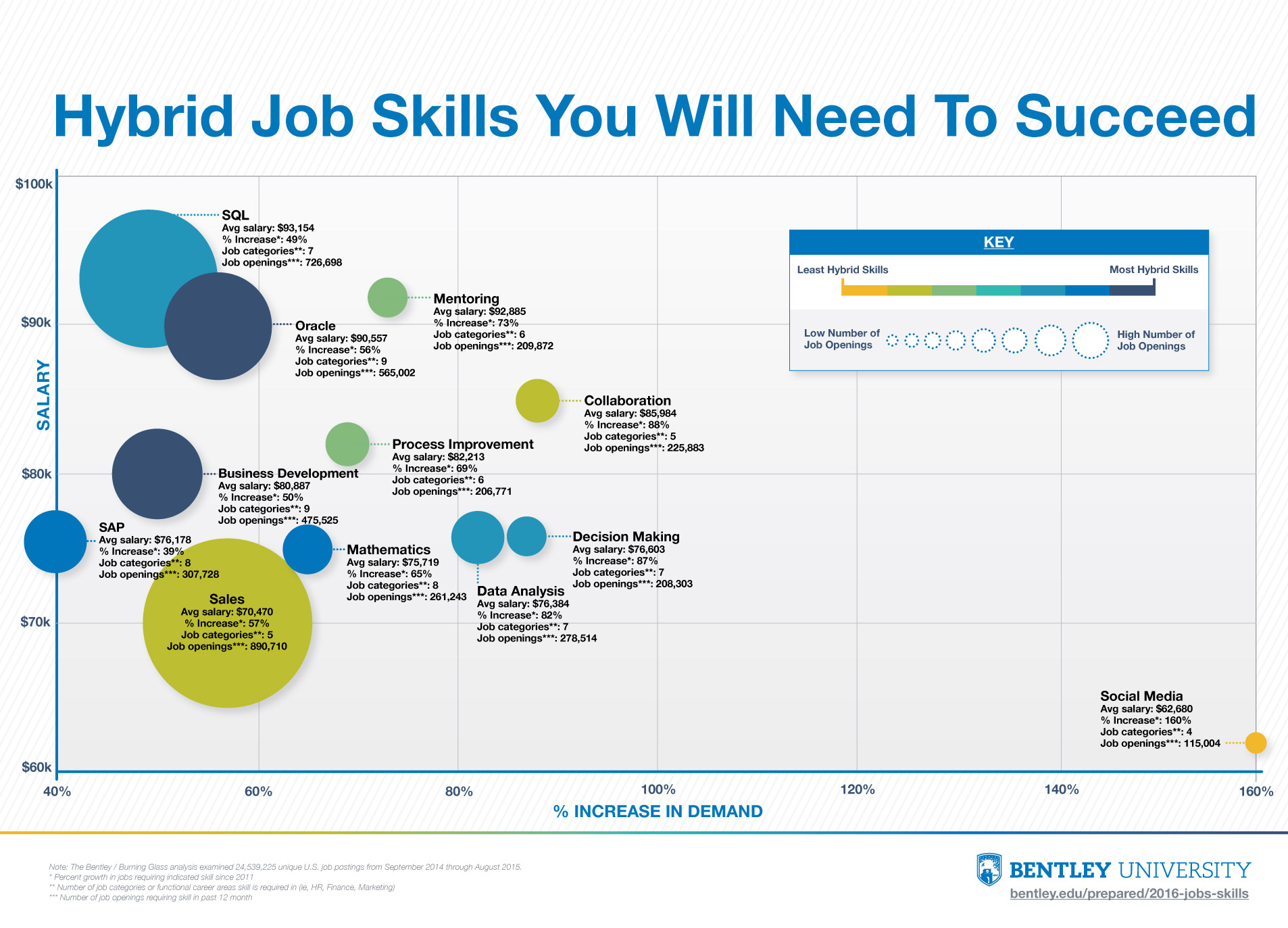 "Based on the data analysis, now is the time for the hybrid job – and the hybrid employee," said Bentley University President Gloria Larson. "The successful employee of tomorrow will need to combine traditional soft skills such as communication and collaboration with the hard, technical skills that used to belong to a select tech-savvy group. This evolution reflects a growing movement in higher education, where more and more schools are finding creative ways to truly integrate liberal arts strengths with professional and technical skills.  It is the way we need to teach and work – by helping to develop the ability to view opportunities, challenges, and problems through multiple perspectives, whether it is a student or an employee. It is exactly the type of change and innovation necessary to drive our economy."

The market data proved that some previously popular jobs are in decline as their once-innovative skills have become mainstream and integrated into other roles. For example, postings for social media strategists have fallen 64 percent in the last five years, even as the skill of social media strategy has risen sharply in human resource jobs (up 376 percent), sales jobs (up 150 percent), and marketing and PR jobs (up 117 percent).

Job postings for web designers have fallen 8 percent, even as the skill of web design has risen 11 percent in marketing/PR job listings and 9 percent in graphic design job listings. When it comes to sales, postings for business development executive have fallen 49 percent, but the need for that skill has grown 68 percent in marketing/PR job listings and 29 percent for IT job listings.
"The report findings reflect the need for employees to be versatile and dynamic, just like the workplaces where they will be expected to contribute and transform," said Katie Burke, VP of Culture and Experience at HubSpot.

The analysis also found:
The top three skills needed across multiple job categories include: business development (9), Oracle (9), and Mathematics (8).
 
Hybrid jobs that add new skills to traditional job descriptions – for example, marketing jobs that require knowledge of SQL or SAP – pay more than the same jobs without those new skills.
 
In IT, openings for "Big Data" jobs have grown 3,977 percent since 2011 and the average salary for these job openings is $123,057.
 
Where you live affects how much you earn. Data scientist jobs in the western U.S. offer $134,619 on average, compared to $101,372 in the Southwest. Cybersecurity analyst jobs in New England offer $108,522, compared to $88,298 in the Plains states of the Midwest.

The Market Analysis
The Bentley University job market analysis was conducted by Burning Glass drawing from the company's detailed database of online employer demand, which includes over 100 million current and historical job postings collected from close to 40,000 online job sites. Using an artificial intelligence engine, Burning Glass extracted information from each unique posting relating to job titles, skill requirements, requested credentials, salary, and the length of time postings remained open.  The data was aggregated and analyzed to identify in-demand jobs and skills across key business, IT, and analytics jobs.



Bloomberg Radio Broadcast
Bentley President Gloria Larson joined Bloomberg Radio's Carol Massar and guest experts to discuss the new market analysis during The Bloomberg Advantage program on Tuesday, January 12.
Guests offered their perspectives on how college students and job seekers can be more prepared to enter a hybrid role. Click here for the full recap.
The PreparedU Project
Learn more about the PreparedU Project research, findings and recommendations: 
About the PreparedU Project
The Millennial Preparedness Survey
Solutions: 7 Ways to Better Prepare Millennials for the Workplace
Millennial Women in the Workplace
The Second Survey: Millennials at Work
2016: Year of the Hybrid Job
The Extended Classroom: Responding to the Changing Job Market