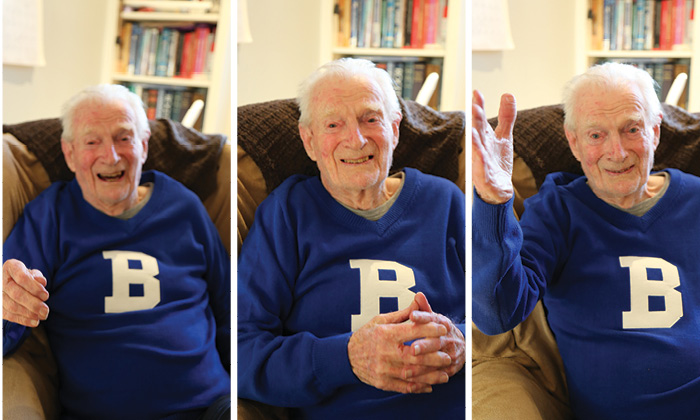 At age 105, John Fagan '34 may well be Bentley's oldest living alumnus; he has seen 18 presidents — and even attended Calvin Coolidge's funeral. Fagan credits pure luck for getting him this far, but wit, whiskey and walking a few miles a day might also have something to do with it. Join us as Fagan takes us for a stroll through his life and times.
Just a Small-Town Boy 
John Fagan wasn't my biological father, but he adopted me when I was 2, and from then on everything was good. I spent almost all my life in Northampton, Massachusetts. I remember the state hospital near our house had oxen — not horses — pulling the carts. When aviation was just getting going, I took flying lessons in a crop duster. My first year at Bentley, I moved into a big mansion on Longwood Avenue, and I should never have been in that bunch! One of these guys would go out on Saturday night in a white tie and a top hat. And here I am, a country kid in the big city. 
Class is In Session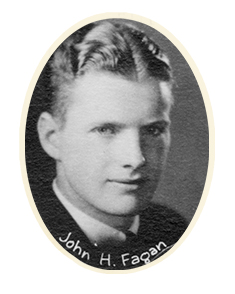 I never met Harry Bentley, but I remember he was there, and the vice president [Bertel G. Willard] was a hell of a good guy. One instructor from New Hampshire was real sharp. We'd come in after a big party and I'm sat in the front row. I remember him saying, "Class is in session," with a disapproving look. I had a really good time!
That's Entertainment
I was going to say radio was the most impressive invention in my lifetime, but it was television — giving a picture of what was going on. My father took me to see Tom Mix westerns and Irish tenor John McCormack. I saw Babe Ruth play for the Yankees at Fenway Park, Sophie Tucker sing at Saratoga. Tremendous.
The Long Retirement
The first time I had Scotch was on a sales call in Boston. It was Joe Kennedy's brand. Now I've got to have my glass every day. My career was in gas pumps with Gilbarco and tires with Uniroyal, and I retired in 1975. There were offers to keep going, but the average lifespan back then was shorter. I said, if Pauline and I want to have any lifetime together, we better do it now. We had a good road. Three kids, a house in Maine. Here I am, 40 years later — my pension is still on the Michelin payroll. Some accountant in France must be wondering who this guy is.
---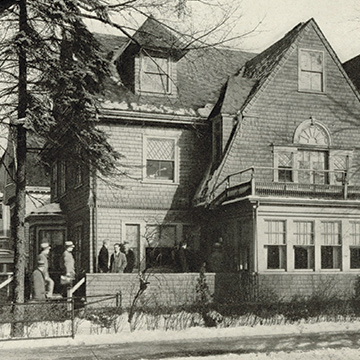 John Fagan lived with his fraternity, Theta Tau Alpha, at 232 Aspinwall Avenue. "Every night we were served dinner by a guy in a white dinner jacket," he recalls. "Complete surprise to me!" Today, he lives with his grandchildren and great-grandchildren in Washington, D.C.