'We welcome, celebrate and affirm a broad and inclusive community'
President Chrite's Convocation Address to the Class of 2026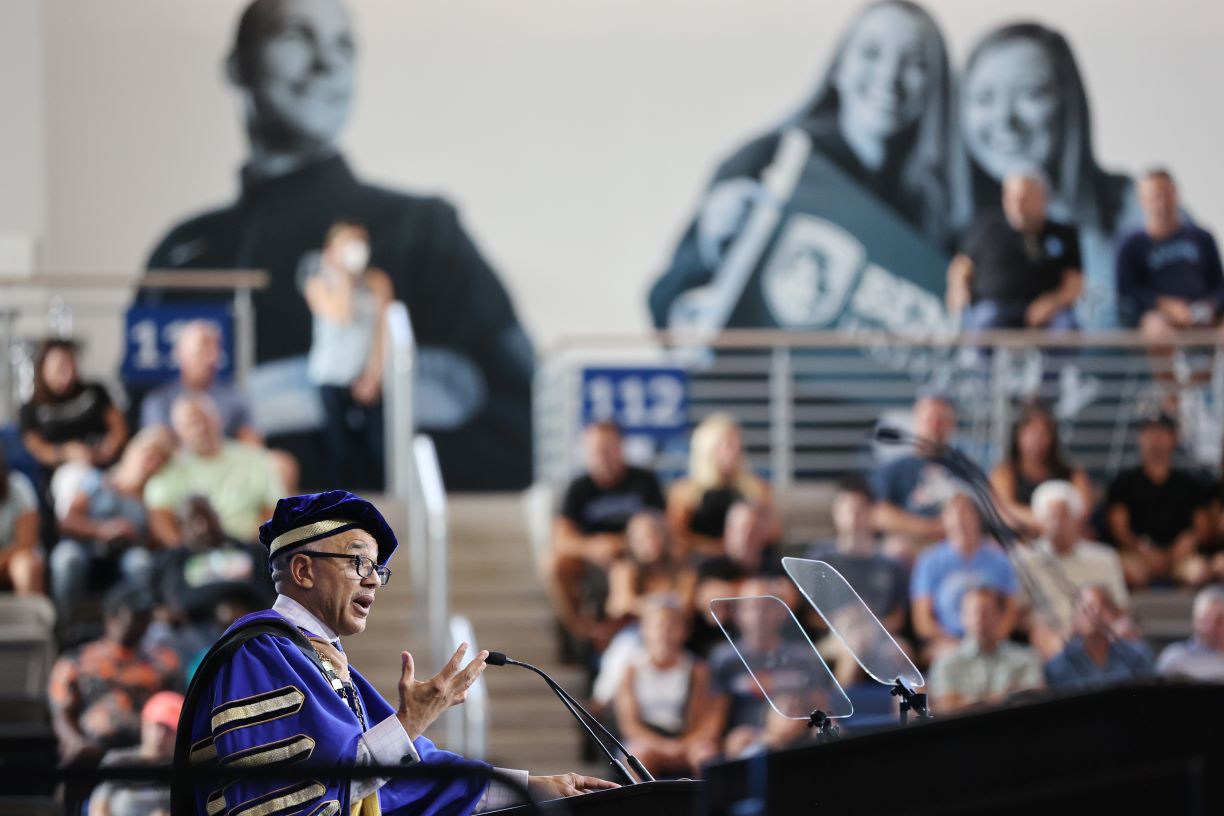 Photo by Jamie Wexler
Good afternoon! It is my great privilege to welcome members of the Class of 2026, as well as 87 upperclassmen transfer students, to Bentley University.  
This is the start of my second year as president at this university and my wife, Phyllis, and I are thrilled to welcome each of you to this community and to today's Convocation ceremonies.   
I also want to welcome and acknowledge the parents, family members and friends here today and those joining us online. Thank you for your years of sacrifice and support — and as the parents of three relatively recent college grads, Phyllis and I appreciate the sacrifices that you've made. No individual in this arena got here on their own and this is a significant moment for all of you as well. So would our incoming class of students please take a minute and acknowledge your family and friends for their support that got you here today with us. 
The Latin roots of the word "convocation" mean "to call us together." It's difficult for me to imagine a time in the recent history of our nation or this world, in which we are more urgently called to come together as committed, engaged and compassionate members of a shared human community. As the newest members of this community, your presence here signals a time for renewal and reflection and for thorough preparation in anticipation of the myriad opportunities — and challenges — that await you in life.   
I know these past few years have been difficult — for all of us, but particularly for those of you coming of age. Uncertainty, isolation, remote learning and social distancing, all byproducts of a pandemic that is still very much present, profoundly impacted our normalcy. And I appreciate that there is, in many circles, a prevailing narrative about the world into which you all are entering as emergent adults and of the challenges, hardships and even pessimism by which it is increasingly defined.  
Beyond the pandemic, we're experiencing political acrimony, economic inequality, a 20th century land-grab in western Europe, inflation, a global food shortage … I could go on.    
One recent news article in the Atlantic, for example, was titled: Are we doomed: how we should practice envisioning the worst in our nation. To be clear, there are many serious and seemingly intractable challenges that need to be addressed in our society. I regret that your generation carries a heavy burden, left largely by my generation. And while you must be capable of reflecting deeply on these and other serious matters, you should recognize that this is only part of the narrative.  
Allow me to name just a few examples as to why I remain so utterly optimistic, despite these challenges:  
The students I talk to every day at Bentley — including, now, all of you — and other young people around the world are inspiring.  
Corporate America is increasingly reflective of the country we live in. In the past year, nearly 50% of all new members of S&P 500 boards came from historically underrepresented communities.  
New businesses applications in the U.S. rose by more than 25% in the last year, leading to the fastest pace of start-up growth in years.  
The World Bank has affirmed that global poverty rates continue to fall and that more women are being educated around the globe than at any point in history.  
And the largest investment — ever — in sustainable energy just recently went into law, with the hope of spurring clean tech innovation to reduce emissions in the decade ahead, helping our planet ease the impact of climate change.  
Pessimism does not define the world in which you are about to assume your place … hope, opportunity, justice, growth — progress — abounds. We want you to seize it. I know I speak for our entire community when I say that we are delighted that you have chosen Bentley as the place to begin this vital journey. I know there are many reasons why you have chosen Bentley as your home for the next few years, but I'd like to share a bit as to why I selected Bentley and to give you some sense what your time, from my perspective, will be at this esteemed institution.   
My commitment to education is something that has played a major role in my life. I grew up in Detroit, along with my three siblings. While I wouldn't trade my upbringing for anything, it was not an easy place for me to succeed in or to emerge from. But my education launched me on a journey that has exceeded my wildest expectations. Bentley University, with its world-class faculty and exceptional staff, is powerfully committed to ensuring that each of you possess the skills and abilities, the integrity and the sense of self, along with the experiences necessary to become an immediate value creator upon graduation. We also expect you to become an ethical, principle-centered and impactful leader for a 21st-century economy; one who recognizes that with the privilege of this education comes a responsibility to a greater good. We have no interest at Bentley in educating the mind at the expense of the heart. This is one of the reasons it's such an exceptional privilege to lead this institution.
Now don't get me wrong … The priority of business, of course, is profitability and success; supply and demand; risk and reward. Enterprises must pass the market test. Without that, nothing else matters — and your Bentley education will rigorously prepare you to contribute to the success and competitiveness of any enterprise — or to create your own.
I was drawn to Bentley because it's an institution that operates at the intersection of intellectual rigor and market relevance. We are uniquely focused on business and the liberal arts — and the education that you will receive here develops and strengthens the attributes and the fluencies that today's marketplace demands, and equally important, that society needs. I was drawn to Bentley because I believe in the power of business and the private sector — the power of capitalism. I've spent much of my last three decades in some of the most opaque, distorted and poorest economic markets on the planet seeking to engage communities and enterprises in the dynamism and creativity of market-based capitalism, which at least in part has been a primary catalyst for millions of individuals migrating out of profound and structural poverty.  
Though capitalism has been an undeniable factor in the creation of wealth and opportunities across the globe, its calculus and efficacy seem more complicated and uncertain in today's environment. And certainly, disparities across our society are self-evident. I appreciate that many of your experiences at Bentley will affirm that the power of the economic marketplace, the power of capitalism, lies not merely in its allocative efficiency, but in its effectiveness in promoting creativity, and in, ultimately, impacting the human condition. At its best, capitalism is about creating solutions to human problems and bringing those solutions to scale.  
The liberal arts at Bentley will result in the cultivation of rational thought to include the preservation of the past, the pursuit of knowledge that contextualizes the present and that which illuminates the future. Tomorrow's economy — likely to exist largely at the intersection of physical and digital technologies — requires a blended skill set. Bentley is unparalleled in delivering this. Here, you will develop your technical skills and fluences while simultaneously strengthening your capacity to think critically, to discern, to effectively communicate, to engage and to lead — and you will be among the most sought-after professionals in the marketplace.    
You can expect to be surrounded by a community that mirrors the pluralism of the world around you. At Bentley, we seek to create a community that brings together students with differences in background, belief, orientation, experience and opinion. On our campus, we welcome, celebrate and affirm a broad and inclusive community. In fact, you, the Class of 2026, have the distinct honor of being the most diverse incoming class in the history of our university. I know that you will leave your mark on Bentley in countless ways over the course of the next four years, but you should know that you have already impacted this community  before you even stepped foot on campus. 
We seek to create a community that brings together students with differences in background, belief, orientation, experience and opinion.
Bringing the most diverse class together was intentional. As the private sector in this country and around the world continues to lead with a clear and persistent commitment to inclusivity and diversity, so too must our institutions of higher education. And beyond that, our differences help us recognize how much we need community. As the late Archbishop Desmond Tutu, with whom I had the honor of spending time in South Africa while at the University of Michigan's business school, said, and I quote, "Differences are not intended to separate, to alienate. We are different precisely in order to realize our need of one another." End quote.   
Those are a few things that you can expect during your time with us. Before I close, I want to take a few minutes to address some things that you should not expect from a Bentley education. Do not expect to be shielded from ideas or from points of view with which you disagree. You will be armed with the knowledge and ability to refute any ideas, but you cannot hide from them on this campus. Do not expect to be shielded from communities with which you are unfamiliar or uncomfortable. As I said, you are the most diverse class in our history, and while we are a community of shared values, diversity of background comes with diversity of opinion and belief. Just as in the external marketplace, you must come to accept, and I hope at some point, celebrate the increasingly rich tapestry of our human community. As you begin your journey here at Bentley University, as you define your passion and purpose, I encourage you to appreciate the transformational possibilities that result from sustained exposure to differing points of view.    
And finally, don't expect not to fail. Parents, we'll need your help on this one. A life without failure is a life not fully lived. We want and expect you to fail, and to pick yourself up, to do, and fail again … this is how we grow, and failure is a part of life. So you need to get used to it. In that failure will come the strength to adapt and to prepare yourself for future challenges in ways that would not be possible without missteps or stumbles. Embrace them. Your peers, your professors and our staff will be here to help lift you up as necessary and to enable you to succeed in unimaginable ways.       
So again, welcome to Bentley University. We are so happy to have you here with us, and we will be a richer community because of each of you. I look forward to getting to know all of you over these next four, or more, years; and I wait in great anticipation to see what you will accomplish. Enjoy the rest of your day. We are happy to see you. Please remain open to new experiences, take full advantage of this extraordinary opportunity and welcome to Bentley University!  
Bentley University Convocation 2022