Planning Your Event
Located just minutes west of Boston, in Waltham, Massachusetts, The Conference Center at Bentley offers a unique and professional setting for:
Business Meetings

Board Meetings

Retreats

Company Outings

Seminars

Conferences

Summer Camps
Host your next event or conference on the picturesque campus of Bentley University!
One-Stop Shop Convenience
Whether you're hosting an intimate meeting of five or a major corporate conference for 500, our centralized service takes the stress out of the conference planning experience.
One Contact, One Contract, One Bill!
Our campus venue offers advantages in price, ambiance and variety. With our services, you'll receive a streamlined experience similar to traditional convention facilities and finer hotels. Plus, we navigate the campus facilities, catering, media and housing on your behalf!
At your service will be:
A dedicated Sales and Planning Coordinator — your partner in planning and primary point of contact for all the services required for a successful event
Meticulous attention to detail, from your first phone call to the end of your meeting day and beyond
Onsite implementation assistance from our Conference Coordinator and Media Staff
Internal Meetings
Everything a Bentley organization (ex: Faculty Senate) would need for planning their event, including access to reserve rooms, more information about events on campus, and our liquor permit form, can be found using the buttons below. 
LIQUOR%20PERMIT%20REQUEST%20FORM.docx
External Meetings and Conferences
From small meetings to large multi-day conferences, we have the space and equipment for every need.
Meeting Facilities
Our Conference Center team offers one-stop planning to meet your event needs. Whether you're hosting an exciting IPO event in our financial Trading Room or housing 100 summer visitors in one of our residence halls, our facilities include a variety of meeting spaces and can accommodate groups as small as two and as large as 480.
The Conference Center features:
More than 12,000 square feet of air-conditioned meeting space

Bright, spacious conference rooms

A 480-seat auditorium

A 250-seat amphitheater

Ballroom space for up to 400

Personalized, one-stop planning services

State-of-the-art audio-visual equipment with on-site technical support

A variety of catering options, customized to fit your budget

Ample free parking

Wi-Fi available in all meeting spaces

Air-conditioned classrooms and overnight accommodations available during the summer months

Outdoor, tented facilities

On-site technical support
Contact the Conference Center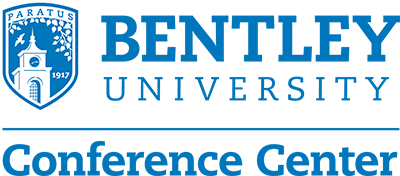 The Conference Center
Bentley University
175 Forest Street
LaCava Building, Suite 300
Waltham, MA 02452
Telephone: 781.891.2273