Today's college students approach education with focus and purpose. They seek world-class academic programs that are highly adaptable, can be tailored to meet their individual goals, and will propel them forward as standout professionals in their career and as forces for positive change within their community.
For more than a century, Bentley has been reimagining the delivery of a top-ranked business education. Well on its way to creating a new model that combines remote, in-person and hybrid learning, Bentley accelerated its efforts when the pandemic hit. As it has always done, Bentley met the moment, and then some.
Within two weeks of the world turning upside down, Bentley faculty and students were teaching and learning over Zoom. Curriculum was redesigned, glitches were worked out and our community was adapting to the new normal. Prior to the pandemic, Bentley was already breaking new ground and preparing to meet the demands of a new marketplace of students: through the Badavas Center for Innovation in Teaching and Learning, as well as more highly personalized and curated academic programming, and greater flexibility and control for our discerning students.
Further investment in a sophisticated, state-of-the-art hybrid undergraduate program will:
Continue to combine the very best of online and in-person learning, while ensuring greater access to a Bentley education

Attract and retain high-achieving students, creating a robust and academically rigorous educational community

Enhance our reputation as a school that offers the best in digital and innovative education, strengthening learning outcomes

Advance seamless, uninterrupted learning for students

Safeguard the continuity of Bentley's high-quality academic programming
Our commitment to digital innovation and teaching resilience is two-fold:
Add advanced technology to Bentley's 69 classrooms to create hybrid learning environments.

Invest in training to help faculty members embrace the newest technical paths of pedagogy to ensure a high-quality and effective learning experience.
Hybrid Classrooms
Offering additional technology and support to ensure a consistent experience, regardless of whether a student is in front of the professor or attending via screen, requires the classroom to be fitted with new technologies and a technology assistant (TA) to monitor online students' questions, participation, and audio and video quality. When an online student "raises their hand" to answer a question, the TA will ensure that faculty members are aware. The TA can troubleshoot technology issues with online students without disturbing the in-person students.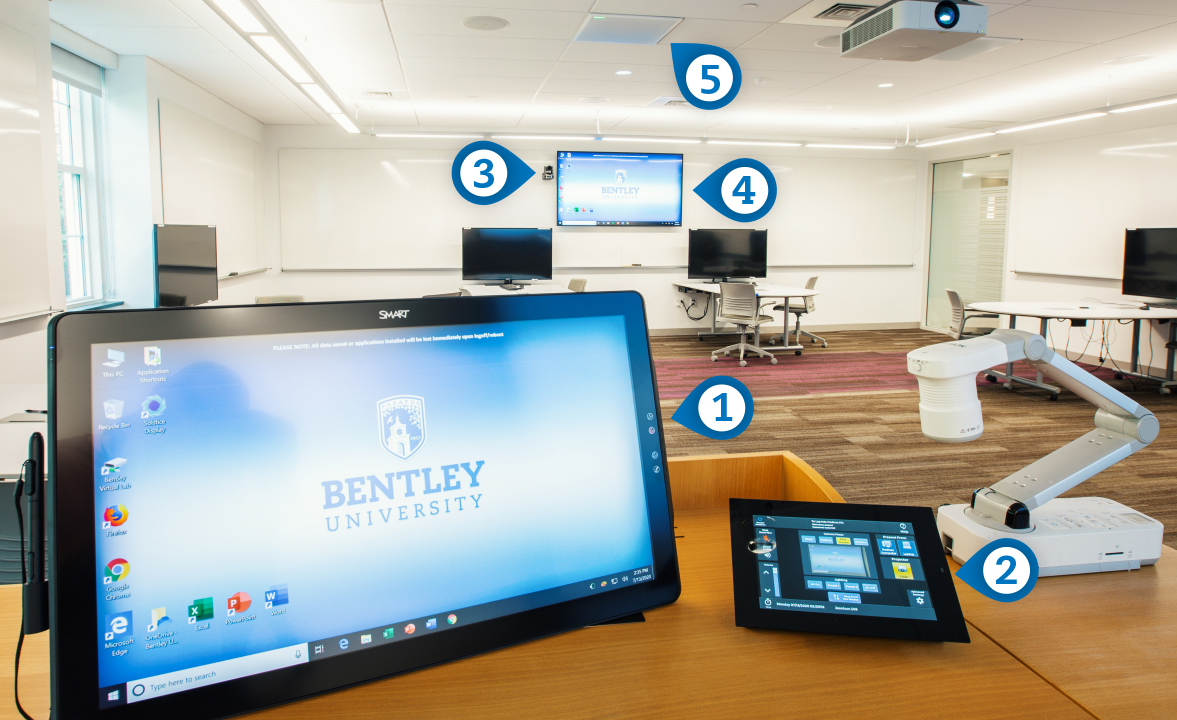 Technology upgrades include:
Smart monitor with annotation capabilities
Touch screen panel to control all classroom technology
Faculty-facing video camera with motion tracking
Large screen to monitor remote students
Large, built-in microphone in the ceiling
Plus unseen technology to manage audio and video, and system to monitor camera and microphone in the classroom and provide automated alerts on outage. IT staff can access the camera and microphone remotely and troubleshoot more quickly if there are issues.
---
Teaching and Learning Resilience and Digital Innovation Initiative
Bentley discovered from our successful response to the pandemic that the collaboration between the Badavas Center for Innovation in Teaching and Learning and the Bentley Learning and Teaching Council worked well to transform the way we teach, learn, engage and support each other at Bentley. To build upon the momentum of their collaborative work, we have decided to further leverage the expertise of these two units and provide a centralized point of institutional support as faculty transition from a traditional model of teaching to a new digital method of instructional design and pedagogy. The combined effort, known as the Teaching and Learning Resilience and Digital Innovation Initiative, will drive digital strategies that support innovative pedagogies and technology-rich teaching to prepare faculty and position Bentley for a future of virtual teaching and learning ahead. 
The long-term vision for the Initiative is to keep faculty at the cutting edge of the future of virtual learning. Advanced technologies and innovative teaching methods, such as virtual reality and augmented reality programming, will advance student learning experiences and set students up for success in a technology-driven business world.
Your investment ensures Bentley is a force for innovation in teaching and learning.
To learn more or support hybrid education and teaching innovation, contact Betsy Whipple at bwhipple@bentley.edu or 781-891-2769.