Turning Point (also known as 'clickers')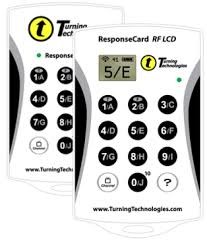 Turning Point software is a plug-in to PowerPoint. The system uses wireless radio frequency or Wi-Fi for communication with the polling software. It gives instructors and students immediate feedback from the entire class.
A response device, a receiver, and software are used to capture instant data from the students. The system is portable and easy to integrate into any classroom. The student response devices (or clickers") are small, hand-held devices that allow students to answer questions or show attendance.
To get started with TurningPoint:
Use Cases
Gauging students' understanding of concepts during class
Gathering class demographic data
Stimulating debates in class by asking opinion questions (including anonymously)
Taking class attendance
To get started with TurningPoint:
Need Help?
For questions or assistance please contact ATC or Tamara Rabinovich at trabinovich@bentley.edu