Keep Learning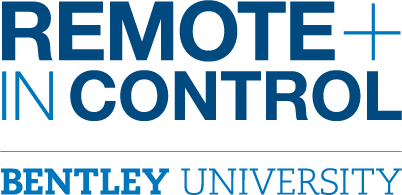 This page contains resources to support students during a period of remote learning. These are intended to help students adapt their habits and learning styles to an online format and adjust things such as study skills and communication with your groups to continue to complete assignments and achieve your goals as learners.
Please check back often: This page will be updated as additional information and resources become available.
Reminders:
There is no perfect solution for this situation and perfection is not expected. However, please try your best to be adaptable and focus on the key learning objectives for your courses.

Although learning online may be new and intimidating to you, it will be okay. You will be better than you think. The keys are to focus on best practices and maintain communications with your professors. 
You are not alone! Bentley will do its best to provide you the support and resources you need during these unusual circumstances. Don't be afraid to ask for help. In addition to your professors, the Office of Academic Services and the Academic Learning Centers, consider reaching out to your friends and family who are experienced in online learning and ask for helpful tips.
Learning Labs
Please see resources below to learn how to use Bentley's Learning Labs remotely to help you prepare for your exams.
Getting Focused
Time to kick it into gear and get motivated for the last push of the semester. Here are some resources that will help you get focused and ready to finish strong!
Reading Day Study Retreat Registration
Help Desk call center hours (Eastern Time): Monday -- Thursday 7:30 a.m. -- 8:00 p.m., Friday 7:30 a.m. -- 5:00 p.m.
Students can seek IT help in two ways during business hours (Eastern Time):
Emails should include:
Student phone # and location.
Describe specific question/problem/request and urgency of IT support need.
Course and section number of class (if applicable).
Study Skills & Time Management
Communication Skills & Setting Boundaries
Stress Management & Coping Skills
Access to Technology
Staying Socially Connected