Spiritual Life
Spiritual practice and religion are an important part of wellness, learning and growth. That's why we dedicate space, staff and resources for your spiritual journey.
Our campus is home to students from around the world, representing many faiths and worldviews. The Spiritual Life community is a welcome place for all students and their religious affiliation, belief or spiritual practice. We honor the perspective and values our diverse students add to the community.
Dedicated Spiritual Spaces
Organized worship services and meditations are held on campus several times a week. Additional spaces are reserved for quiet reflection, meditation and prayer. Meet students from other religions, create art and music, or practice mindfulness in a safe, spiritual space.
The Sacred Space
Student Center, Rooms 325 and 335
The Sacred Space is a dedicated place for multifaith worship and spiritual practice. You're welcome to use the space for quiet reflection, meditation and prayer, or you can attend organized services. You'll find:
An altar, for use by any faith
A resource center with spiritual and religious texts and information
Zafu and Zabuton meditation cushions
A Wudu Room for Muslim ablutions
A labyrinth for contemplative centering
A baby grand piano
Tables, chairs and a large screen for group gatherings
The Sacred Space may be reserved by faith-based student organizations and other community members. Questions and reservation requests may be directed by email to GA_spiritual_life@bentley.edu.
Upper Campus Prayer Room
Lindsay 30B
Additional space for prayer, meditation and reflection is located in Lindsay 30B, just down the hall from Koumantzelis Auditorium. Prayer rugs, meditation cushions and sacred texts are available. A gender-inclusive bathroom also serves as an upper campus Wudu room for our Muslim community.
Catholic
Bentley's Catholic community is supported by a Catholic Chaplain and visiting priests from the Archdiocese of Boston. Opportunities for caring fellowship are available through:
Prayer retreats held on- and off-campus

Charitable projects, like food and clothing collections

Workshops and guest speakers

Pastoral care

Bible Study weekly

The Bentley Catholic Association, a student-led group
Catholic Mass Schedule
Sundays at 7 p.m. in The Sacred Space, including sacrament of reconciliation

Adoration twice a month
Contact: Chaplain Angie Howard-McParland
Jewish
Our student-led Hillel and Jewish Chaplain support the needs of our Jewish community through:
Kosher Corner meals, served daily in the 921 Dining Hall

Kosher-for-Passover enhanced meals

Zedakah social justice activities

Holiday gatherings

Birthright Israel

Intercampus activities and trips sponsored by the Hillel Council of New England
Jewish Services Schedule
Fourth Friday Kabbalat Shabbat services, Friday night dinners and Sunday brunches

Bentley students are invited to participate in all activities at Waltham's Temple Beth Israel
Mindfulness
Many students find focus and peace through mindfulness and meditation practices. Our Mindfulness Coordinator can support your spiritual journey through:  
Books and articles in The Sacred Space

Labyrinth walks

Walking meditation

Presentations and one-on-one meetings, incorporating multifaith wisdom and perspectives
Mindfulness Meditation Schedule
Wednesdays at 2 p.m. in The Sacred Space
Muslim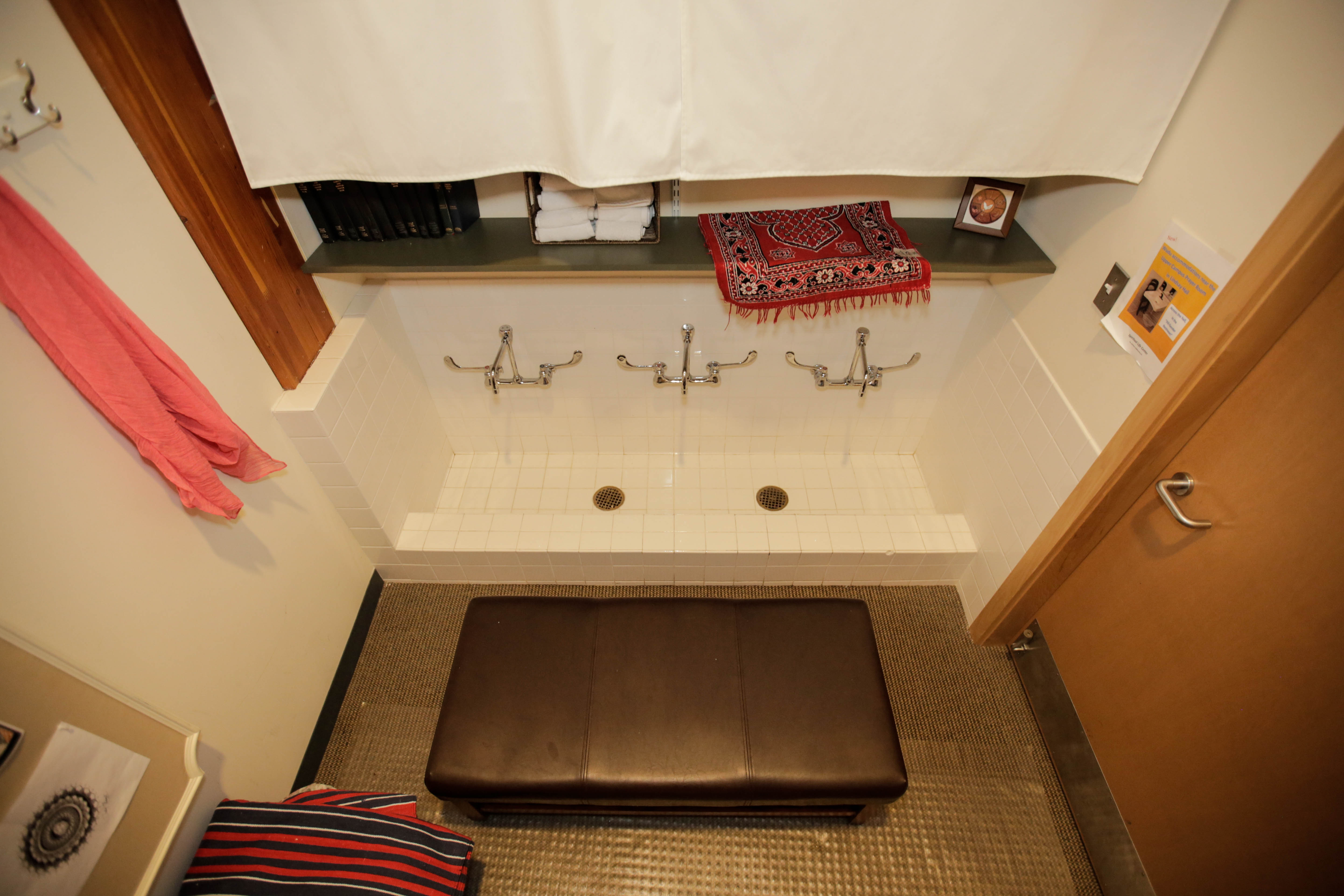 Our student-led Bentley Islamic Community and Muslim Chaplain support the needs of our Muslim community through:
Monthly fellowship meals with Halal-catered food.

Information about local masjids, halal products and Eid celebrations

Connections with the Waltham Islamic Society
The Sacred Space in the Student Center includes a Wudu Room for ablutions, and the Prayer Room in Lindsay 30B is also nicely equipped for daily Salaat.
Jum'ah Prayer Schedule
Fridays at 1 p.m. in The Sacred Space

Observances of Ramadan through Iftars and Maghrib prayer

Eid celebrations
Protestant
Bentley's Protestant Christian Fellowship is an interdenominational community that gathers for devotion, study and service. A Protestant Chaplain and fellowships encourage spiritual growth through:
Fellowship nights and community service

Prayer gatherings and Bible studies

Pastoral counseling

A Gospel Choir that performs several times a year

Student-run evangelical groups, such as Bentley Cru Christian Fellowship and Symphony Church
Protestant Christian Fellowship Schedule
Sundays at 4:30 p.m. in the Sacred Space

Communion, once a month

Celebration of seasons of the Christian year, including Advent, Christmas, Lent and Easter
Religious Organizations and the Bentley campus
All groups or persons representing religious or spiritual traditions must be approved by and registered with the Spiritual Life Center prior to visiting campus. No unrecognized religious groups or leaders are permitted on campus. Inquiries should be directed to GA_Spiritual_Life@bentley.edu.
Local Congregation Listing
Religious Observances Calendar
Spiritual but not religious?
We provide opportunities for meaning-making and community for all of our students. Chaplains are also available for pastoral counseling.