Annual Interfaith Day of Service Provides Food for the Soul
Campus community comes together to package 15,500 meals to help the hungry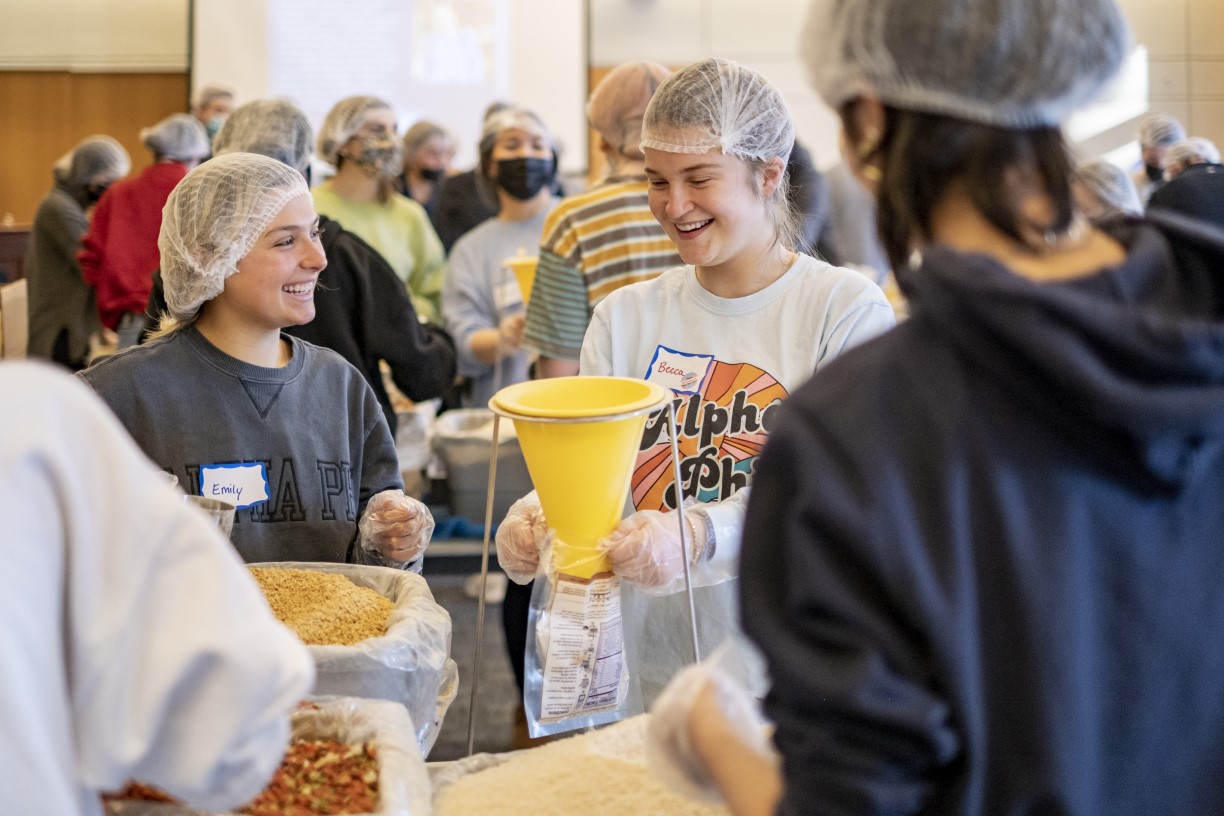 Photos by Karel Raska
Throughout history, humans have grappled with food insecurity. Today, despite considerable innovations in agriculture and technology, the inability for many to consistently access and afford adequate amounts of food remains a significant global — and national — issue. According to the U.S. Department of Agriculture, more than 38 million Americans struggle to get enough to eat. 
Long before consistent, large-scale national and international efforts to address food security emerged in the 20th century, faith communities stepped forward to provide for people in need. As Rev. Dr. Ian Mevorach, program coordinator for interfaith engagement in Bentley's Spiritual Life Center, explains, "Hunger is a universal human experience," and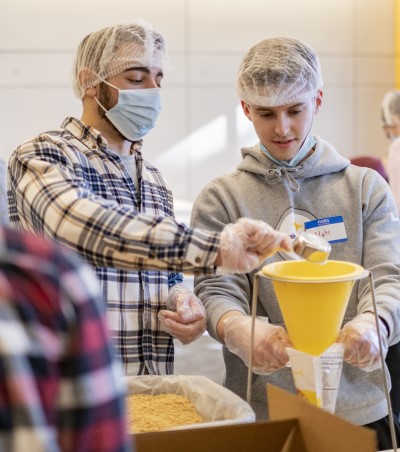 charity and compassion are tenets shared among every major world religion.  
Given such context, food insecurity has become a natural focus area for Bentley's Interfaith Council, a group composed of student leaders from the university's faith-based communities. For the last four years, the council has made helping the hungry in Massachusetts the focus of its annual Interfaith Day of Service.  
This year, the council partnered once again with End Hunger NE, a local affiliate of national nonprofit The Outreach Program, which provides food, water, medical care and educational programs to individuals in the U.S. and abroad. Nearly 200 Bentley volunteers — including council members, undergraduate and graduate students, faculty and staff — came together on campus to package 15,500 meals for local food pantries in a single afternoon. These meals were purchased using $4,600 in funding the council raised from nearly 200 donors within and beyond the campus community. 
The annual Interfaith Day of Service demonstrates how people of faith can work together to create a better world.
Vice President, Hillel and Interfaith Council member
Fo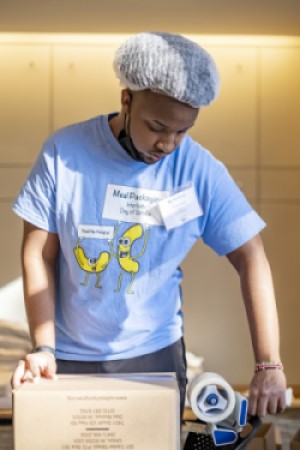 r many, the annual event demonstrates how interfaith cooperation can be a powerful catalyst for social justice. "The Day of Service promotes the idea that all people are human, regardless of religion, race, caste or culture," says council member Jasneil Singh Gill '25, who is Sikh. "It helps unite our community for the greater good." 
In Sikhism, he explains, seva, or selfless service, is a fundamental belief. "One of our main practices is langar, a community kitchen where we serve food for free to anyone in need." Adherents of any faith can partake in the communal meal, which is always vegetarian, to ensure that participants, regardless of dietary restrictions, eat as equals. "Langar is made possible by donations and volunteers," Gill says, "and every gurdwara, or Sikh temple, has its own community kitchen."  
Council member Mathew Mukiri '22, an Actuarial Science major who represents the Bentley Catholic Association, notes that the event not only "brings much-needed awareness to food shortage issues in our community," but also "gives Bentley students the chance to meet, interact and work together on a project that isn't related to business." For him, joining the Interfaith Council afforded the opportunity "to be part of a group that brings people of different faiths together to learn more about each other and create a more holistic Bentley community." 
Abby Kirsch '24, vice president of the Bentley chapter of Hillel, an international organization for Jewish college students, was similarly inspired. An Information Design and Corporate Communication major, Kirsch says the council provides a place for students of all faiths to "bring the best of our religious traditions and spiritual experiences together to create something greater than the sum of our parts." As she sees it, the annual Day of Service demonstrates how "people of faith can work together to create a better world." 
Council advisor Mevorach agrees. For him, the 15,500 meals that Bentley's volunteers packaged provide more than just physical sustenance. "As moral and spiritual beings, we also hunger for compassion, peace, justice and wholeness," he explains. "When we feed a person who is struggling with food insecurity, we affirm our shared humanity and take a powerful step toward creating the world that we hunger for in our hearts and minds."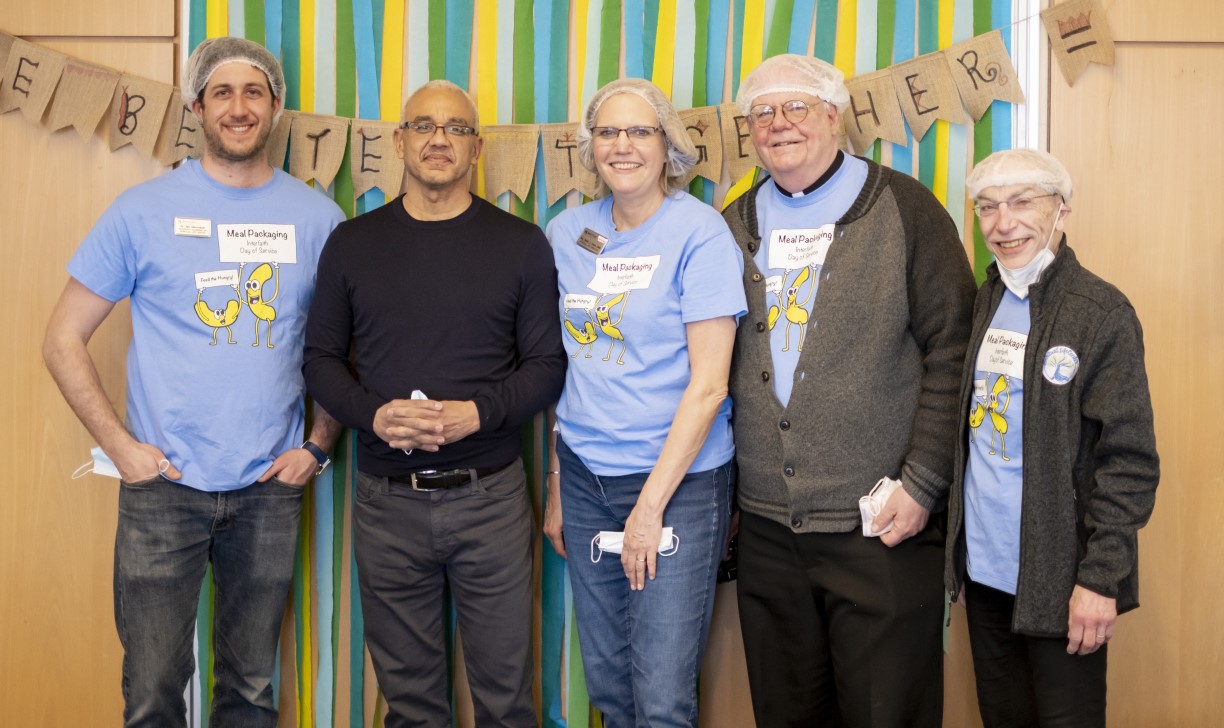 RELATED: Students provide free tax preparation services to Waltham residents