How Bentley Students are Making Filing Less Taxing 
Long-running VITA program provides free tax preparation services to qualified Waltham residents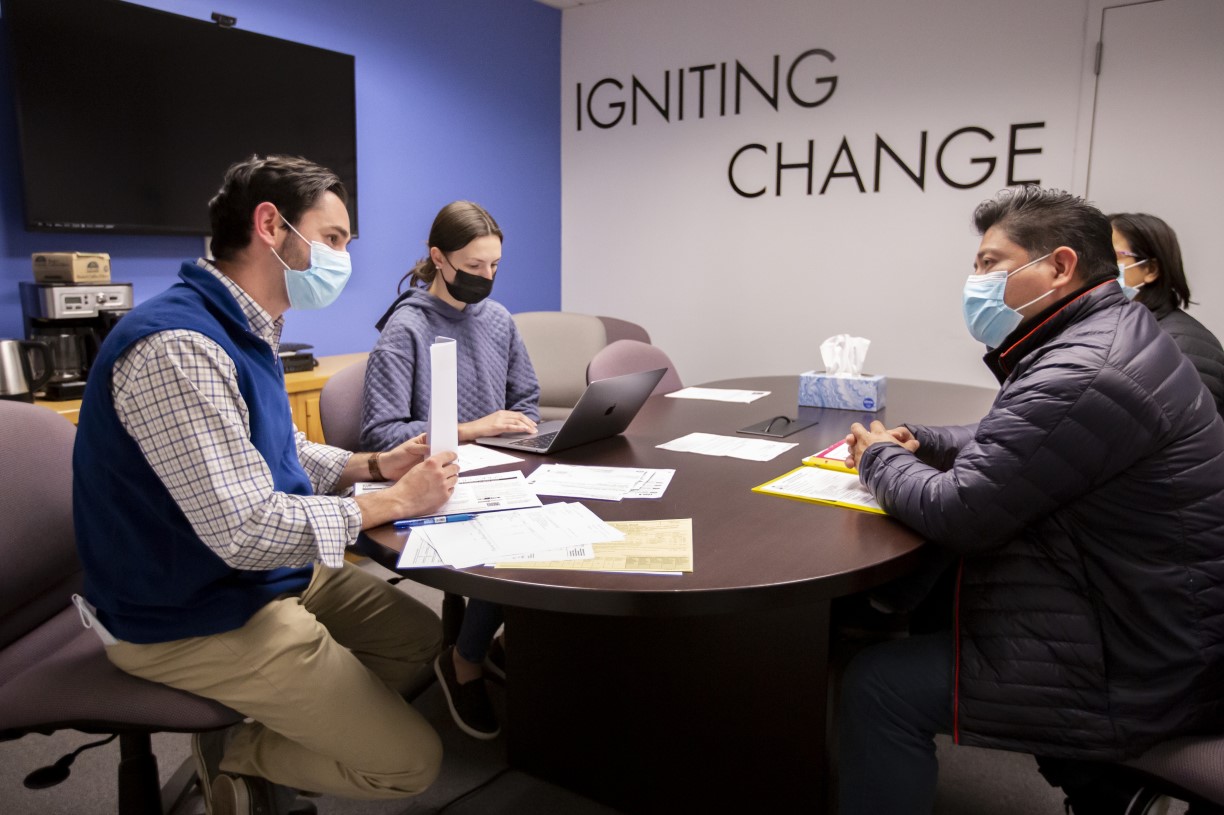 Photos by Kevin Maguire
"Some partnerships just seem natural. When Bentley students can utilize their business skills to empower our local community, everyone wins," says John Casassa '17 MST '18.   
As program director for Bentley's Volunteer Income Tax Assistance (VITA) program, a long-running program sponsored by the Bentley Service-Learning and Civic Engagement Center (BSLCE), Casassa works with students to provide free tax preparation services to qualified residents of Waltham and surrounding communities.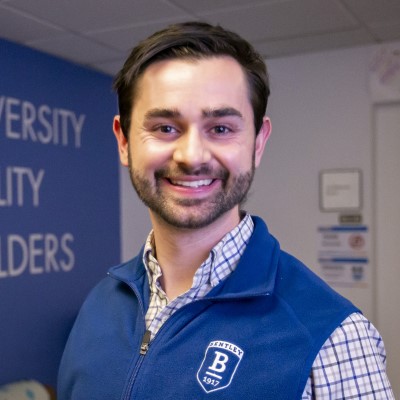 Established by the IRS in 1969, VITA is a national initiative designed to meet the needs of low- and limited-income earners, including the elderly, people with disabilities and taxpayers with limited English proficiency. To reach these clients, the IRS works with thousands of nonprofit partners around the country, all of which are staffed by IRS-trained and -certified volunteers. 
At Bentley, those volunteers are undergraduate and graduate students in the university's Accounting programs. "With VITA, students have an opportunity to bring their tax knowledge and skills from the classroom to the community," says Casassa, a supervisor with AAFCPAs, a New England-based CPA and consulting firm that encourages community engagement. He participated in VITA as an undergraduate and enjoyed the experience so much, he signed on as program director in 2019.  
"VITA is a great way for students to develop the civic skills they'll need to succeed as tax professionals," he says. "Learning how to communicate effectively and build relationships with clients is incredibly important, but most students don't experience that until they have an internship or start working full-time." 
Do YOU qualify for VITA's free tax preparation services?
POWERFUL RETURNS 
Students can also earn academic credit by participating in VITA. The BSLCE offers a 4th Credit Option for students who want to enhance their academic experience by incorporating a community service component within an existing course. For many, the opportunity to give back to the Waltham community is what drew them to the program.    
"The most rewarding thing about VITA is seeing the stress relief we provide," says Annalisa Souza '22, who participated in the program last year and now serves as a BSCLE program manager. "Tax time is stressful for everyone, but especially for people who might not have access to the same resources we do or the same technological literacy that we have. Being that calm presence for people makes a big difference."  
Tony Thein '21 MBA '23, also a second-time VITA volunteer, agrees. "The ability to make a difference in the community — to help make the tax filing process easier, maximize refunds and positively impact the lives of local taxpayers — is incredibly fulfilling," he says. 
For both Souza and Thein, VITA has paved the way for continued involvement with the BSLCE, which they consider a highlight of their Bentley experience. Says Thein, who will serve as a BSLCE graduate assistant next year, "The BSLCE shows a side of Bentley you don't find at many colleges and universities in general, let alone business schools — the side that empowers you and shows that you can make a great impact, even as college students, in your local community and even globally." 
Tax time is stressful for everyone, but especially for people who might not have access to the same resources we do or the same technological literacy that we have. Being that calm presence for people makes a big difference.
BSLCE program manager, VITA
CAPITAL GAINS 
Last year, Bentley's VITA volunteers prepared nearly 200 tax returns generating more than $250,000 in refunds for members of the local community. Casassa, who notes that last year's program was entirely virtual due to the pandemic, hopes to serve even more clients this year through both in-person and virtual appointments. 
One advantage of the hybrid format, he says, is that VITA is now able to offer Spanish language services. The program offers weekly virtual appointments where clients and volunteers are joined online by an interpreter. "Taxes are hard enough to understand in English," Casassa explains, "so having a translator present really helps break down the language barrier." Of the 150 or so returns they've filed so far this year, he estimates about 30% were facilitated through this new offering.  
In the future, Casassa and BSLCE Senior Associate Director Brian Shea hope to expand VITA's services to include additional languages, such as Haitian Creole and Mandarin Chinese. Other enhancements are also in store, thanks to program grants received this year from the IRS and the Massachusetts Department of Revenue, as well as funding from Cambridge Savings Bank. "Bentley was one of only three organizations in Massachusetts to receive IRS funding," Casassa notes proudly. 
These grants will not only expand the program's reach, but also its physical space: Funds are being used to build out a room in the BSLCE with smart-screen TVs and other technology that will better equip Bentley's VITA volunteers to connect with additional clients online.  
The grants will also facilitate additional outreach to members of the Waltham community who can benefit most from VITA's services. Each year, Casassa explains, they organize special "pop-up" events; for example, VITA volunteers recently visited the Community Day Care Center of Waltham, which provides day shelter and support services to adults who are experiencing homelessness. The BSCLE works closely with WATCH, Waltham's community development corporation, to bring VITA to other residents of Greater Waltham who can benefit most from the program. 
Extending the program's reach will allow more Bentley students to become VITA volunteers — an experience sure to leave a lasting impression.  
"When you're able to tie your coursework to meaningful service-based work, you have a greater awareness of the systemic and societal issues facing the world today," Thein says. "I have no doubt that when I look back at my life, my experiences with VITA and the BSLCE will serve as critical moments in helping me become a business leader and a force for good." 
RELATED: Collaboration with KPMG enhances Master's of Accounting program