Although the Student Center building is temporarily unavailable, staff and administrative offices continue to operate remotely to support student needs, virtual engagement and maintain normal office functions. For any questions please email GA_SPE@bentley.edu or call SP&E, 781.891.2700, for assistance. We look forward to future semesters when the Student Center can return to the vibrant center and heart of campus that we know and love.
Bentley Student Center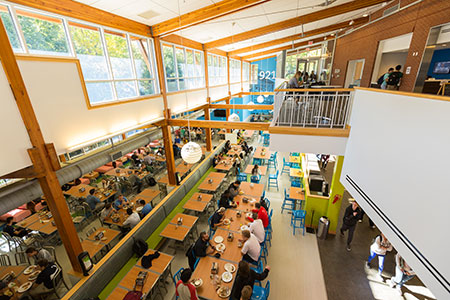 This is where Bentley comes together. The Student Center is the heart of campus life, open to all students, nearly all the time. Stop in for a bite between classes or to relax and play pool. Lead a student meeting or seek out a quiet space for prayer. Everything you need is right here.
How to Reserve a Student Center Room
Hours and Contact Information
| Information Desk | Bentley Bubble | Business Center |
| --- | --- | --- |
| 781.891.2255 | 781.891.2214 | 781-891-2255 |
|   |   | GA_SPE@bentley.edu |
An ATM is available in the Student Center, inside the vestibule of the second floor entrance. Charges or fees vary by financial institution and may apply.
|   | Semester Hours | Summer Hours |
| --- | --- | --- |
| Sunday |  9:00 a.m. to 1 a.m. | Closed |
| Monday | 7:00 a.m. to 1 a.m. | 8:00 a.m. to 6 p.m. |
| Tuesday | 7:00 a.m. to 1 a.m. | 8:00 a.m. to 6 p.m. |
| Wednesday | 7:00 a.m. to 1 a.m. | 8:00 a.m. to 6 p.m. |
| Thursday | 7:00 a.m. to 1 a.m. | 8:00 a.m. to 6 p.m. |
| Friday | 7:00 a.m. to 2 a.m. | 8:00 a.m. to 6 p.m. |
| Saturday | 9:00 a.m. to 2 a.m. | Closed |