Bentley Student Center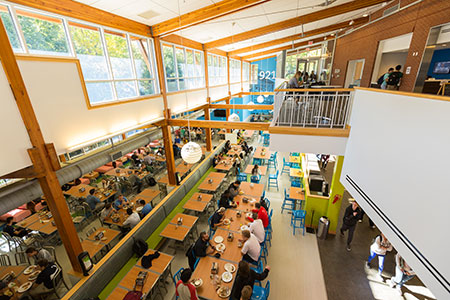 This is where Bentley comes together. The Student Center is the heart of campus life, open to all students, nearly all the time. Stop in for a bite between classes or to relax and play pool. Lead a student meeting or seek out a quiet space for prayer. Everything you need is right here.
The Business Center is on the Third Floor, across from Student Programs & Engagement (STU 330) and is a hub for Bentley information and resources. Visit or call the Business Center to reserve a space or host a meetings in the Student Center. You can also find information about student organizations and campus in general.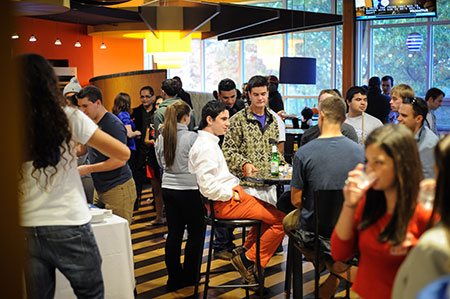 The Student Center is home to the 921 Dining Hall, Bentley's all-you-care-to-eat dining facility, as well as multiple retail options.
Harry's Pub is also at the Student Center; it's a lively on-campus pub, open Wednesday through Saturday from 9 p.m. to 1 a.m. Beer and wine is available to those age 21 and older.
Bentley's core values of caring, collaboration, diversity, honesty, impact, learning and respect are all integrated into the programs and spaces within the Student Center. The building is home to many offices that support and enhance your co-curricular experience, as well as Centers that provide safe spaces for student identity exploration, community building and leadership development.
Within the Student Center, you'll find: 
Center for International Students and Scholars
Cultural Lounge
Equity Center
Multicultural Center
New Student Programs
Office of the Dean of Student Affairs
Residential Center
Sacred Space
Spiritual Life Center
Student Programs & Engagement
Hundreds of meetings and events take place at the Student Center each year. Whether it's a small student organization meeting in the Bubble, a lively showcase in the Living Room, or a staff meeting in the Back Bays, the Student Center is full of life and energy.
To reserve a meeting space in the Student Center, visit or call the Business Center.
How to Reserve a Student Center Room
Hours and Contact Information
| Information Desk | Bentley Bubble | Business Center |
| --- | --- | --- |
| 781.891.2255 | 781.891.2214 | 781-891-2255 |
|   |   | GA_SPE@bentley.edu |
An ATM is available in the Student Center, inside the vestibule of the second floor entrance. Charges or fees vary by financial institution and may apply.
|   | Semester Hours | Summer Hours |
| --- | --- | --- |
| Sunday |  9:00 a.m. to 1 a.m. | Closed |
| Monday | 7:00 a.m. to 1 a.m. | 8:00 a.m. to 6 p.m. |
| Tuesday | 7:00 a.m. to 1 a.m. | 8:00 a.m. to 6 p.m. |
| Wednesday | 7:00 a.m. to 1 a.m. | 8:00 a.m. to 6 p.m. |
| Thursday | 7:00 a.m. to 1 a.m. | 8:00 a.m. to 6 p.m. |
| Friday | 7:00 a.m. to 2 a.m. | 8:00 a.m. to 6 p.m. |
| Saturday | 9:00 a.m. to 2 a.m. | Closed |