Bentley Student Center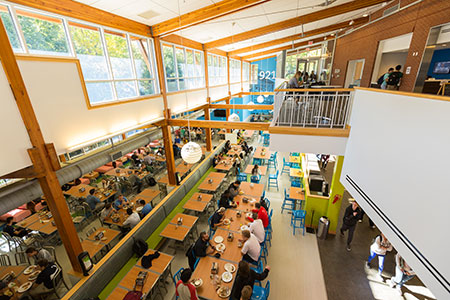 This is where Bentley comes together. The Student Center is the heart of campus life, open to all students, nearly all the time. Stop in for a bite between classes or to relax and play pool. Lead a student meeting or seek out a quiet space for prayer. Everything you need is right here.
How to Reserve a Student Center Room
Hours and Contact Information
An ATM is available in the Student Center, inside the vestibule of the second floor entrance. Charges or fees vary by financial institution and may apply.
|   | Semester Hours | Summer Hours |
| --- | --- | --- |
| Sunday |  8:00 a.m. to 1 a.m. | Closed |
| Monday | 7:00 a.m. to 1 a.m. | 8:00 a.m. to 6 p.m. |
| Tuesday | 7:00 a.m. to 1 a.m. | 8:00 a.m. to 6 p.m. |
| Wednesday | 7:00 a.m. to 1 a.m. | 8:00 a.m. to 6 p.m. |
| Thursday | 7:00 a.m. to 1 a.m. | 8:00 a.m. to 6 p.m. |
| Friday | 7:00 a.m. to 2 a.m. | 8:00 a.m. to 6 p.m. |
| Saturday | 8:00 a.m. to 2 a.m. | Closed |