BentleyPlus gives students the tools and resources to be strategic about how they spend their time outside of the classroom to maximize their learning and growth while at Bentley.
BentleyPlus is open to all undergraduate students. Sign up to earn your BentleyPlus certificate for the 2021-2022 academic year HERE! 
While Bentley students spend much of their time completing academic coursework and attending class, a critical component of a student's Bentley education is their experiences outside of the classroom. These experiences have tangible impacts on strengths and skillsets students develop while in college and prepare students for a lifetime of professional and personal success.
A 2018 study by the National Association of Colleges and Employers, which surveyed both graduating college seniors and employers, found that less than half of college graduates are proficient in professionalism/work ethic, leadership, and global/intercultural fluency (among other competencies). This same study showed that college graduates perceived their proficiency in these competencies to be much higher than their employers.
Taking advantage of opportunities outside of the classroom to develop competencies differentiates a Bentley education from others. While Bentley offers many resources and opportunities to occupy students' time when not in class, BentleyPlus provides guidance to assist students in selecting opportunities that maximize learning in the competency areas they wish to develop.
A team of 30 professionals from every department within the Division of Student Affairs organized outside-of-the-classroom experiences at Bentley into 11 competency areas. These competencies fall into three learning domains: Think, Develop, and Act. The three learning domains, and the 11 learning competencies within them, can be found below: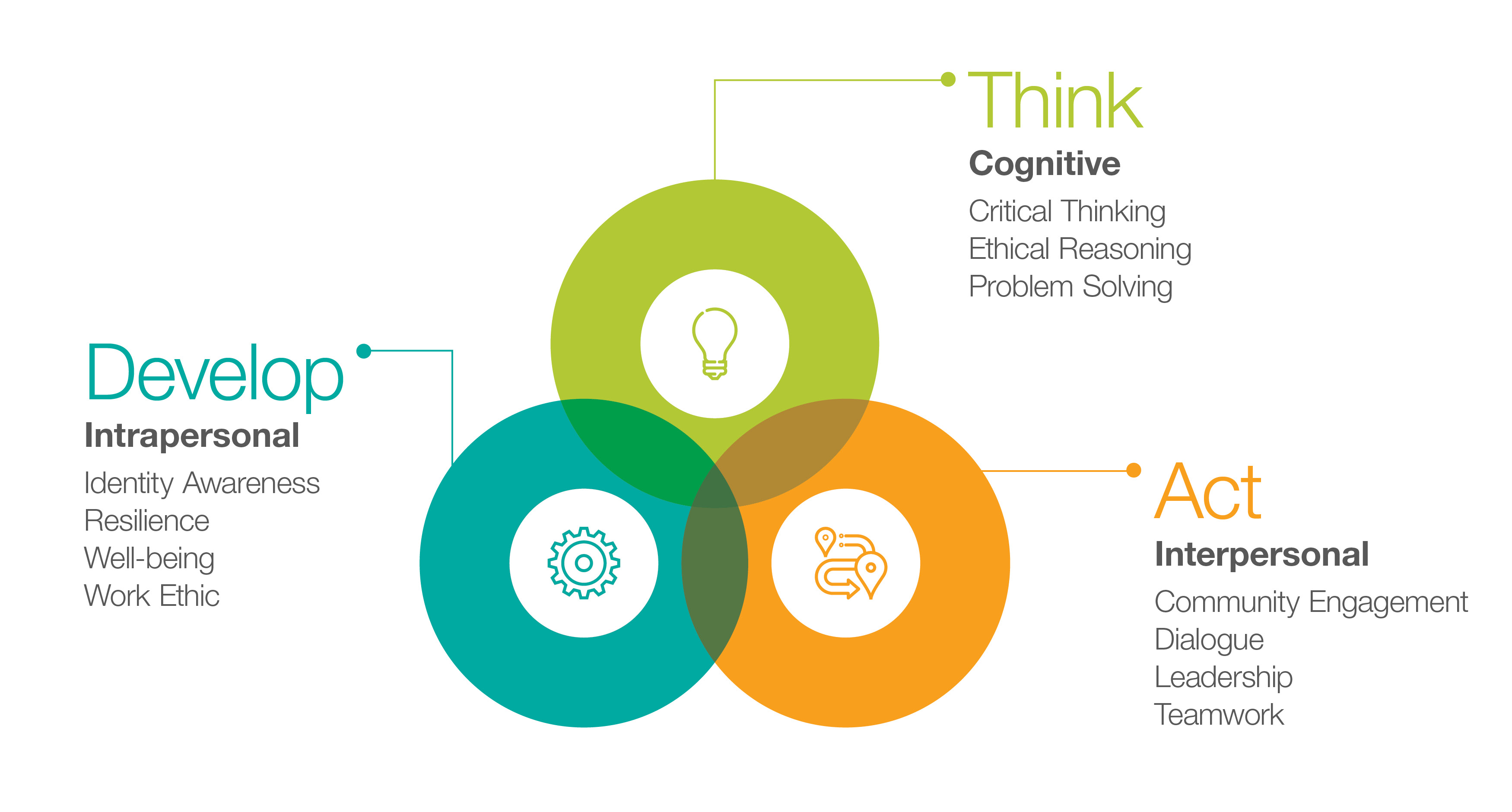 Several student groups will be a part of the BentleyPlus pilot beginning in fall of 2020.
1
Take the General Competency Assessment to understand where you perceive you are in each competency.
2
Attend a live BentleyPlus orientation with a staff adviser, or a recorded, self-guided orientation where you will learn about the program, select two or three competencies to focus on for the year, reflect on how your current activities help you grow in your competencies and explore additional activities you might want to add to your Bentley experience.
3
Do what you do best: Be a Bentley student! Go to class, go to student org meetings, work in your campus job, attend sports practices, and do anything else you do throughout the fall term. These are all things that will help you grow in your competencies.
4
Meet with an adviser half-way through the year to do a deeper dive into the competencies you selected and see what specific areas of each competency you can develop further.
5
Repeat Step 4 during the spring term.
6
Have a final adviser meeting where you reflect on how you've grown, and practice marketing your skillsets for future employers.

 
7
Receive a BentleyPlus certificate with the specific competencies that you developed and wording that you can add to your résumé to show that you have spent intentional time developing those specific skills.
What Do I Get from Participating in BentleyPlus
✓ A valuable tool that helps you be really strategic about how you spend your time outside of the classroom.
✓ Focused time and attention on developing skills that you and employers think are really important.
✓ Learn how to market yourself and your skills for future employers.
✓ A certificate showing the competencies that you grew in.
✓ Wording to add to your resume to highlight your skills and show that you made the most out of your Bentley experience.
Student Affairs
The Division of Student Affairs at Bentley encompasses departments that focus on the student experience outside of the classroom. This includes Student Programs and Engagement, Multicultural Center, Athletics, University Police, New Student Programs, Center for International Students and Scholars, Health, Counseling and Wellness, Residential Center Housing, Gender and Sexuality Student Programs and more.
Co-curricular Experience
Opportunity offered outside of the classroom that helps students develop strengths and skills. Some examples of co-curricular experiences are participating in a student organization, being on a sports team, attending a campus event with a speaker, attending a community discussion about a current event, etc.)
Competency
Knowledge, skills and/or abilities that lead to superior performance in an area.