Funding Your Education: The Graduate Assistantship Program
Bentley University's Graduate Admission team kicked off the New Year hosting the first of many events scheduled to provide incoming students with knowledge about funding educational opportunities. The Graduate Assistantship (GA) program is one of many ways students enrolled at Bentley University can enhance their graduate education. The program's objective is to give students relevant work experience that will better prepare them for internships and post-graduate employment. It allows students to collaborate with faculty on scholarly activity and further develop their research and analysis skills. Along with the many program benefits, GAs receive a stipend for work proceeds during their studies. The first information session featured two student panelists who shared testimonials on their experience in the program.

Shaquille Moultrie, MBA '21, held a Graduate Assistantship in the Management Department during the 2019-20 academic year. He supported faculty with research content and gathering materials for scholarly work on Leadership topics. During the session he noted that one of the benefits: "Once you complete the GA for a year, it will open many doors and connections on campus." His experience led him to an internship opportunity at TIAA in Charlotte, NC last summer and position as a Graduate Ambassador in Admission.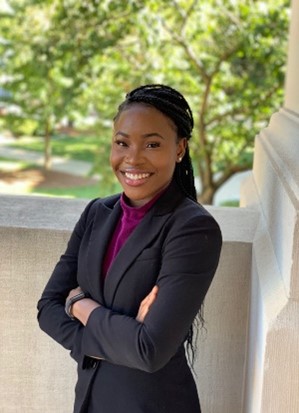 Esther Adewuyi, MSAA '21, currently serves as a Graduate Assistant working with the Accounting Department on a variety of research projects. In addition to supporting the faculty, she works as a Trading Room Analyst at the Hughey Center for Financial Services. Taking advantage of these opportunities secured her a job at Deloitte as an Audit Associate.
The Graduate Assistantship program is another of example of why Bentley University students feel their graduate education is a rewarding experience. Through continuous learning and a holistic approach, graduate students find the resources necessary to be an instant force as they move forward with their careers and lives.