My Favorite Bentley Graduate Courses to Date
As the Fall semester has started and Bentley students are back in classrooms, I would like to share some of my favorite courses as an M.S. Analytics candidate. I hope everyone will find equally exciting courses to take in the semesters ahead.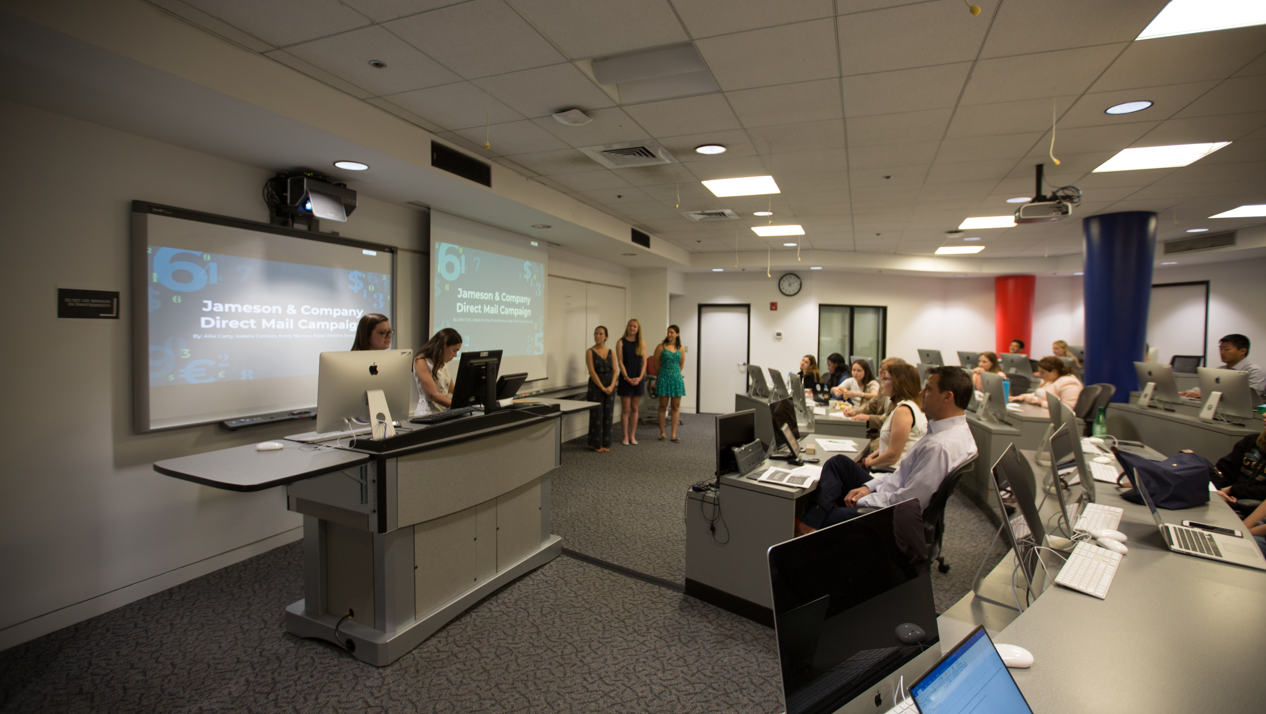 The first course is MK 612 Strategic Marketing taught by Professor Dr. Pierre Berthon. In this course, you will get to choose a business that you or one of your project teammates has a personal connection with and create a strategic marketing plan for the business. It is an amazing opportunity to not only apply all your knowledge from case studies but also to be creative and get hands-on experience with research and analytics. My team created a strategic marketing plan for one of my teammates' family grocery stores in Watertown, MA. It was interesting to conduct research and create our own strategies based on analysis. Additionally, Dr. Berthon invites a lot of guest speakers to help bring cases to life. My favorite case was on Tesla's sustainable business strategy and the guest speaker spoke to us about the advantages and disadvantages of owning a Tesla. I enjoyed this presentation as it gave me a lot of new information that I would not hear elsewhere. Overall, this course is a must for anyone who likes to constantly learn about different industries and wants to gain experience in creating effective strategies.
The second course I would like to highlight is ST 635 Intermediate Statistical Modeling for Business taught by Professor Dr. Gregory Vaughan. After you take ST 625, this course seems much more manageable since you already have a great understanding of statistical modeling in R and/or SAS. As someone coming from an advertising background, at first, I was a little bit intimidated to dive into statistics, but Professor Vaughan is patient and has a great individual approach to all students. The midterms were called quests and all in-class exercises had references to popular TV shows. This is exactly why I loved this course. Starting from the beginning, I felt confident that I would be able to succeed in this course with the Professor's guidance and ability to make intimidating topics fun to learn. We also had the flexibility to choose any topic and data set we wanted to use for our final projects, which kept me and my project teammates even more engaged. We were interested in sustainability, so we chose to research what factors affect electric vehicle ownership in eleven different U.S. states. I am excited to apply the skills I learned from this course outside of the classroom!
The last course I'd like to share with you is MK 726 Customer Data Analysis and Relationship Marketing taught by Professor Dr. Joyce (Feng) Weng. In this course, I sharpened my skills in Qualtrics while gaining expertise in SPSS. SPSS is a great additional skill to Python, R, and SAS because it is used by many market research companies for complex statistical data analysis. Professor Weng was attentive to students' needs and adapted to our pace to make SPSS easy to learn. The discussion in this course was rich and I learned a lot about market research and data analysis not only from the professor but from my classmates as well. I especially enjoyed working on the group project as we had to identify a company's weakness in its reward program and create an experimental design for potential improvements. For me, the highlight was working with real data. In this course we were tasked to send surveys to external respondents. In the past, I only conducted research using responses from my classmates or already existing data, so this was a new experience for me. My group worked on the H&M reward program and made recommendations to increase its effectiveness. I would highly recommend this course even if you already have a lot of market research experience, as it is also useful to learn a new technical skill.
Trying to figure out which graduate program is best for you? Bentley offers a wide selection of degrees, concentrations, and certificates. Use this Graduate program finder tool to help decide which Bentley program best fits your interests and goals.