Collective Energy
A conversation with the task force co-chairs
More than 100 faculty, staff, students and alumni stepped forward to join the Racial Justice Task Force. We caught up with the co-chairs in mid-July, as the group started its work.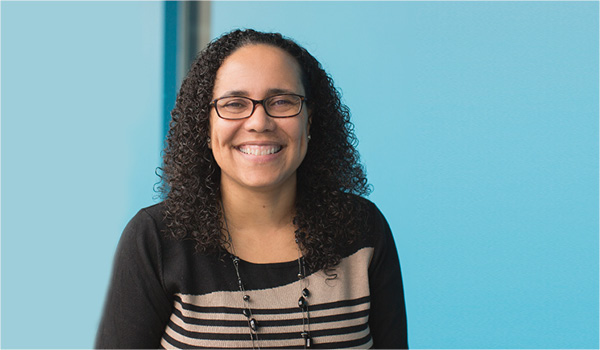 Katie Lampley '96
Chief Diversity and Inclusion Officer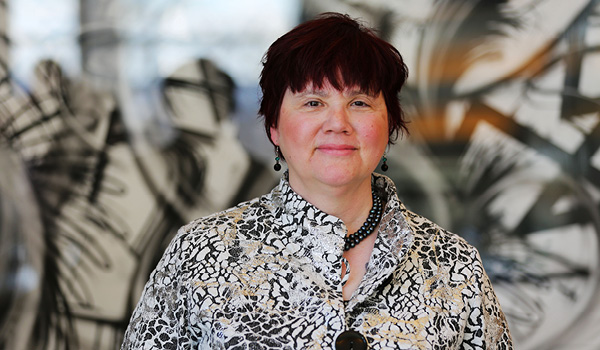 Donna Maria Blancero
Provost and Vice President for Academic Affairs
Katie, why involve all 114 people who volunteered?
A lot of the reason people stepped forward is that they feel compelled to do something; it's a way to deal with the trauma and anger and frustration. Not to honor that felt wrong. We are creating committees and there will be a core group that does a lot of work and planning, but there are opportunities for anyone who raises their hand to be involved. This is one tenet of our approach to the task force: There is a restorative nature to it. It's not just a thing of the mind, it's a thing of the heart.
Can you share some of the context for the work ahead?
Donna Maria: There are systems at Bentley that are obstacles for people in certain categories. In this case we are talking about race, but quite honestly, diversity spans many, many things. We want to make sure that those systems, those policies, those processes are available to all. It's a lot harder than it sounds. Because, generally speaking, people don't see the obstacles — and that's mostly because people are in a position of privilege.
Katie: In general, we tend to think of race relations as, "You just have to be a good person." If you don't know about something, we'll give you training, and then you'll be a good person, whatever that is. But there are actual systems in place that incentivize you to do certain things, whether you want to or not. The institution is telling you whose values and norms should be pushed forward and given prominence, and whose voices should be silenced. That has nothing to do with whether you are a good person or not.
What are concrete things the task force will do?
Donna Maria: One is to look at things we are already doing. For the past few years, with Katie's help, I've done a training for new faculty on how to teach an inclusive classroom. When this idea is brought before the task force, the reaction might be, "Every faculty member should have to do this." So the task force will help formalize a series of things we've been doing for certain audiences, or informally.
Katie: We will develop a toolkit that individual offices and departments can use to evaluate their own practices around diversity and inclusion. So there is something coming out of this that allows engagement to continue and gives people the resources to do this kind of analysis or assessment for themselves. The task force will think about benchmarking: Identify metrics we can use to be sure that we're actually making progress. And ways that, going forward, we can assess Bentley's performance around racial justice.
Questions About the Racial Justice Task Force?
People can be skeptical about task forces.
Donna Maria: I'm hoping that Bentley's commitment will shine through, that having a cabinet member as co-chair shows how important this is. But I understand people asking, "Are you really going to accomplish anything?" The task force will be very transparent. Join us if you want, but at the very least, go to the website anytime and see what we are doing. And hold us accountable. 
Katie: It's important to be realistic about what the task force can accomplish. It can shine a light on the places where work needs to be done, help give the context around why it needs to be done, and give suggestions and input about how to go about doing it. But the actual work will need to be done by everyone at Bentley, from their individual places and areas of expertise.
Donna Maria, how do you and Katie complement each other as co-chairs?
We both have a lot of passion in this area. Katie has been at Bentley for eight years doing this work. She has learned a lot about how diversity and inclusion operates. She's doing her PhD right now, so she has great expertise in the literature of diversity and inclusion. I have been doing this work for 25 years; my teaching and research focus on diversity. I've done a lot of work with companies and nonprofits, running leadership trainings for underrepresented people. We both identify as women of color. So we each bring our own experiences, which helps us understand things.
I want alumni to know that we appreciate them sharing their experiences, and we want to work with them to make things better. This has been, literally, my life's work.
Katie, how does your history with Bentley inform this role?
Having been a student and alumna with my own experiences, having had my own experiences as a staff member, I've seen how our efforts in this area have grown and evolved over time. This work is not a one time and you fix it kind of work. You take three steps forward and maybe one step back. But you have to be committed to the consistent improvement and investment in the kind of community you want to create. I bring that perspective. Not what has worked and what hasn't, but understanding what is in Bentley's DNA.
What are personal perspectives you bring to the work?
Donna Maria: I was kicked out of high school. My mom didn't finish high school and my dad went to school until the fourth grade. So no one would have thought I would get a PhD let alone be in college administration.
When you're a vocal Latina, you are put into a category. Even recently I was told that I don't fit the mold of a provost. Should a provost have tattoos? Maybe I don't speak like a provost. My perspective is often more like that of a blue-collar person. So you start questioning: Is that a deficiency or am I letting people put a label on me?
I always ask people to focus on a time when they felt totally less than others, totally marginalized because of a part of their identity. I have this visual, that you are screaming and yelling, look at me, I'm doing this and doing that, but people just don't hear you because of something around your identity. How difficult that is. So I try to remind myself of my identities and to help other people realize, don't apologize and don't give people the benefit, in a way, of marginalizing you because of an identity.
Katie: I walked on the Bentley campus in 1991 as a high school student. I've always worked in alumni groups; been on many task forces. I see the wins.
The last two years have been really exciting for me to see how we have committed as an institution to making diversity a priority, so it is part of the strategic plan in a very specific way. That has really shifted us from doing programmatic work to strategic work. I am so encouraged by the process that the curriculum redesign took, and faculty committed to cultural competence as one of the learning outcomes.
I'm also really lucky to work with people at all levels and in all spaces at Bentley. That gives me a vantage point a lot of people don't have. I know how much these conversations are already happening.
Katie Lampley '96 Named Chief Diversity and Inclusion Officer
Students, faculty and alumni have described microaggressions and outright racist behavior on campus. Will the task force consider these accounts?
Katie: I am all about brave engagement. And it's so brave to speak your truth on a platform like our Vigil for Black Lives or social media. People are sharing stories in a way they haven't been able to before. These stories can give the task force a basis to concentrate our efforts. It's a gift to have a platform to share your truth. And now it's our responsibility to honor that.
Donna Maria: I have always known these stories. I've lived some of them and I've always known them. Now, for other people to actually hear them, recognize the problem and put resources behind it, is joyful. It's still painful that these things are happening, but it's joyful that we are finally going to say, yes, we need to do something. I want alumni to know that we appreciate them sharing their experiences, and we want to work with them to make things better. This has been, literally, my life's work.
Katie, what would you like fellow alumni to know?
They have an opportunity to elevate the voices of people in the community who still feel like they can't speak up. Use your agency and connect at multiple levels: racialjustice@bentley.edu or email me directly. There have been many town hall sessions and there will be more. Get involved in those.
Another thing I would say is, this isn't just for alumni of color. We have many who work in organizations and are invested in diversity and inclusion. So, what are you doing, at work or in your community, that you want to come back and talk to students and us about? While we are elevating Black voices right now, we need to hear from white allies as well.
Don't just listen to these stories. Reflect on what they mean, for you and your experience. If you didn't know this was happening in the classroom, why not? How was your experience so different? This is not a time to passively listen. It's a time to reflect and think about our own agency and ability to work in this space. Alumni have a vested interest in whether or not we get this right.
Donna Maria, three words that describe how you're feeling right now.
Energized, relieved and determined. I feel energized by the fact that there's a lot of momentum, a lot of people. I also feel really relieved because I've been an advocate for diversity and inclusion since I got to Bentley. I feel that often I got pushed to the side a little, "There are more important things to think about." So I feel relieved it's become an important university-wide issue, not just me yelling about it. And I feel determined. There is a lot to do. But 114 people joined us because they feel passionate about diversity, and we're going to make things happen.  
This is not a time to passively listen. It's a time to reflect and think about our own agency and ability to work in this space. Alumni have a vested interest in whether or not we get this right.
Want to read more from this issue?