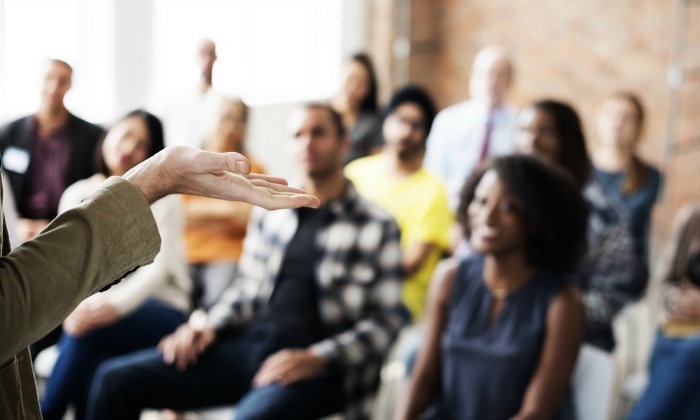 Rawpixel.com/Shutterstock.com
Workplace diversity is a complex issue. Learn what companies are doing to attract and retain female and minority candidates -- and what professionals should look for when job searching.
While women appear to thrive at entry-level positions, moving up the ladder is a different story. In fact, retaining women in the workplace has become increasingly harder for large companies.

This was the topic during a recent faculty/industry panel discussion organized by Bentley's Center for Women and Business (C) in partnership with the Bentley Research Council.

The discussion was moderated by Sava Berhané, the CWB's associate director, and featured Donna Blancero, diversity expert, Bentley professor of management and assistant dean for undergraduate business programs, and Stephen Denny, director of human resources, diversity and inclusion at Putnam Investments.


"Women often come to organizations and outperform at the entry level," Denny said. "The challenge comes three to five years in, when women look up and see no female leaders. There's no one to tell them how to get there; this is the path to their success."

(Get more advice on gender equality in the workplace from Bentley's regular conversations on the topic with Bloomberg Radio.)

The discussion pointed to everything from cultural bias -- on both an organization's and an individual's part -- to underlying universal prejudices.

Berhané, Blancero and Denny identified ways that companies can create a culture that supports women and minorities, and what these groups should look for in employers:
 
Understand Unconscious Bias (We All Have Them)
Everyone has implicit, or unconscious, biases that affect decision-making. The way you grew up or social situations you've experienced shape your views.

In their article Women Rising: The Unseen Barriers, Robin J. Ely, Hermania Ibara and Deborah Kolb assert that, "[B]ias does not require an intent to exclude; nor does it necessarily produce direct, immediate harm to any individual. Rather, it creates a context -- akin to 'something in the water' -- in which women fail to thrive or reach their full potential. Feeling less connected to one's male colleagues, being advised to take a staff role to accommodate family, finding oneself excluded from consideration for key positions -- all these situations reflect work structures and practices that put women at a disadvantage."

Getting people to accept that we all have implicit bias is key to opening up minds in order to understand it and stop making assumptions.
 
Have Someone's Back
Most individuals have a certain mindset about who they're supposed to be and how they're supposed to perform, says Denny. A high-performing woman who goes on maternity leave, for example, tends to rate herself lower during performance reviews because she has been out for three months. Managers must combat this self-rater bias with accuracy.

In a piece in Fast Company on supporting women of color, Berhané points out that trust is critical to supporting women in the workplace. Direct reports, she writes, "rely on their manager to take action on their behalf, such as representing their work and behavior accurately to others."

A good manager will stand up for their workers.
 
Create a Network
A lot of people assume that moving up is all about merit: You do well and you get promoted.

This isn't always the case, according to Blancero. "There are some people who are part of a network and are given opportunities that those outside the network don't get." And if you're not part of the network, adds Denny, you don't get the assignments -- or the promotions.

To help foster these networks, Putnam hosts casual lunch sessions where female employees have face time with senior-level women and men. An organization can help women build their external network by encouraging attendance to conferences (like Bentley's one-day conference for women called Gearing Up) and events targeted at females in the field.

Check out these companies where women thrive.
 
Do Sweat the Small Stuff
Minor insults -- or micro aggressions -- that happen day-in and day-out can appear to be insignificant, but actually combine to be massive in terms of how people feel about themselves, says Blancero.

For example, a manager might pass a woman over for an opportunity to travel because she has children, or a manager might single out a person of color for their opinion on an idea with racial implications simply because of their ethnicity.

Good managers will be mindful that words, phrasing of questions and overall inclusion matters, and good companies will reinforce this through their programming, messaging and corporate culture.
 
Mentor Junior-Level Employees and Sponsor Senior-Level Employees
At Putnam, junior employees are matched to mentors based on essential skills they want to learn, and their preference of a male or female manager. But mentors must also be aware of the challenges race can present to a protégé's career. When paired right, this connection can help lesser-experienced workers learn faster, feel supported and feel more connected to an organization.

When it comes to women at the senior-level, it's important to have senior leadership sponsors take an active role in developing a pipeline.

Women are 54 percent less likely than men to have a sponsor. Hence, management needs to be accountable for finding ways to pull women in and move them through, Denny says. "Look at key roles, determine who the qualified female successors are and set a path for them to get there."
 

Women are 54% less likely than men to have a sponsor. #preparedu #diversity #womenatwork @BentleyCWB

TWEET THIS



To advance in women's careers, organizations should engage in succession planning that will encourage growth by sharing knowledge about what it takes to get to the top, by delegating high-profile assignments and by rewarding success with promotions.

See why women need sponsors to help them advance.
 
Get CEO Buy-In
When it comes to supporting female workers, Denny says that nothing takes hold like when a CEO says, "This is how we need to be." Frontline managers need to be open to the idea of women and minorities advancing in an organization and be held accountable.

This is precisely why Bentley's Center for Women and Business began the Corporate Challenge initiative (including Putnam Investments). More than 100 companies and CEOs have committed to recruiting, retaining and advancing women at all levels -- and with the help of CWB programs and recommendations, they will continue this progress.

Being mindful of the above steps will pave the way for companies and managers to create opportunities for advancing and retaining female employees.
Want to learn more? Read about Blancero's seven recommendations to promote diversity in the workplace.