Bentley Community Shows Pride in First In-Person Rainbow Graduation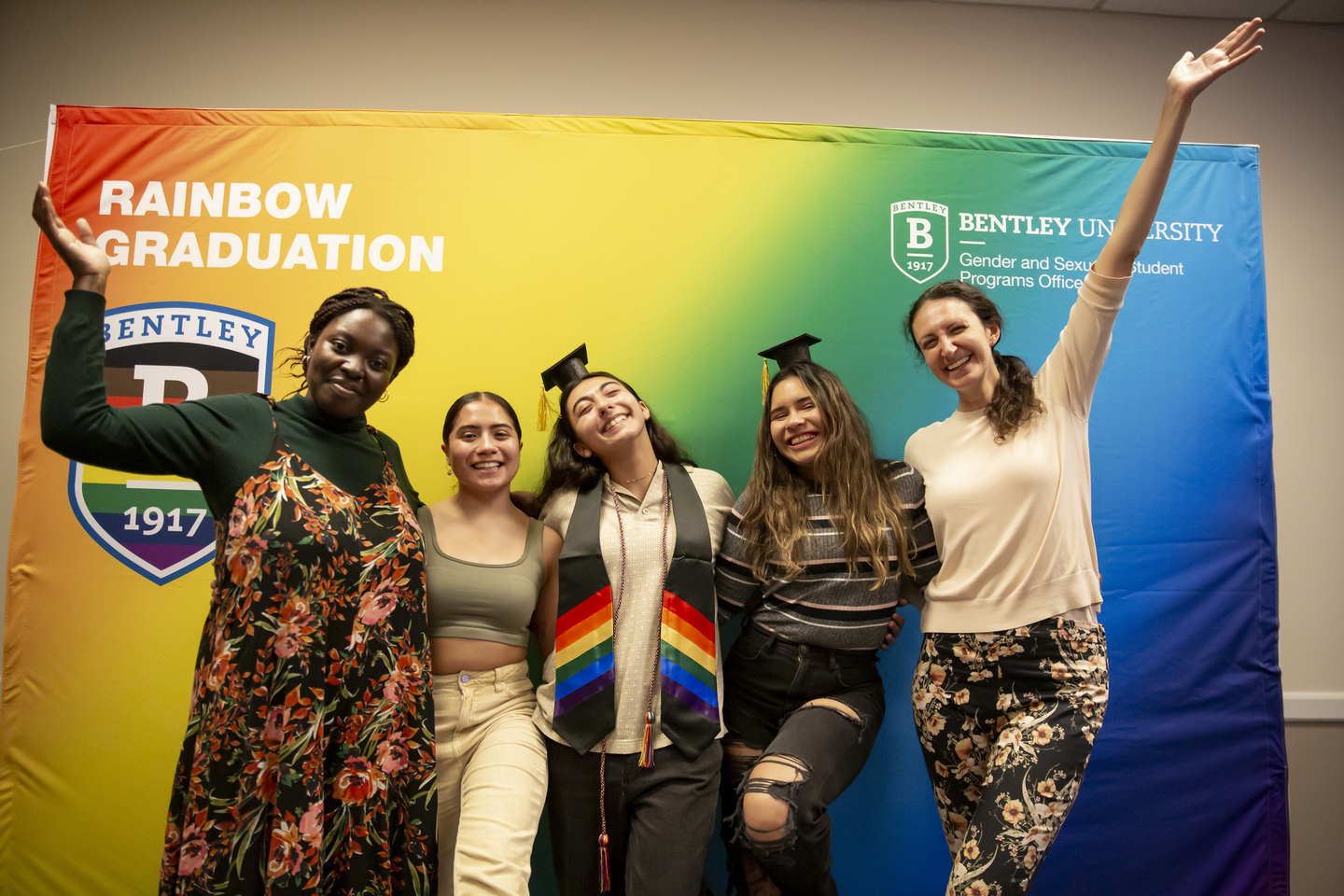 Celebrating at the Rainbow Graduation are participants including (left) Nana Adu of the Gender and Sexuality Student Programs Office; (center) Nichole Kaba '22; and (right) Dorothy Polatin of the Gender and Sexuality Student Programs Office. Photos by Kevin Maguire.
Graduating seniors, friends, professors and university staff gathered for the first in-person Rainbow Graduation ceremony for graduating LGBTQ+ students. Celebratory cheers broke out as names were read and students proudly received their rainbow cords to place over their shoulders. Members of the PRIDE LGBTQ+ student organization also received a brightly colored custom rainbow stole.  
"The LGBTQ+ population has not only been historically marginalized in the US and in different societies, but also in higher education," says Nana Adu, program coordinator of Gender and Sexuality Student Programs. "So it's important for Bentley to be able to have an event like the Rainbow Graduation, where the university recognizes students who identify as LGBTQ+, provides a meaningful space to celebrate their achievements and ensures the students know that we see them."
Matt Banks, associate director in the Office of Diversity and Inclusion, delivered a heartfelt toast, sharing firsthand experiences like attending college and launching a career during milestones like the 2008 Proposition 8 Affirmative Vote in California and the repeal of the "don't ask, don't tell" policy. 
"I have grown into adulthood in times when the legal and social landscapes for queer and trans folks have been on every news channel in the country," Banks said, noting that these international events and their own personal journey made them "see how anti-queer and trans discourses have evolved yet remained the same." 
Banks praised the Rainbow Graduation participants for their activism and bravery. "From the normalization of pronouns on campus to increasing visibility of and demand for inclusion of LGBTQ+ students, your generation has pushed Bentley, other colleges and universities and the world as a whole to do more and be better for queer and trans people. This work is why celebrations like this one are so necessary."
RELATED: Trans Pride Flag Raising
CELEBRATING COMMUNITY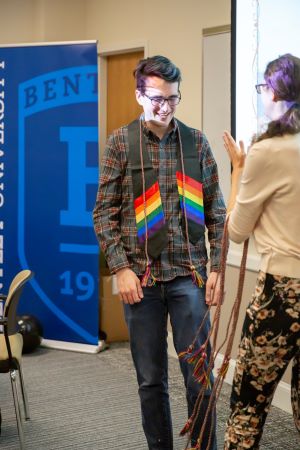 Bentley's Rainbow Graduation, which is held before the university's commencement ceremony, was launched in 2021 and was hosted by the Office of Gender and Sexuality Student Programs. It was co-sponsored by the Office of Diversity and Inclusion, LGBTQ+ Steering Committee, Global Studies Department and Pulsifer Career Development Center. 
According to Higher Ed Today, LGBTQ+ students are more visible than ever on U.S. college campuses – yet they remain both sexual-orientation and gender-identity marginalized and targets of discrimination and oppression by those in power.  
"Having welcoming spaces like the Gender and Sexuality Student Lounge, which centers students who are LGBTQ+, women and/or nonbinary and their allies, helps create a sense of belonging and inclusion for students who may not otherwise easily find community members who identify similarly," Adu says. "In addition to these spaces, different conversations and programming — such as those put on by student organizations like PRIDE — are having an impact regarding shifting that culture. We need to be purposeful about community building and identity awareness." 
Bentley's LGBTQ+ Student Organization
Banks emphasized the importance of the Rainbow Graduation ceremony as a place "to toast and celebrate our community in a visible meaningful way; to say to each other, 'We are more than enough.'" 
Nichole Kaba '22, a Business Economics major who is joining KPMG full time as a tax and economics consultant after graduation, said, "It brought me a lot of joy to have a ceremony on campus dedicated to us."   
Kaba read a poem she wrote as a letter to her first-year self about the journey of being a gay college student. "Treasure relationships where you encourage one another to grow; people you are the best version of yourself with, pushing each other to be kinder ... there is so much beauty along the way, and so much more in store beyond your imagination. Keep reading this beautiful book of life — it only gets better."