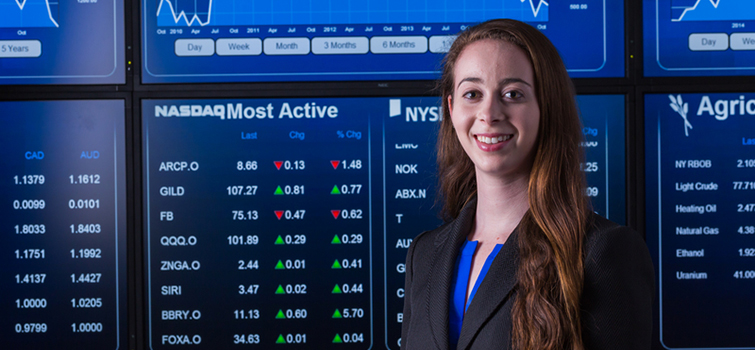 By Kristen Walsh
Reviewing SEC filing and earnings releases. Pitching stocks. Allocating equities.
The work of the Bentley Investment Group (BIG) sounds more like a day in the life of a Wall Street investor — and it is.

What Is BIG?
The student-run organization evaluates a portion of the Bentley University endowment, with impressive results. An original $250,000 allocation in 1997 has grown to more than $800,000 under the group's financial investment decisions.
"We've beat the S&P 500 for year-to-date," says Charles Tilden '16, a Finance major and BIG's former vice president.
The group engages in stock selection, analysis of investments, presentations of stock proposals and discussions. Students deal in real money and report to the university's Board of Trustees.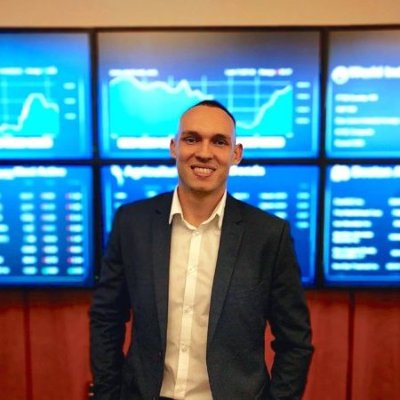 A mix of majors (beyond finance) and skill levels (undergraduate and graduate students) produces diverse teams, each assigned to one of six industry sectors. Nikita Kononchuk, a student in the Master of Science in Finance program, joined last fall and serves as an analyst on the health-care sector. He was initially attracted to the team because of its energy, and the challenge of learning an industry that was new to him.
"Meetings are fast paced," says Kononchuk. "Everyone gets involved right away."
It didn't take Kononchuk long to learn the ropes and bring his own skills to the table — from graduate courses and serving as a graduate assistant in the Management Department — to dig deep into a company and its products by tracking a year's worth of media coverage, for example.

Buying, Selling and Learning
Funds are allocated to several equities across six industries, voted on by upward of 200 students who attend weekly meetings to listen to BIG teams who pitch their companies.
Because of correlation among certain industry groups, BIG combined technology with telecom and materials with industrials, and added real estate into the conglomeration. The intuitive diversification plays an important risk reduction measure.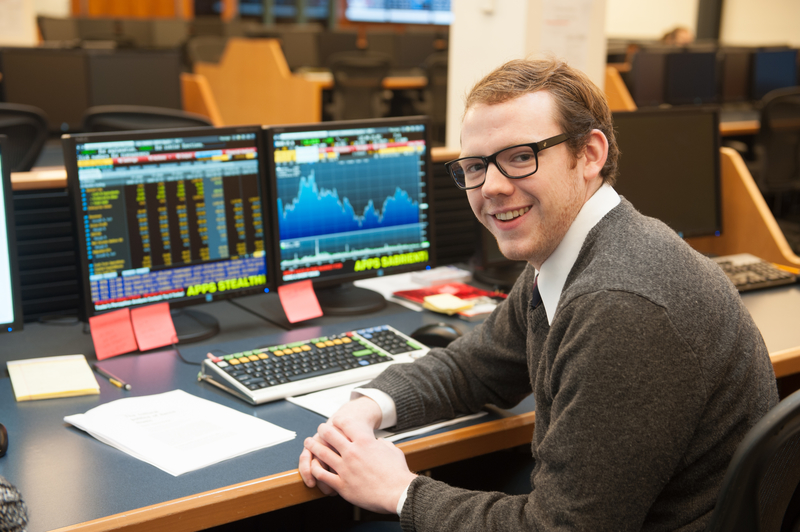 For BIG members, however, investing in education is just as important as investing in the right stocks.
"There's a performance metric and then an education metric," Tilden says. "A lot of what we do is focused on students teaching each other how to research finance — even before it's taught in classes."
He recalls the first BIG meeting he attended in 2012. "Students on the executive board were talking about the kinds of full-time jobs they had already secured in industries like investment banking. They were going somewhere — and I knew I wanted to be one of those kinds of students."
BIG allocates assets by using the experience and analytical expertise of all members. By utilizing a predominantly top-down investing approach, the group is able to allocate into various sectors that the group sees as the most efficient diversification of the fund.

And leaving egos at the door is a must in order to gain the most out of the experience. Graduate students work hand-in-hand with undergrads — without issue. "Many undergraduates are my age or older and have already held multiple internships," says Kononchuk, now 21. "You know you're working with not just students, but professionals. Having that kind of expertise helps me see the big picture."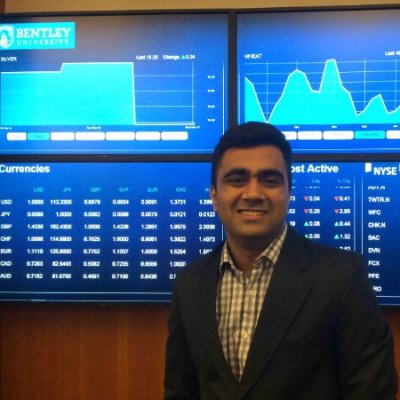 Mayur Gilani, MSF '16, who also serves as vice president of finance for the Graduate Economic Organization, agrees. "If you don't understand something like a valuation method, you just need to ask any senior analyst or team leader and they'll answer your question right away. Being a part of this organization pushes you to keep yourself updated with relevant industry news and what's going on in the market."
Tilden values the different strategies that graduate students have brought to the table in regard to aspects such as using quantitative models to better optimize the portfolio. "They've been instrumental in the group by utilizing their experience from school and work," he says. "They have contributed to educating younger members, which is a huge plus for the group overall."

Finance Careers Beyond Bentley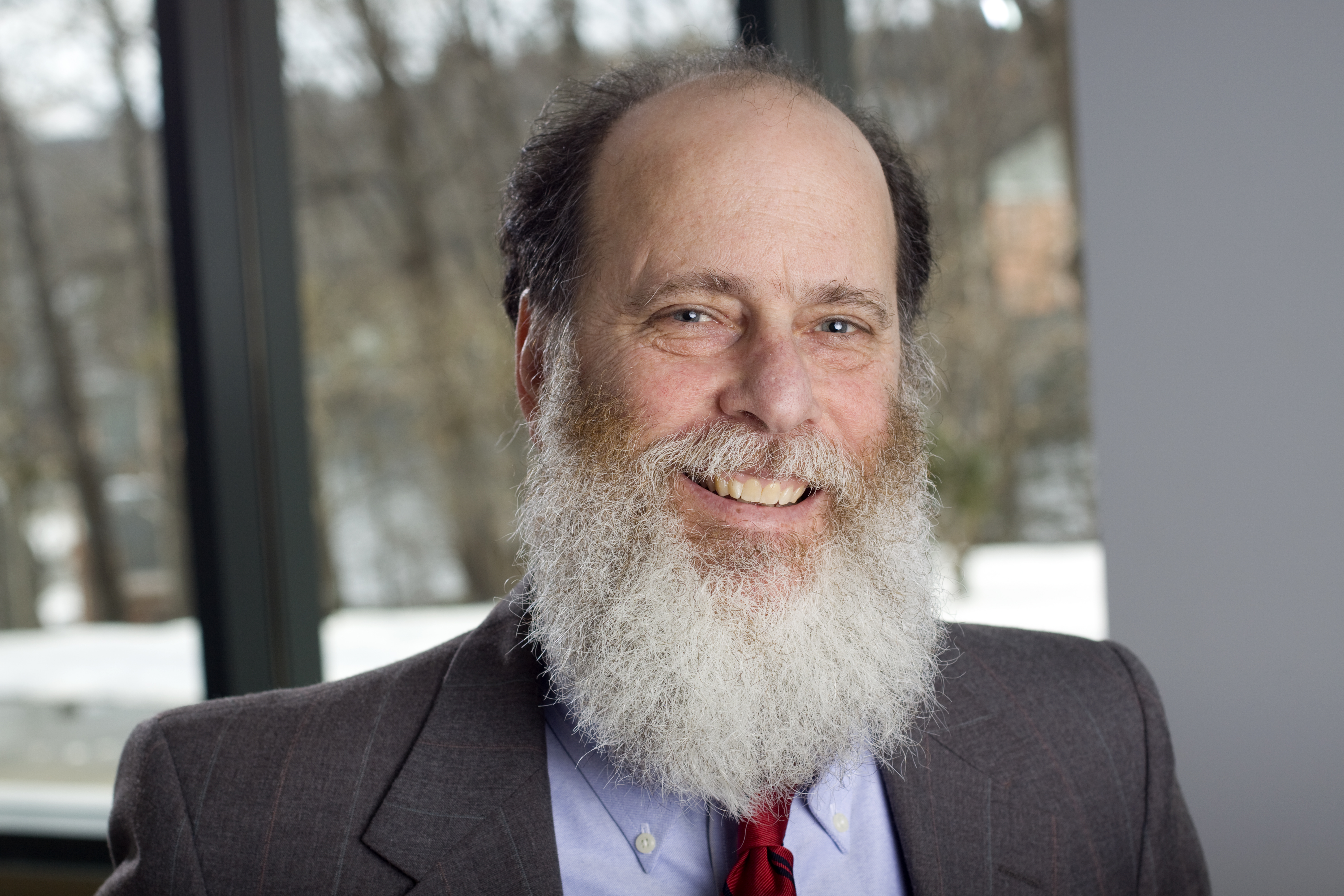 Much of the work is done in the Trading Room, where groups often meet twice a week for at least an hour. But for students, making the investment in BIG is worth it — especially when it comes to boosting careers. In addition to building a strong network with investment-minded students who go on to land jobs in the industry, BIG experience provides a competitive advantage in the job market.
"If a potential employer asks about a favorite stock, a BIG member can present very detailed, focused analysis," says BIG faculty adviser David Simon. "There's a demand for those kinds of skills and actively participating in BIG is an excellent opportunity for graduate students to augment what they learn in the classroom."
During an interview for an internship, Gilani was asked to make a short stock pitch presentation. "I was able to pull out my laptop and put on an impressive slideshow on Apple's stock. I never would have had this kind of practical investment practice if I hadn't been a part of BIG."