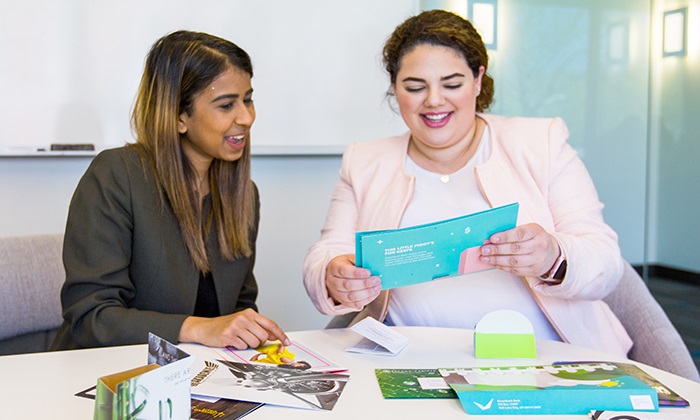 Shivani Rajan '18 and Nina Freedman '19 analyze direct mail samples.
How powerful of a marketing tool is direct mail in today's digital world? Very powerful.
While marketing via social media, mobile devices and email has skyrocketed, direct mail -- those advertising letters, postcards and other mailings you receive in the mailbox -- is actually more effective. Consumers are more than three times as likely to respond to a direct mail campaign than a digital campaign -- 5.3 percent compared to 1.6 percent -- according to the Data and Marketing Association.
Marketing students at Bentley are learning firsthand about the power of paper through a new class on direct mail marketing that was created with input and participation from the United States Postal Service. The Postal Service plans to use this unusual partnership between industry and higher education as a national model, taking the course developed at Bentley to other universities across the country to demonstrate the value of direct mail.
"Direct mail remains a $47 billion dollar industry," says Ian Cross, director of Bentley's Center For Marketing Technology, who worked with the Postal Service to develop the class. "Modern marketers  including our students need to know how to use direct mail just as much as they need to know about social media, digital and print advertising. They should all be part of an integrative marketing approach."
Students in the class learn about direct mail technologies and strategies and participate in hands-on learning projects in which they create direct mail campaigns for small businesses. Executives from several companies -- including the global advertising firm McCann, the printing company RR Donnelley, and the paper company Sappi -- share direct mail best practices to give the students real-world perspectives.
Read About a Direct Mail Project That Students Did for a Small Business
As part of the partnership, the Postal Service also collected ideas from Bentley students on how to update the direct mail certification program it offers to companies and make it applicable for younger workers.
"These students are reviving direct mail and how we teach people to use it," says Victoria Stephens, director of mailing services for the Postal Service. "Our partnership with Bentley University will be a springboard to other universities around the country, allowing us to highlight the value and importance of direct mail marketing to today's students who will be tomorrow's marketing professionals."
Cross recently travelled with a group of Bentley students from the class to San Antonio, Texas, to talk about their collaboration with the Postal Service as featured speakers at the National Postal Forum, a conference attended by thousands of professionals in the mailing and shipping industry.
Andrea Simon '19, a Marketing major, was part of the group.
"It's amazing that as students in a classroom, we're able to offer recommendations to an organization as well-known as the U.S. Postal Service," said Simon. "I never imagined all the creative and innovative ways you can reach people with direct mail -- strategies I'll be able to use when I go to work after graduation."
Read About Another Bentley Industry Partnership -- HubSpot
 
About the U.S. Postal Service
The U.S. Postal Service (USPS) delivers 47 percent of the world's mail, serves 157.3 million points of delivery six days a week and makes more ecommerce package deliveries to homes than any other U.S. carrier. USPS receives no tax dollars for operating expenses and relies on the sale of postage, products and services to fund its operations.
About Bentley University
Bentley University is one of the nation's leading business schools, dedicated to preparing a new kind of business leader with the technical skills, global perspective and ethical standards required to make a difference in an ever-changing world. Bentley's diverse arts and sciences program combined with an advanced business curriculum prepares graduates to make an impact in their chosen fields. The university enrolls approximately 4,000 undergraduate and 1,000 graduate students. For more information, visit www.bentley.edu.