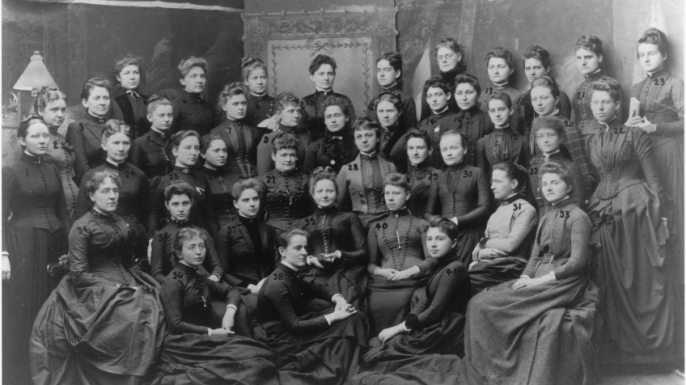 Bentley Professor Awarded NEH Grant to Study Women Doctors of the 1800s
(Photo shows a medical school graduation picture from the Women's College of Pennsylvania, late 19th century. Credit: Legacy Center, Drexel University College of Medicine.)
"Dr. Jane R. Baker has been chosen general superintendent and medical director of the Chester County (Pa.) Insane Asylum, which will be completed December 1."
"Six women have entered the freshman class of the Johns Hopkins Medical School. There are now thirty-five women in the school, fourteen being in the graduating class, and seven, so far, have obtained degrees. Fifty-three new medical students have been enrolled, of whom eight are from Baltimore."
"Dr. Marian K. Bowles of Joliet, Ill., was the only woman to present a paper to the Mississippi Valley Medical Association at its recent meeting held in Chicago. Several women are members of this society, but here, as in other medical societies, women are backward in writing papers, although fully capable of doing so."
"We are delighted to announce the election of Dr. Marie J. Mergler as Dean of Northwestern University Woman's Medical School. The University is to be congratulated upon securing Dr. Mergler to fill this position, and we understand the students are manifesting their satisfaction in a very decided manner."
These notices from the Women's Medical Journal in 1899 are an early example of the type of professional network that helped women progress in the medical field in the late 19th century. Bentley Professor of English and Media Studies Gesa Kirsch has been awarded a National Endowment for the Humanities Summer Stipend grant to study the Woman's Medical Journal, which circulated nationwide from 1893 to 1952, along with the network of women doctors that it helped foster.
Only 8 percent of applicants received 2017 Summer Stipend grants, which provide two months' full-time support for a humanities project. Kirsch's project is titled "Legacies of Thought and Action: The Professional Networks of 19th Century Women Physicians."
From one physician to many
Kirsch discovered the Woman's Medical Journal and got a sense of its impact during an earlier project on Dr. Mary Bennett Ritter (1860-1949), a leading doctor in California in the late 19th and early 20th centuries. Kirsch has been instrumental in bringing Ritter's autobiography, "More than Gold in California: The Life and Work of Mary Bennett Ritter," back into print after more than 75 years, serving as editor for a new edition from Globe Pequot Press. Kirsch will deliver a lecture on Ritter's activism and legacy at the Harvard Medical School's Countway Library of Medicine in Boston on April 25, hosted by the school's Center for the History of Medicine.
Kirsch's work this summer will focus on the "rhetorical strategies, professional networks and intellectual leadership" of a group of late 19th century women physicians, using case studies of these women and analysis of the Woman's Medical Journal. Kirsch will examine the ways these women physicians mentored each other in a culture that was sometimes openly hostile to their professional aspirations.
A national bulletin board
The Woman's Medical Journal included "endless miscellany notes": job postings, internships, leaves of absence, women's promotions, scholarship notices, pointers on which medical schools were supportive of women (and which weren't). "The editors tried to inspire and inform their women readers—it was a kind of community support bulletin board," Kirsch says. The Journal was based in Toledo, Ohio, but was a national publication, with notices reprinted from other medical journals across the country; part of Kirsch's work this summer will be to try to determine circulation numbers.
Her summer focus on the Journal is part of a larger book project that will use the lives and professional networks of Dr. Ritter and another early woman physician, Dr. Clelia Duel Mosher (1863-1940), as case studies. Eventually, Kirsch will work with colleagues at the University of California Santa Barbara and at Chapman College to visually map Ritter's, Mosher's and other women physicians' professional networks, seeing where and how they may have encountered and supported each other at various institutions and conferences, as well as through publications like the Journal.
A 19th century LinkedIn
Kirsch says these early professional networks are precursors of digital age networks such as LinkedIn. She sees parallels between the ways women in medicine supported each other then and the ways they do so now in Science, Technology, Engineering and Mathematics (STEM) fields. "The Woman's Medical Journal can be seen as a social network for women that existed before the Internet," Kirsch says.
The need to understand and promote such networks is, Kirsch says, just as great today. As a co-founder of the Women's Leadership Institute at Bentley University, the precursor to the Center for Women and Business, Kirsch has always been interested in women's ability "to speak, be heard, and have impact" as professional collaborators and activists. Examining the rhetorical strategies of an earlier era of women will unlock a history and strategies that today's women could find inspiring.