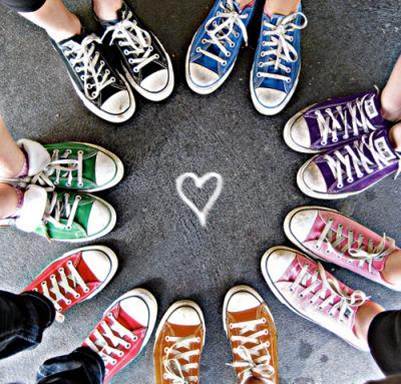 Bentley Students Keep Converse a Step Ahead
Little feet pushed Bentley undergraduate students to take big steps as they prepared marketing strategies for Converse Kids' $125M business. Recommendations were presented directly to the footwear company's Product Creation Team using iBook.
"We came to students with real questions that we wanted answered, and they worked diligently to provide those," says John "Spud" Foti, senior product testing manager at Converse.
Among the questions: What are consumer perceptions of Converse? Is the company exceeding their footwear needs? How will consumers influence future product creation?
Student teams were specifically charged with developing campaigns to help connect Converse to consumers in three separate age groups: zero to four, five to 12, and 13 to 18. This included exploring the role of social media, parents and celebrity endorsements.
"My team's age group was 13 to 18, which was challenging because there are significant differences in the top and bottom of this age range," says Marketing major Melissa Sanchez '14. "We looked at the entire group on a few different levels to see the difference between a 13 year old customer and an 18 year old customer. It was fascinating to learn what drives teen consumers to make a purchase."
At least one member of the Converse team attended class each week to share knowledge of key marketing issues and uses of appropriate marketing technology. Visiting Converse headquarters helped students gain traction as they learned how sneakers are developed and met with the company's Product Creation Team. Focus groups were conducted in Bentley's Center for Marketing Technology (CMT) to research aspects like important performance features, brand perception and purchasing power.
"Students applied available secondary and field-based market research approaches to make informed marketing decisions and develop successful campaigns," says Ian Cross, CMT director who teaches the Corporate Immersion Marketing class.
Cutting-edge Apple solutions — iPads, iTunesU, iLife, IWorks and IBook Author — facilitated learning aspects such as working in teams, creating and sharing content, and publishing information in class and remotely. Drop Box was used to communicate different mini-assignments.
"This was by far my favorite class at Bentley," Sanchez recalls of the spring semester course. "Using modern technology to present real-world findings for a successful company like Converse makes such a difference in learning. It is a great motivator for students to do their best work knowing that Converse is taking such an interest in their findings."