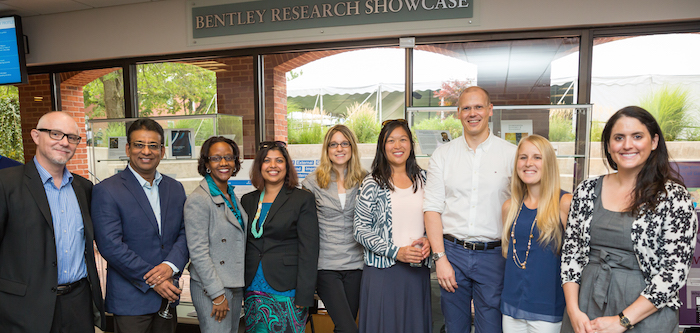 Bentley University Reception Showcases Faculty Research, Thought Leadership Networks
Annual research reception highlights both individual and collaborative scholarly success.
Bentley's annual Research Reception shined a spotlight on the breadth of the university's research  and on its innovative methods for supporting such research.
From new faculty members (fifteen joined the Bentley faculty in 2015) to PhD students to full professors, the community of scholars at Bentley came together to present their work in a wide-ranging academic display session sponsored by the Bentley Research Council.
The Research Reception showcased the work of more than 80 scholars from across more than seventeen disciplines or departments, often working in interdisciplinary teams.
As Chair of the Research Council Professor Marcia Cornett observed, "The event provided an opportunity to learn about the varied research done by members of the Bentley community, highlighting the work of our new faculty and PhD students, as well as the recipients of the initial eight multi-disciplinary Thought Leadership Network seed grants."
The "Thought Leadership Networks," or TLNs, are innovative, formal groupings of faculty across departments and disciplines around common areas of inquiry or activity such as health, data or business analytics, or student-faculty research collaboration.
An emerging cohort of eight TLNs, currently being funded in the pilot stage, promises to substantially enhance Bentley's excellence in research and teaching. As Professor Cornett explains, "The goal of the TLN program is to support groups of investigators to advance a field and to communicate and coordinate research or educational activities that cross disciplines, as well as organizational and geographic boundaries. This work reflects Bentley's focus on fusion."
Research topics presented at the reception included:
An examination of ways to promote undergraduate research
Ways to fuse STEM, liberal arts, and business curricula in undergraduate sustainability education
How and why corporate boards appoint female directors
Data-driven innovation and value creation in businesses
System and information security in an interconnected, insecure world
Adapting to changing health landscapes
Jurors' reactions to corporate social responsibility disclosures
Community policing and police's use of social media
The perpetuation of gender biases in impoverished households in Uganda