Can a Prom Dress Make a Young Woman More Confident?
Vogue calls it "confidence dressing" and job interviewees call it "dressing for success." The clothing we wear can impact our mood and inspire confidence. That's particularly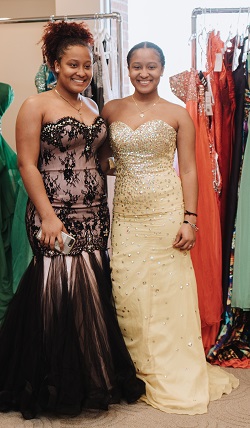 true when choosing a high school prom dress. It's one reason why a group of Bentley students every year hold an event, known as Dresses to Dreams, to provide prom dresses to local high school students who may not otherwise be able to afford them. Another reason? To help young women build self-confidence that will last long after high school.
"Our event started years ago as just a prom dress, but we've grown to become much more than that," Holly Fiscus '19 said of the annual event that started in 2011. "While getting a prom dress is fun, we wanted our event to have a deeper meaning, which is why we bring in these self-empowerment workshops."
The event, which was recently held on campus and run by Bentley students, included several stations, including picking a prom dress; a hair and makeup tutorial donated by beauty school Toni & Guy; and a self-love workshop called "Beautiful Betty." Bentley President Alison Davis-Blake and Waltham Mayor Jeannette McCarthy both attended, and food for lunch was donated by local restaurants.
Fiscus, who is co-president of Dresses to Dreams with Melanie Murphy ˊ19, has been involved since her first year at Bentley.
"It was honestly a life-changing experience for me, which is something I didn't really expect going into it," Fiscus recalled. "One of my favorite memories was seeing a young woman come out wearing a beautiful dress, looking at herself in the mirror, and then starting to cry saying, 'I've never felt this pretty before.' At that moment, I realized what we were doing had a huge, lasting impact on these girls, and that's why I stayed involved throughout my four years."
Part of her role includes finding donations, including the launch of a GoFundMe that raised $2,180. The organization, which is sponsored by the Center for Women and Business, has 16 women on its executive board and 40 group members. Dress donations are accepted throughout the year and come from the Bentley community and dress shops and boutiques in Greater Boston. This year the 150 attendees got to choose from 300-plus dresses.
Melody, a Waltham High School student who took part, said the prom is something many high school students look forward to all year. "It's a really important night so you want to look pretty," she said, as young women around her tried on dresses. "This is a really good opportunity, especially for people who don't have the money to get dresses."
Another Waltham High student, Rose, said a beautiful dress can "help people come out of their shell."
"It makes you feel confident," she said. "You feel good about yourself when you put on a prom dress."
"Young women get a lot of pressure from the media to look a certain way and be flawless," said Fiscus. "During high school, it can be hard to find that self-confidence, but this event allows us to make a positive impact by having these young women find their true beauty both inside and out."
Fiscus says she gets just as much out of the event as she puts in. "By the end of the day, there are so many friendships and bonds that have formed. It's meaningful to be able to give back and make a positive impact in someone's life. We want the girls to find a beautiful dress, but we also want them walking away feeling confident and loving themselves."