With 11,000 new and improved square feet dedicated to meeting, studying, and socializing, the newly renovated Bentley Student Center reflects the university's commitment to embed teamwork and collaboration into the fabric of the Bentley University campus. Spearheaded by Bentley's Student Affairs division, the renovation of the new space culminated with an April 9 grand opening celebration and dedication of the new student organization bubble.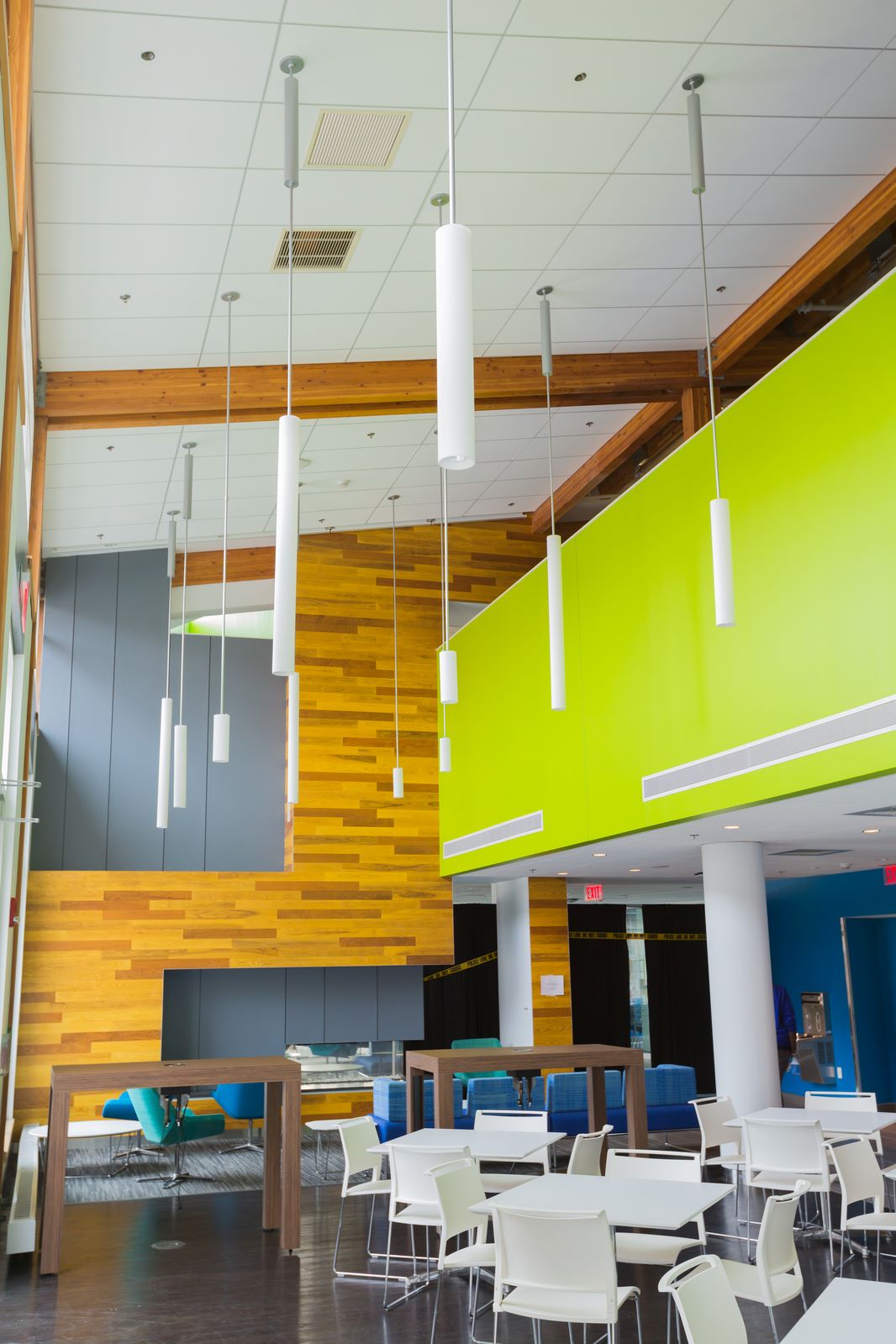 "This project has focused on connection and collaboration," says Andrew Shepardson, vice president for student affairs. "Thanks to our architect partners at Perkins and Will, we were able to create a space that not only allows and encourages students to work and socialize together, but also a space that connects students to Bentley physically and emotionally."
As a business university, the design of the building reflects an innovated workplace environment with open offices and new technology, while paying homage to Bentley's history with a wall of Flex the Falcon through the ages and a stock ticker representing the day Bentley moved its campus from downtown Boston to Waltham. "All of the administrative spaces in this building have moved to an open concept to reflect what more and more of our students are seeing when they enter the workforce," Nicole Chabot-Wiefriech, director of Student Activities says. "Creating a space to be more efficient and transparent was important to us, while remaining true to the Bentley DNA."
WORKING AND LEARNING
The new "Bentley Bubble" is fully dedicated to serving student organizations so they can have much needed space to gather. The new area features state of the art meeting rooms equipped with multimedia centers and club storage units. The Bubble is restricted to student use only, ensuring that Bentley's 100+ student led organizations will always have a place to convene.
Located on the opposite side of the third floor, the Bentley community can find the new Equity Center and Cultural Lounge. The Equity Center promotes an ethos of leadership focused on social justice and provides campus-wide workshops, dialogues, and programs for students, faculty, and staff. The Cultural Lounge, an extension of the Multicultural Center and Center for International Students and Scholars, offers an additional space for study and programing.  
RELAX AND SOCIALIZE
Along with creating additional work space for students, the Student Affairs division wanted to ensure the new addition to the Student Center provides students with a space to take a break and simply hang out with one another. The redesigned living room, outdoor patio, Harry's Pub, and two new dining options, Russo's and Argo Tea, are all testaments to that goal.
Directly below the Bubble, the revamped Bentley living room features sleek new furniture, transparent study rooms, and game tables. The outdoor patio connects to the living room through removable glass panels and includes a new fire pit. 
"It was particularly exciting for me to walk by the student center just hours after the grand opening and see two students sitting in the Adirondack chairs around the fire pit just talking," Shepardson says.  "That is precisely what the project has been about—creating a place for students to interact in a relaxing setting that is slightly removed from their busy and demanding lives as students."
Harry's Pub, a time-tested favorite gathering spot for Bentley students, also received a refresh and is open Wednesday through Sunday. Programing at Harry's is offered weekly by rotating student organizations and includes bingo, karaoke, and trivia. More than 500 students gathered for the pub's grand opening on February 12.
STILL TO COME
When they return to campus in fall 2015, students can expect to see an interior refresh to Seasons Dining Hall, including additional seating.  New office space for the Center for International Students and Scholars, Multicultural Center, and Residence Life will also be completed over the summer.