'Bentley's Bold Bets for the Future'
Inauguration address by E. LaBrent Chrite, PhD, Bentley University's ninth president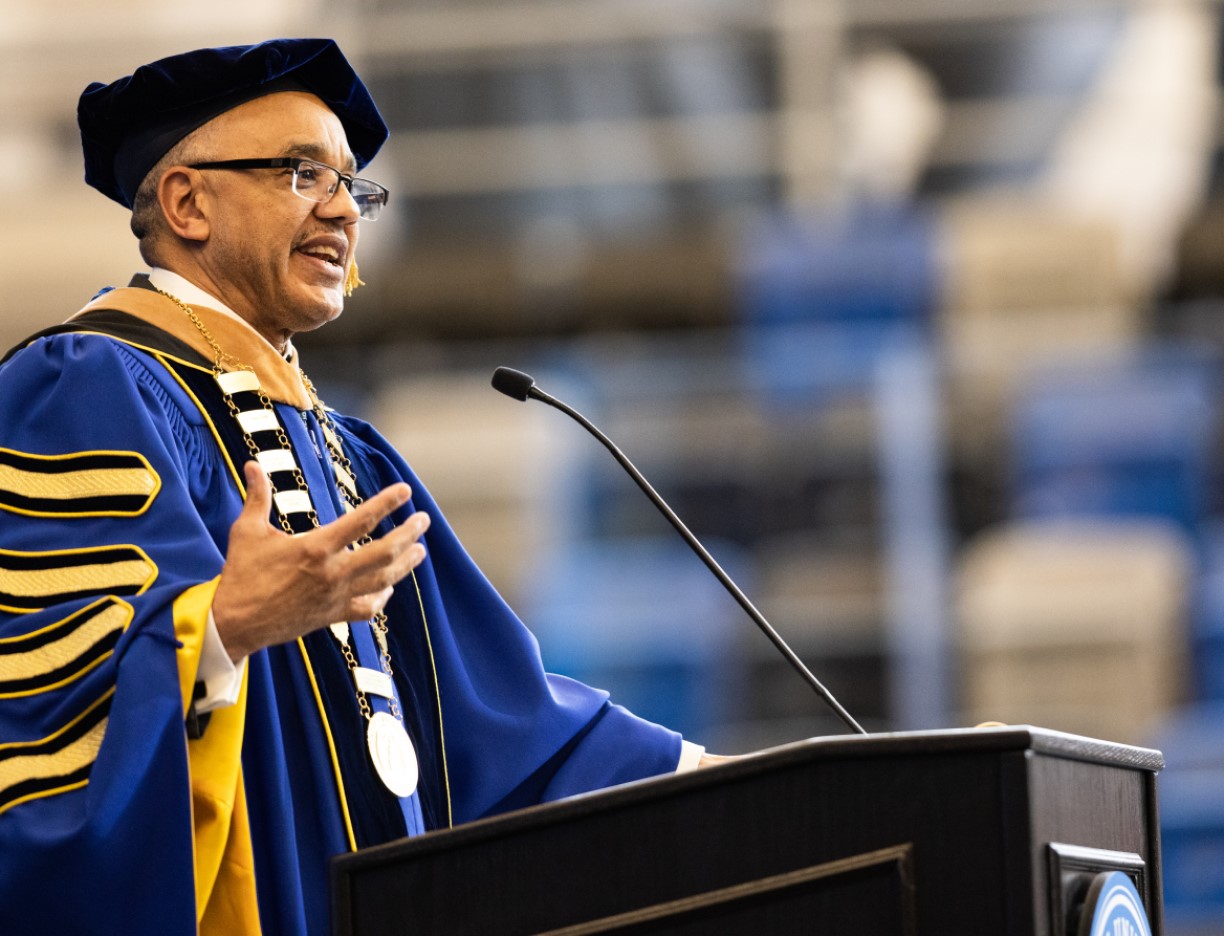 Photo by Joel Haskell
Chair Paul Condrin, members of the Bentley Board of Trustees and trustees emeriti; former presidents Morone and Larson; Dr. Michael Lomax (in absentia) and Mr. Agai Jones in his stead, Dr. Debora Spar and Dr. B. Joseph White; members of my family and in particular, my lovely wife Phyllis, and our kids, Elrie, Adriana and Jordan; esteemed delegates; faculty, staff, students and alumni; friends and frat brothers from across the country ... Thank you for joining us on this very special occasion.   
Phyllis and I are deeply moved by the outpouring of support, goodwill and generosity expressed here this afternoon, and we are honored that you all have come here today to fellowship and celebrate with us.   
My first 10 months at Bentley University have been incredible — and incredibly busy.   
When I arrived last June, priority number one was ensuring a safe and successful, fully operational 2021-22 academic year for our students, faculty and staff. I stand here today delighted to be in this space, together, with each of you on this occasion.   
The past 10 months have also been defined by incredible transition and growth. From working with my executive leadership team, along with hundreds of members of this community, on an ambitious strategic positioning effort that will define this institution's next chapter, to getting to know our amazing students, who inspire me daily.  
I've also valued getting to know our faculty and staff and my new bosses, many of whom sit behind me today, and to begin to understand the cadence and rhythms of a new organization.  
Throughout this period, Phyllis and I have loved exploring the beauty and history of Waltham and Boston, a corner of the country that was foreign to both of us prior to our arrival. We're learning to appreciate many of New England's rich traditions, and we've witnessed firsthand the majesty of its vistas and coastal landscapes. We've also come to understand some of the rather unusual regional idiosyncrasies that come with the territory. Many of those "lessons learned" are stories I'll save for another time. 
These first 10 months have been incredible. But they have not been without their challenges. 
'The type of leader we hope all of our students aspire to be'
The highs Phyllis and I have experienced in joining this community have been tempered by enduring reminders of the cumulative, persistent and yet to be fully recognized consequences of a devastating two-year period. I have been especially sensitive to the shockingly disproportionate impact that COVID-19 has had on marginalized communities, especially communities of color. Beyond the immediate health consequences, there is irrefutable evidence of the inability of these communities to withstand the harsh blows of the pandemic's economic fallout. This has been difficult to witness.  
The pandemic also highlighted some of the fragility of this country's overall well-being, evidenced by near-historic tumult, and calling into question some of our most cherished norms and institutions. Over the past two years, we've had to navigate grievance, intolerance, racial violence, de-platforming, white nationalism and near-nihilistic political upheaval. I also acknowledge the impact all of this has had on the psycho-social well-being of our students — and of young people in particular — across the country. 
These conditions have converged to greatly impact the landscape in which I assumed this presidency — of a community that is in many ways a microcosm of our country.   
And so, in this sense, I began my presidency at Bentley with the need to reconcile my excitement, joy, optimism and gratitude amidst powerful reminders of the incomplete nature of the American project — of the great distance between the realities of life and death in the United States and of our need to bridge the chasm between this nation's highest ideas and the reality for so many members of our community.    
Despite that, I remain buoyed by the American promise and by the unequivocal role that Bentley and other colleges and universities can and must assume in shaping the next generation of leaders and in strengthening our nation's foundational cornerstones of fairness and opportunity.    
At Bentley, we are actively committed to creating a learning environment that celebrates and harnesses that quintessentially American strength — our rich diversity.
Recent events have made it a uniquely interesting time to be in higher education. The influence of myriad disruptions, including disaggregated faculty models, low-cost and agile new entrants, price-point sensitivities, questions as to efficacy and value, a focus on competencies versus credentialing, and institutional operating models that are, to put it mildly, misaligned with the needs of many of those we serve, are undeniable. 
Moreover, some of these same conditions have similarly transformed the global economic landscape, increasingly defined by explosive connectivity and asymmetric upheaval. In an economic marketplace migrating toward the intersection of digital and physical technologies and in which traditional business models are being regularly upended by blockchain, AI, ML, crypto, the metaverse and technologies still yet to be properly defined, we cannot presume an easy fit between institutions and a changing world. But I believe that Bentley can and must assume its rightful place in shaping the next generation of leaders in this landscape. Because it is within this environment of technological upheaval and global uncertainty, that Bentley can fulfill its best and highest aspirations — it's part of who we are, and who we've been since our founding. 
Bentley University was a natural fit for me. I'm a business school guy and I believe in the power of democratic capitalism and in the importance of the private sector. I've spent much of the last 30 years engaging in some of the poorest, least developed and most opaque economic markets on the planet. I hold no illusions that capitalism is the equivalent of some magical elixir or panacea, however.  
There is a pronounced underbelly to our current economic system. Marx referred to it in its most insidious form as "overripe capitalism." And to be clear, capitalism's record on environmental degradation, on low-skilled workers and its contributions to unsustainable and pernicious levels of income inequality, to name a few issues, should give us all pause. But I've yet to identify a viable alternative, and so I prefer to commit my energies toward the creation of a renewed, more enlightened capitalism so that its very real benefits, which include opportunity, purchasing power, market choice and access to goods and services, for example, can be extended to all citizens.  
Our work at Bentley, at the intersection of business and the arts and science, enables us to develop a generation of leaders who are committed to "confronting the challenges of today and shaping the opportunities for tomorrow" and who seed realistic hope in a future laced with fear. And of course, we are actively committed to creating a learning environment that celebrates and harnesses that quintessentially American strength — our rich diversity.   
But this does not fully capture the magic of Bentley.   
For me, what's most important about Bentley University, what I view as its most consequential contribution, is its capacity to fulfill its potential as a powerful, accessible, and meaningful agent of self-actualization and social and economic progress for the next generation of learners and leaders. The American Dream means many things to many people, but I hold deeply the conviction that at its core, the American Dream includes the possibility that all citizens have the opportunity to move up — or down — the economic ladder.  And in a society that is neither fully meritocratic nor egalitarian, higher education in general and places like Bentley University in particular represent a vital gateway to mobility — recently highlighted by Bentley's #8 national ranking for highest return on investment by Georgetown University's Center on Education and the Workforce. Let me repeat that: Of 4,500 universities recently assessed across this country, Bentley came in 8th in ROI over 20- and 40-year periods. Mobility, access and opportunity are ideas that were central to our university at its founding.  
'I've never known a finer man'
We're obviously proud of our placement rates for our graduates, which are consistently off the charts thanks in large part to our incredible staff in the Pulsifer Career Development Center and our faculty — and we have every intention of maintaining our primacy in this area. That's part of the machine that has helped us earn the recognition for return on investment. But for us, placement rates and initial career success are table stakes, and these efforts are baked into our institutional DNA. The question on which our community must now focus is: What are Bentley's bold bets for the future?  
Let me today offer three possibilities. 
When the Bentley School of Accounting and Finance was founded in 1917, most students were from working class families and were what we would refer to today as first-gen. Mr. Bentley's burgeoning institution was known to be open to ethnic, religious and racial minorities who generally faced limited acceptance or outright rejection by more established institutions at that time. To this day, Bentley strives to follow Mr. Bentley's lead in making this an institution that opens its doors to students seeking an opportunity to transform their lives and that of their families, evidenced in part by the FirstGen Presidential Fellows program, the new BentleyFirst program, Discover Bentley and of course, our longstanding STEP program. In this sense, Bentley University is, as Ron Daniels posits in What Universities Owe Democracy, "part of a long history of higher education institutions in this country that are a place of pluralistic inclusion that mirrors the nation itself," end quote. 
It seems to me that one of our bold bets must be to extend this platform of opportunity so that we might help reduce the distance between the rungs of the economic ladder in this country. This is central to Bentley's legacy. Quoting our founder: "The long-range success of the Bentley School must depend upon far-sighted planning, in which recognition of a changing world in education should not be obscured by traditional prejudices or by lack of progressive thinking," end quote.  
That means finding and empowering more students like Tom Yuen, class of 2005, and the son of immigrants who came from China to America and opened a Chinese restaurant in Dorchester to support their family. Tom knew at an early age that the restaurant business wasn't for him — and his parents knew it, too — so he worked hard in high school, earned a scholarship to Bentley, and as a commuter student earned an undergrad degree in corporate Finance and Accounting and a Master's in Taxation. His Bentley education paid off. He recently made partner at a Boston accounting firm, heads the company's life sciences group and was named to the Boston Business Journal's "40 under 40" list of the best and brightest young professionals in Greater Boston. 
Tom Yuen is just one example of Harry Bentley's legacy, and I stand here today and say we still can, and will, do better in this critical area of access and opportunity for those who want to build a better future for themselves and their families. 
One of our bold bets must be to extend this platform of opportunity so that we might help reduce the distance between the rungs of the economic ladder in this country.
The world will face big, ill-structured, wicked problems in the decades ahead. My second big bet is that Bentley can and will be the institution that solves those intractable problems through and for business. 
There are myriad paths to follow, and I am committed to empowering our students and faculty to pursue their passion. But one that comes to mind for me today is the area of health care. Managing efficacy, access, costs and delivery of health care services to all citizens is one of this nation's most complex challenges. Solutions to these issues will not be found in one sector, one policy or one institution — they will require a renewed, multidisciplinary approach. Just last week, we were fortunate to receive one of the largest gifts in the history of Bentley, dedicated to developing business solutions and leaders in this vital and rapidly evolving industry.   
Brothers Chris Smith and Greg Smith generously invested in Bentley to strengthen our innovative work in health care. The impressive work of Bentley's Health Thought Leadership Network, under the leadership of Professor Danielle Hartigan, is just the beginning for us. The beginning of the creation of a robust and scalable platform to strengthen Bentley's ability to serve as a catalyst for innovation and impact with many of Boston's most renowned health care organizations.   
Bentley's third big bet will be about how this all comes together in today's competitive environment. We must commit to continuously improving the quality and rigor that defines our academic foundation while simultaneously creating an agile entrepreneurial ecosystem necessary for today's innovation economy. Toward this end, we will develop leaders who are human-centered, data-enabled and ethically grounded for a dynamic global marketplace that continues to accelerate exponentially. The future of business — and democratic capitalism — will be less about allocative economic efficiencies than about its capacity to create solutions to human problems and to bring those solutions to scale — good business.  
Identifying opportunities in the market that others missed led to the founding and success of Bentley University in the early 20th century. In today's environment, the disruptions around the corner require a similar level of prescience, will and courage — and this is where Bentley University will shine. It is a great privilege to lead this university, and its most important stakeholders, on this next phase of its journey.    
Thank you for being here today and for entrusting me with leading this incredible institution into its next great era. I'm excited by the opportunity of working closely with this incredible community to take Bentley University to the next tier of excellence in a marketplace that will demand nothing less. Take care of yourselves, take care of one another, and enjoy the rest of this day. Thank you.    
'Willing to seek and revel in the magic that education can bring'