Built from the Ground Up
All-American Connor Baughan Reinvented His Game by Embracing the Basics
When his Bentley lacrosse coaches told Connor Baughan '21 they needed him to switch from offense to defense for the first time in his career, he knew he had to figure out a new way to score.  
The Foxborough, Mass., native decided to turn grabbing ground balls — the gritty defensive stat that's one of the keys to winning — into his way of netting goals. In the process, he reinvented his game, becoming one of the best players in the country and Bentley's first first-team Division II All-American in nearly 20 years.  
"You have to want it more," says Baughan. "There's really no secret other than being tougher and faster than the other guy, and running through it." 
Baughan was also voted Co-Short Stick Defensive Midfielder of the Year. It's the second All-America honor for Baughan, who was previously named a second team All-American by USA Lacrosse Magazine. 
HIGH STANDARDS

Baughan grew up playing lacrosse, following in the footsteps of his brother Christopher, who played goalie at Skidmore College. After seeing way too much of the drama involved in his brother's recruiting, he decided to focus on finding a college where he'd fit in, then figure out if lacrosse made sense.   
He narrowed his choices down to Bentley and another school, but the decision got easy once he visited campus with his mother and met head lacrosse coach Jim Murphy.  
"I really liked that you can customize what you want to study, whether that's through an LSM (Liberal Studies Major) or a combined program like Economics-Finance," Baughan says. "Bentley just felt right." 
Being a student-athlete at Bentley isn't easy, and the standards are high, as evidenced by the school's regular place atop national academic rankings. Baughan majored in Business Economics with a concentration in Information Technology and a minor in Finance, and was a success story in the classroom as well, earning a spot on the New England Intercollegiate Lacrosse Association's Division II All-Academic team. 
"The academics at Bentley are obviously very challenging," says Baughan. "It's a lot of work, a lot of stress. So being out on the lacrosse field was an escape. As miserable as a 7 a.m. practice in the beginning of December is, you're still out there with your best friends, running around, screaming, having fun." 
I really liked that you can customize what you want to study, whether that's through a Liberal Studies Major or a combined program like Economics-Finance. Bentley just felt right.
'NOTHING'S GIVEN TO YOU'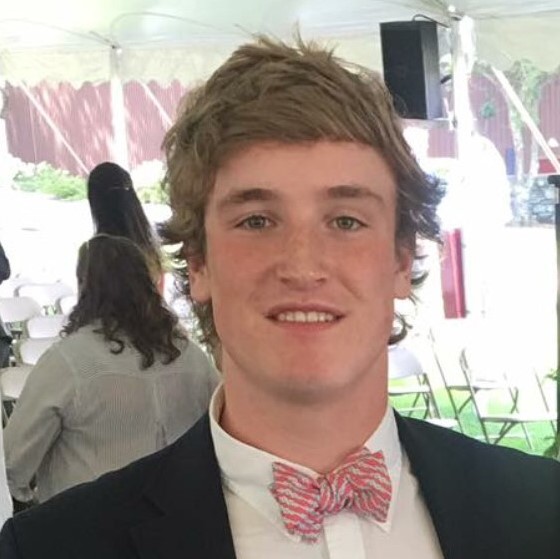 The COVID-19 outbreak took all but three games from Baughan's junior season. As a senior captain, he says the team tried to stay positive and focused through the uncertainty of the past year.  
"Luckily our team is so close. That really helped. We all had the same mindset, and that made it easier for the captains to keep a common goal in mind," he says. "Yes, we had the label of captains, and we set the tone, but it was definitely a team effort to get through this." 
That effort helped Bentley to a 6-3 record in the regular season and a first-round bye in the NE10 playoffs. They won six of their last seven regular season games, with the only defeat an upset bid of No. 1 Le Moyne that fell short in overtime. 
"Our program has an identity in the NE10 of being one of the tougher teams to beat," says Baughan. "We play a very smart style of play, and we have a mindset that we can beat any opponent as long as we work hard enough, whether that be watching film on our own or working hard in the gym." 
Looking back, Baughan says he'll never take his sport or his teammates for granted.  
"Nothing's given to you," he says. "Nothing's handed to you. You have to put in your work and earn what you get. Every practice, every game, we'd have to fight."  
Bentley lacrosse leads NCAA Division II in Academic All-Americans
FOREVER A FALCON 
So what's an All-American lacrosse player do when there's no more lacrosse to play? 
There's a lot of golf with his younger brother, and a 5K planned for the end of the summer. He's also moving to Connecticut to start work in Vineyard Vines' development program. A new coworker suggested Baughan join a local men's league, but so far he's making the most of his newfound downtime. 
"I'm just trying to enjoy it," he says. "My body definitely took a beating over the past four years."  
And while he's already missing the sport he loves, Baughan says he'll miss being a Falcon the most.  
"Playing at Bentley made me love lacrosse even more. So I'm going to miss my teammates above all else," he says. "We always tell the younger kids, 'Enjoy this time. You'll never get it back.' And it's true, because I would give anything right now to wake up at 6:15 and walk down to the field in the cold to be with everyone one more time."