Calculus and Curtain Calls
Math professor's passion for performing is 'integral' to classroom success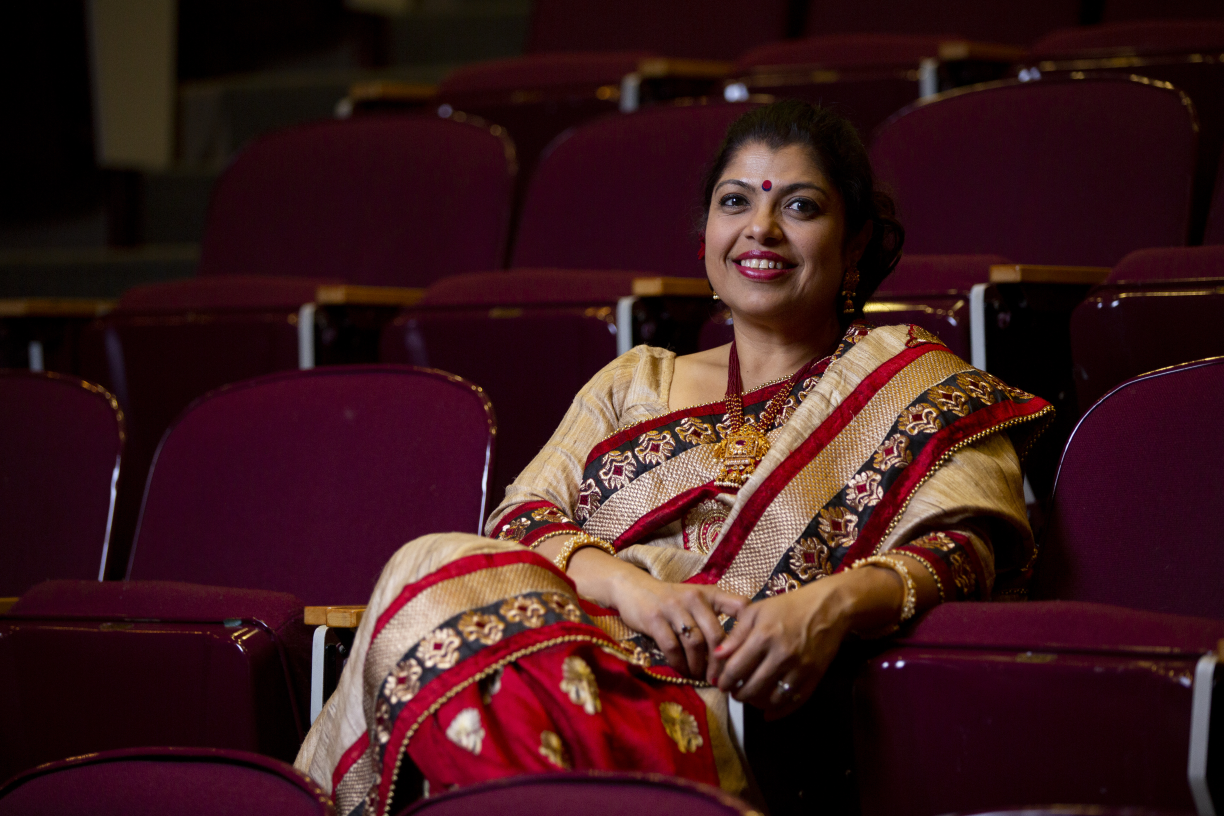 Photo by Kevin Maguire
She's been cast as a Pakistani grandmother, as the non-binary romantic partner of a woman with terminal cancer and as Charon, Pluto's largest moon. But for Mita Das, her favorite role is one she plays off stage: A college professor passionate about teaching mathematics.  
A senior lecturer in Mathematical Sciences, Das spends most of her days helping Bentley students master the fundamentals of pure math: calculus, linear algebra and differential equations. But outside the classroom, she's an accomplished actor who has appeared in dozens of community theater productions, locally produced TV shows and short films, both in the U.S and in India.  
Das admits that math and acting may seem an unlikely pairing, but she believes her dedication to each makes her better at both. "Whether I'm on stage or in the classroom," she shares, "my goal is the same: to inspire, engage and entertain by forging an authentic connection with my audience."  
SETTING THE STAGE 
Born and raised in West Bengal, a state in eastern India bordering Bangladesh, Das attributes her passion for performance art to her upbringing. "In Bengali culture, we have many vibrant festivals that we celebrate with performing arts like singing, dancing, music and plays," she explains, and children are expected and encouraged to participate from an early age.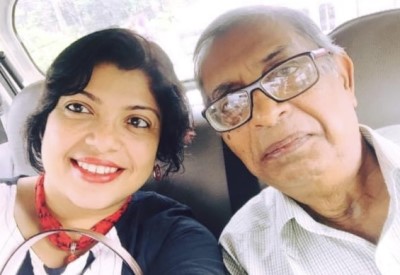 But her father proved her true inspiration: "My love for the stage definitely comes from him." The only child of PhD-holding mathematicians — her father was a professor at a well-known university, her mother a high school principal — Das says her father delighted in appearing in community plays and giving poetry readings. In grade school she discovered she, too, "loved the spotlight," and sought out similar opportunities for acting, storytelling and oration.     
In 2001, Das moved to the U.S. for graduate school. While studying for her master's degree at The Ohio State University, followed by her PhD at the University of Missouri, she continued performing in school and community productions. But she didn't get serious about her theatrical aspirations until moving to New England in 2011.  
"The Boston area has a really large Indian, and especially Bengali, population," Das explains, and she and her husband, Ujjal Sarkar, PhD, became active members of the community soon after their arrival. It wasn't long before Das discovered Off-Kendrik, a progressive theater group dedicated to showcasing the unique experiences of South Asian immigrants.  
"I was thrilled to find a place where I could really explore my thespian side," says Das. She has since appeared in multiple stage productions — both original and adapted, in Bengali and in English — including "Aleek Raasta (Illusory Path)," where she played the disillusioned wife of a struggling filmmaker, and "Khelure (Gamers)," a denunciation of discriminatory Indian citizenship laws told allegorically through video gaming.   
Whether I'm on stage or in the classroom, my goal is the same: To inspire, engage and entertain by forging an authentic connection with my audience.  
Senior Lecturer, Mathematical Sciences
EXPANDING HER REPERTOIRE  
In addition to sparking her love of performing, Das' Bengali heritage also provided a bridge to the larger theater community. When a Boston University professor reached out to Off-Kendrik looking for South Asian actresses to read dialogue for a graduate playwriting class, Das jumped at the opportunity.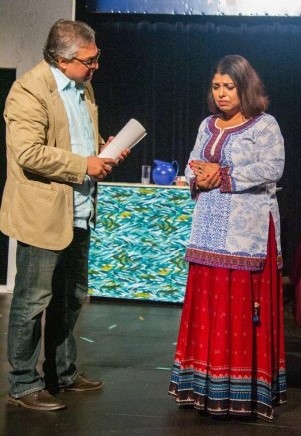 "It was such a positive and encouraging learning experience," she says of participating, as the instructor and students actively sought input from Das and her peers. The professor subsequently recommended Das to Fatima Maan, a BU graduate student looking to cast the title roles of her play, "Ankita and Chandni" — one of 50 works selected for the critically acclaimed Boston Theater Marathon, an annual showcase of original, 10-minute plays by New England authors. 
As Chandni, Das played the non-binary love interest of a woman coming to terms with a fatal cancer diagnosis. The role was a stretch both professionally and personally. "I'd never portrayed an intimate relationship with another woman on stage before," she explains, adding that "growing up in India, we rarely discussed things like gender and sexuality."  
But Das embraced the challenge, educating herself about gender identity outside of rehearsals to ensure a more authentic performance. For her, being pushed outside her comfort zone is one of the best things about being an actor. "Every role I play helps me evolve as a person," she says. "I've learned so much about the world, and become more empathetic as a person, through acting."
RELATED: Dean Griffin brings flash fiction-writing contest to Boston
SHARING THE SPOTLIGHT 
Experiences like these have helped Das, a nominee for Bentley's annual Excellence in Teaching award, foster an inclusive and welcoming environment in her Bentley classroom. "Live theater attracts me because I thrive on the energy exchange with the audience," she explains, and she seeks to build the same rapport with her students. While teaching, she punctuates problem-solving with storytelling, sharing personal anecdotes and "funny stories about famous mathematicians" to keep students engaged.  After all, she says, "The best learning happens when you've established a personal connection."  
Das' teaching philosophy is also based on the long-standing belief, shared with her husband, that "all of us have a 'science' side and an 'arts' side. By science, I don't mean working in a lab with test tubes and beakers, but the ability to think critically and logically. And by arts, I mean the ability to communicate and express emotions, regardless of the medium." Only by embracing both, she says, can we realize our full potential.  
It's a lesson handed down by her father, Das says, and it's one she and her husband, Ujjal — a drug metabolism and pharmacokinetics (DMPK) scientist and percussion enthusiast trained in the tabla (Indian drums) — are passing on to their own children: 12-year-old daughter Umasrija, a champion volleyball player who is taking lessons in Indian classical dance and viola, and 8-year-old son Aum Anand, a tae kwon do student who plays the piano and ukulele. Like their mother and grandfather, both also love acting. 
Das looks forward to further establishing her presence in the Boston theater community. But as her success on the stage grows, she'll never abandon her love of math and teaching. "I love coming to class each day and seeing my students' fresh, eager faces," she says. "I feel so fortunate that, in my life, I've been able to pursue both of my passions."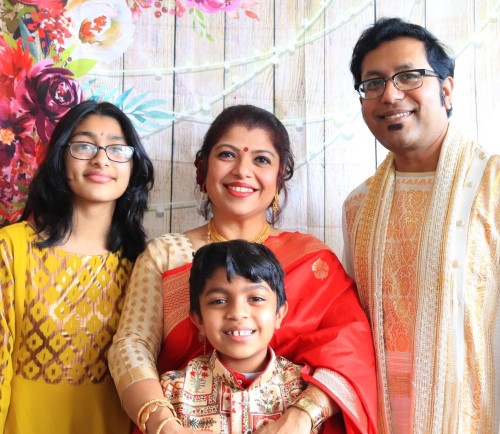 Catch Her Latest Performance:
"Ekti Abhinaba Natoker Mohora (In Search of a Novel Play)" an absurdist comedy presented by Off-Kendrik.  
When: Saturday, June 4 and Sunday, June 5
Where: Multicultural Arts Center, Cambridge 
Find full performance details and ticket information here.