More than Words
Associate Dean Griffin brings flash fiction-writing contest to Boston
(Above: Original artwork by In Nicole Bae, commissioned to illustrate last year's first place-winning story.)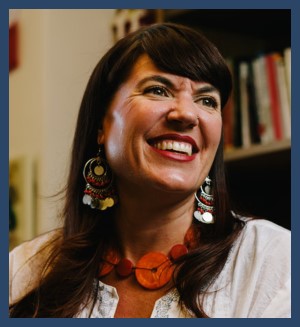 When Jane De León Griffin, associate dean of arts and sciences and associate professor of Spanish, made her way to Santiago, Chile in 2007 as a doctoral student, her sole purpose was researching Latin American literature. She had no idea her sojourn in the Chilean capital would one day help Boston residents hone their storytelling talents in celebration of the city's history and culture.  
But that's precisely where Griffin finds herself today. As founder and director of Inspired Masses, a nonprofit promoting free arts and cultural activities in greater Boston, she's been the guiding force behind "Boston in 100 Words," a flash fiction-writing contest that debuted last year.   
The annual competition is based on a similar urban writing project developed by Plagio Fundacion, a Chilean nonprofit Griffin discovered during her doctoral research. Introduced in 2001, "Santiago in 100 Words" invites residents to write and submit stories of 100 words or fewer that depict and celebrate everyday life in their communities; winners' works are posted throughout Santiago for all to enjoy. Soon after its debut, the contest spread to other Chilean cities and beyond, with competitions now underway in Latin America (Colombia, Mexico) and Eastern Europe (Czech Republic, Hungary, Poland, Slovakia). Boston is the first U.S. city to offer its own version. 
The 100-word format helps encourage people who don't necessarily think of themselves as 'authors' to feel capable and worthy of sharing their stories.
Associate Dean of Arts and Sciences and Associate Professor of Spanish
STORIES OF OUR LIVES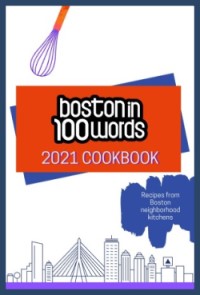 For Griffin, the project proved inspiring on multiple levels. First and foremost was its egalitarian emphasis. "Typically, when you see literature on display in the public sphere, it's work by authors who've either been canonized or lionized," she explains. "But this contest celebrates the creativity and passion of everyday people, whose perspectives aren't always brought out into the limelight."
What's more, as "flash fiction" — a genre characterized by extreme brevity — "the 100-word format helps encourage people who don't necessarily think of themselves as 'authors' to feel capable and worthy of sharing their stories," she continues. In doing so, participants "feel more empowered as individuals and more connected to their communities."  
Given Boston's long-standing history as a haven for immigrants — geographically evident in neighborhoods such as Chinatown; the North End, a predominantly Italian enclave; and South Boston, or "Southie," celebrated for its Irish heritage — Griffin felt the city was uniquely positioned to present a contest of its own. Working closely with Plagio Fundacion members to manage the logistics, she also secured a grant from the City of Boston Mayor's Office of Arts and Culture to cover the contest's operating costs. 
A BOOST FROM BENTLEY
"Bentley has also been hugely supportive of this project," she says. Colleague Liz LeDoux, senior lecturer in English and Media Studies and director of the university's Media and Culture program, incorporated "Boston in 100 Words" as a service-learning project in her classroom: Jalyn Wilson '20 and Sasha Balchenkoff '23, two students in her Animation Production and Motion Design course, worked together to create an informational video (see below).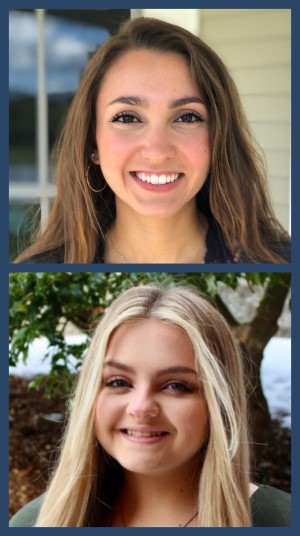 In addition, the Valente Center for Arts and Sciences provided funding for two student research assistants, while the Pulsifer Career Development Center arranged an undergraduate internship. The students have worked with Inspired Masses to organize, promote and raise funds for "Boston in 100 Words" — an experience they characterize as nothing short of inspiring.   
As Kate Jones '23, a double major in Information Design and Corporate Communication and Liberal Studies: Health and Industry, shares, "The contest highlights the importance of giving a voice to all members of the Boston community, bringing to light the experiences and cultures of diverse neighborhoods." Jones, who grew up in Indiana, plans to stay in Boston after graduation; "my work at Inspired Masses has influenced me to continue searching for ways to build and foster community connections" beyond Bentley. 
Adds Aisling Bucci '22, "I love how 'Boston in 100 Words' brings people together. Although I've lived here my whole life, these stories help me appreciate Boston in fun and beautiful new ways." A Management major, Bucci aspires to a career in human resources. "Inspired Masses has shown me how important it is to find a company that pushes me creatively and makes me excited to go in to work every day." 
Both Jones and Bucci had a hand in designing a "Boston in 100 Words" cookbook, which Inspired Masses is offering through its first-ever fundraising campaign. "Like other nonprofits, we found the pandemic took a financial toll," Griffin explains, "so we needed to identify other funding streams." The cookbook — which features recipes from both established and up-and-coming local chefs, media personalities, and winning authors from last year's contest — seemed ideal, she says, as it "reflects our core mission to inspire creativity in everyone and celebrates Boston's culture at the same time." (Interested in owning a copy? See here for details.) 
Working with Inspired Masses has shown me how important it is to find a company that pushes me creatively and makes me excited to go in to work every day. 
A SUCCESSFUL START
Although the inaugural "Boston in 100 Words" competition launched around the same time COVID-19 was forcing lockdowns across the country, Griffin notes they received more than 600 submissions. From these, 11 winners were selected; in addition to a cash prize, each had their stories paired with an original work produced by local artists, which were then printed on posters and displayed throughout Boston and surrounding cities in buses, commuter rail and subway cars, and other MBTA properties. 
Now that pandemic restrictions have been lifted, Griffin is hopeful that more people will venture out in Boston and read last year's winning stories. She also hopes they'll be inspired to enter this year's contest, which is currently underway (submission deadline is July 14; find more details here).  
"Storytelling is a powerful tool that can connect us to one another despite our differences," Griffin says. "Every single one of us has a story to share."