Betsy Stoner (center right) and her students use a microscope to examine shellfish in her Environmental Science and Sustainability course.
A Closer Look at That Seafood on Your Plate
Students Study Society's Impact on Our Oceans
When Natural Sciences Lecturer Betsy Stoner set out to teach her business students about microplastics in our oceans - tiny pieces of plastic created when larger plastic waste breaks down - she wanted to make a lasting impact. For Stoner, studying the health of the ocean is important because of our public health but also the health of our economy. This is why, as part of her Environmental Science and Sustainability course, her students break into groups and dissect what you might find on a dinner plate: seafood bought directly from the local grocery store.
"As business students, when they are slicing open fish, they aren't just asking questions about the science of it, they are curious about the economic and ethical implications of this imminent environmental problem as well," says Stoner. "By the end of this course, students emerge as scientifically informed individuals, able to make responsible decisions about environmental practices in business and society."
Hands-on learning in action
It may surprise some to hear about business students dissecting shellfish in a lab. In fact, it's typical at Bentley, where business education is combined with the liberal arts. In Stoner's class, students who cut open the translucent white mackerel or shimmering blue mussels are not expecting to find what comes next: tiny pieces of plastic that are clearly visible inside the fish that we as seafood buyers consume.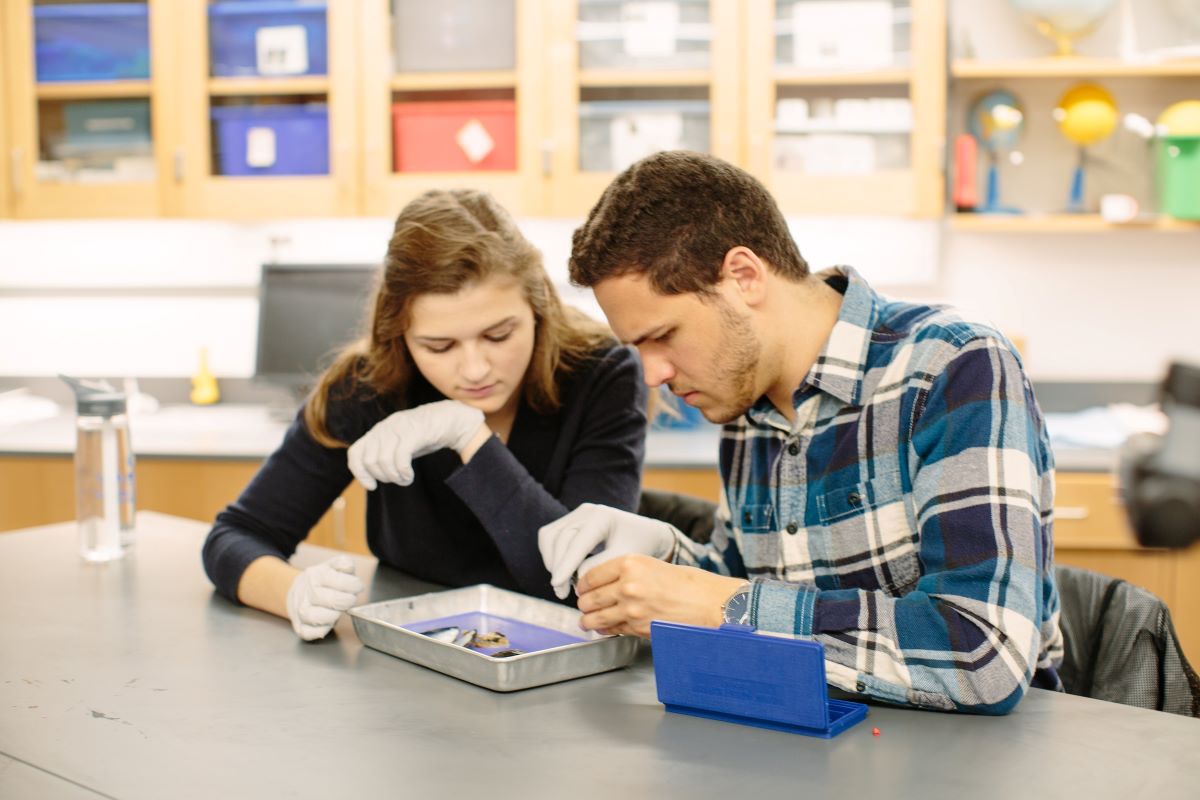 "This course has really opened my eyes to the global sustainability problem that society is facing right now, particularly in our oceans," says Eliza Wilczek, a junior Global Studies major who interns in the Bentley Office of Sustainability and is president of Bentley's Students for Sustainable Business. "As someone who wants to get a master's in environmental science and work in the clean energy field, having this sustainable science background sets me apart from the get-go."
As part of the course, students give presentations on environmentally sustainable business practices, explore how the actions of businesses can affect biodiversity, and debate whether or not you can put a "price tag" on our natural surroundings.
Read More About Bentley's Sustainable Science Degree
Finding sustainable solutions
Students in Stoner's class are not only learning about the problems our ocean ecosystems face, they also learn about solutions that are being discovered and implemented. For example, they discuss the Ocean Cleanup Foundation, which was started by a young entrepreneur around their age that is working to eradicate microplastics from the Great Pacific Garbage Patch.
"When we talk in class about entrepreneurs like Boyan Slat and the Ocean Cleanup Foundation, students can immediately see themselves in him," says Stoner. "They are already thinking of ways they can help solve these problems so that their generation will be better off. I'm hopeful our future will be brighter because of leaders like my students."
About Bentley University
Bentley University is one of the nation's leading business schools, dedicated to preparing a new kind of business leader with the technical skills, global perspective and ethical standards required to make a difference in an ever-changing world. Bentley's diverse arts and sciences program combined with an advanced business curriculum prepares graduates to make an impact in their chosen fields. The university enrolls approximately 4,000 undergraduate and 1,000 graduate students. For more information, visit www.bentley.edu.