Cool Lessons from a Bentley Hockey Captain 
There was 12:05 left in the second period of the Bentley men's hockey game against UNH on October 18, 2019, when Ethan Roswell '22 scored the first goal of his Bentley Falcons career. The crowd went wild, and so did Roswell.   
"That game definitely takes the cake," Roswell recalls. "We were playing at home and my whole family was there watching. The energy in the Bentley arena was electric."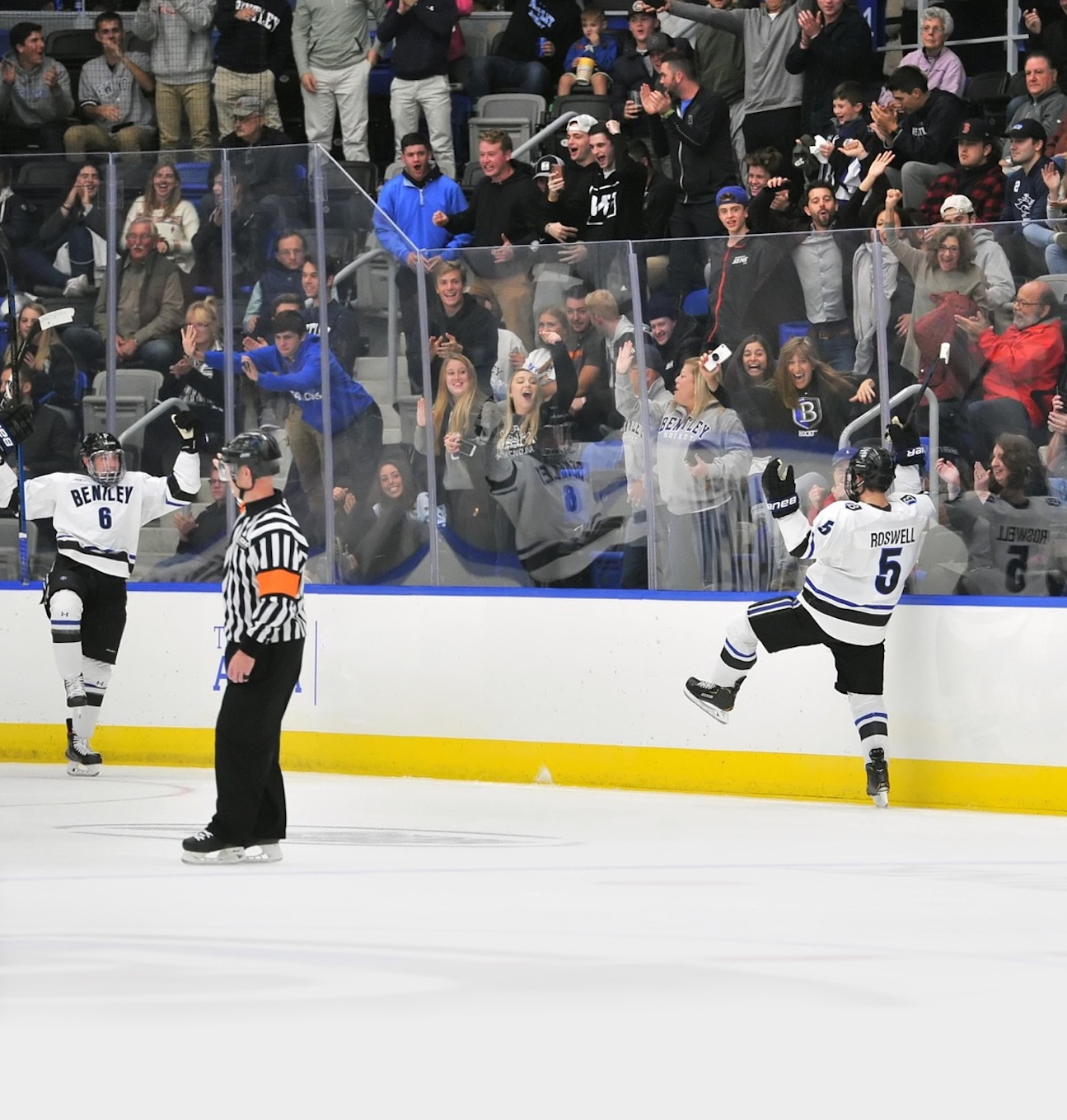 That was Roswell's sophomore year. Today, the Falcons defender is in his second year as men's hockey captain. And his game has changed since he was first recruited to the team — even though he arrived with a hockey résumé that included club teams in his home state of Arizona and a leadership stint with the Boston Junior Bruins.   
"Whenever you join a new team, you battle adversity and don't always have the same role that you once had," says Roswell. "When I was younger, I was more of a puck-moving defenseman who focused more on offense. But when I came to Bentley there were already better players in that role, so I had to adapt and realize what else I was good at if I wanted to get into the lineup."  
Roswell says he figured that out quickly. "I played into a more defensive role. Overall, I've matured as a person and as a player. I'm more steady, more reliable."  
But Roswell credits a lot of that maturity to Bentley's longtime men's hockey coach Ryan Soderquist '00, who is entering his 20th season behind the bench at his alma mater in the 2021-22 season. "Coach Soderquist develops kids into men. He taught me that portraying confidence will help me to communicate more effectively with others."
It's that kind of character that the coach looks for. "When recruiting, we seek high-character student-athletes, never sacrificing one's character for any on-ice skill or talent," says Soderquist. "Individuals must positively impact the culture of our program."  
Roswell's investment off the ice includes a vice president role for the Student-Athlete Advisory Committee and a member of the racial justice team and the mental health committee for athletes. 
Ethan is committed and driven while still putting others first.  He is always looking for ways to help serve his team and the entire Bentley community.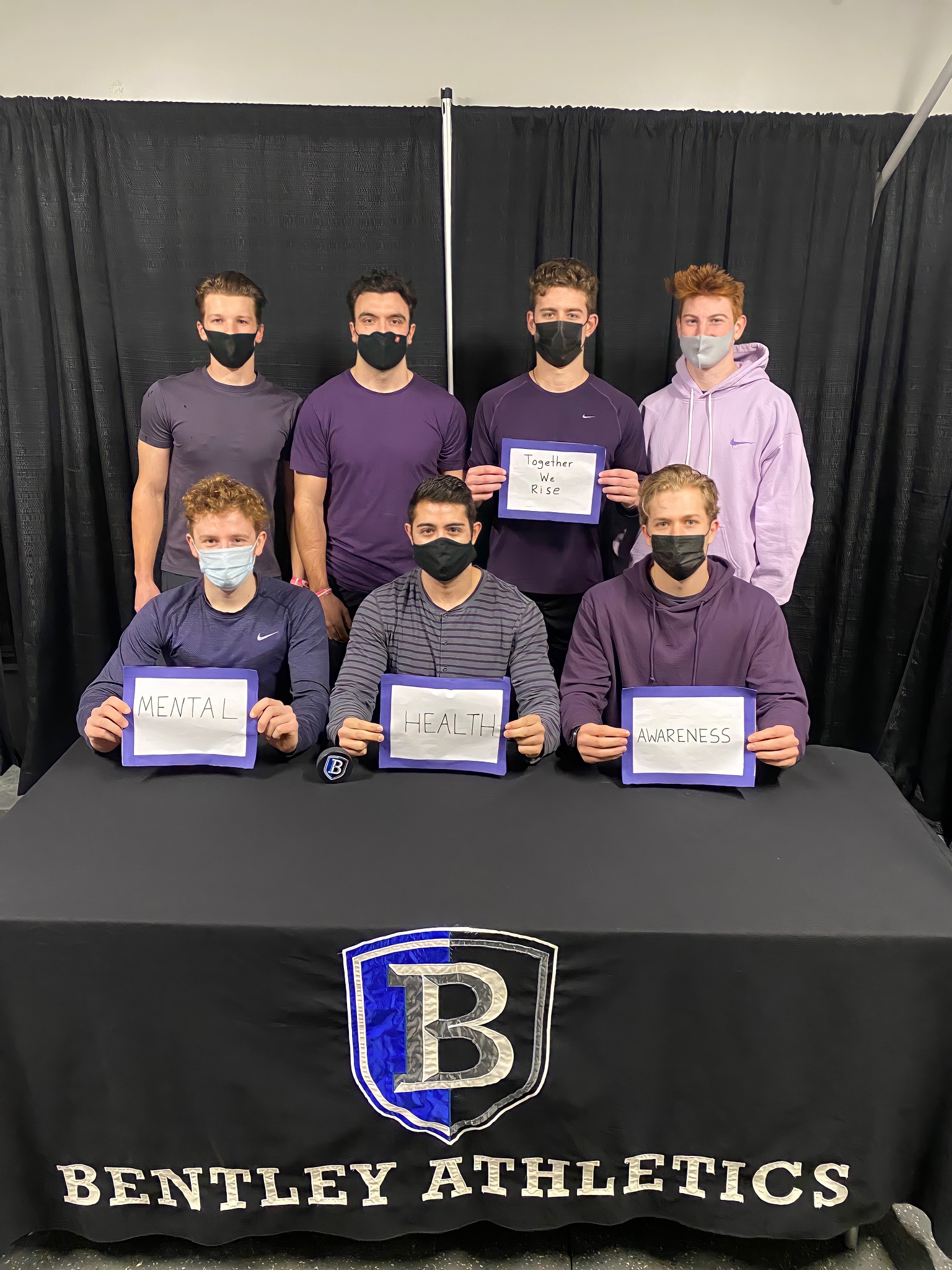 THE THREE Cs
Roswell remembers the feeling of being among the first hockey players to skate on the ice of Bentley Arena when it opened in 2018, but the three words prominently displayed on the wall of the home locker room are what really stuck with him: compete, consistency and commitment.  
"The three Cs are really something to live by," Roswell says. "It makes you think: You have to be committed, you have to compete every day and you have to have consistency — because without those, you have nothing."  

For Roswell and the rest of the team, that philosophy carries over into the classroom — where he says the competition can be just as heated as on the ice. They compare test grades to see who got the highest score (or even who finished first). "Everything is a competition," Roswell says. "But it goes a long way."  
That holds true for Bentley's other athletic teams too. For four consecutive years, Bentley's student-athletes had the highest graduation rate in the country at 99 percent, according to the NCAA Division II Academic Success Rate report. 
CONVERSATION STARTER
Roswell has always "loved school" and developed an interest in business at an early age. "My Dad encouraged me to read the newspapers to gain more insight and better engage in conversation."  
One newspaper, The Wall Street Journal, stuck with Roswell and inspired an interest in finance and business. As a high school senior at Cushing Academy in Ashburnham, Mass., he and a few friends started an investment group to follow market trends and work as a team to make investing decisions. With business on his mind, Bentley made his top five college list. The decision was made, he says, when he was recruited for the men's hockey team. "What better place?"
It was economics professor Dave Gulley who played a hand in Roswell's Economics-Finance major. "Professor Gulley's style of teaching got us engaged in discussion instead of just studying a chart. It gave us a chance to understand how economics — a 4 percent unemployment rate, for example — personally impacts us."  
All-American Bentley Lacrosse Player Connor Baughan '21 Reinvents His Game
GAME CHANGER  
The Wall Street Journal isn't the only thing that Roswell's father introduced to him. Roswell was about 5 years old when he first laced up his skates at the urging of his father, who had played for the Arizona State men's hockey team.   
"I loved it and I never wanted to leave the ice, maybe it's because I like to get out of the Arizona heat," Roswell jokes.   
Mini Mites hockey led to club hockey, which his father coached when Roswell was in middle school. "My Dad is a huge part of my life and especially my hockey career," Roswell says. "He pushed me to stay focused and keep motivated to get to this level."  
 Working hard was a given. "My Dad told me to put my head down and work and work in a way that nobody will outperform. That's one of my biggest takeaways."  
In 2016, Roswell joined the Boston Junior Bruins hockey organization, a move he considers a game changer. "They really developed me into the player I am today. I can't attribute enough to them. They gave me the confidence to succeed at the Division I level -- especially being able to lead the team in a leadership role."  
The team made it to the finals, and while they didn't win, Roswell got in front of a lot of scouts and learned how to play under pressure. "The junior Bs really guided me through the pressure, and I learned to play with confidence, do what you do well and don't try to overcomplicate things in your game."  
As Bentley's captain, he follows a simple leadership approach: "I want everybody to have a say. I think that is the best way to get the most out of the team, for everyone to feel like they are heard."  
Soderquist adds, "Ethan is committed and driven while still putting others first.  He is always looking for ways to help serve his team and the entire Bentley community."  
Roswell, who admits he had to get used to the speed of the game when playing for a D1 team, offers this advice for future players. "Jump right into it, get comfortable and gain confidence, learn how to battle through adversity, and make sure to outwork and outperform."