Creative Backdrop
Lindsay Toia '22 uses media and marketing skills to present her take on business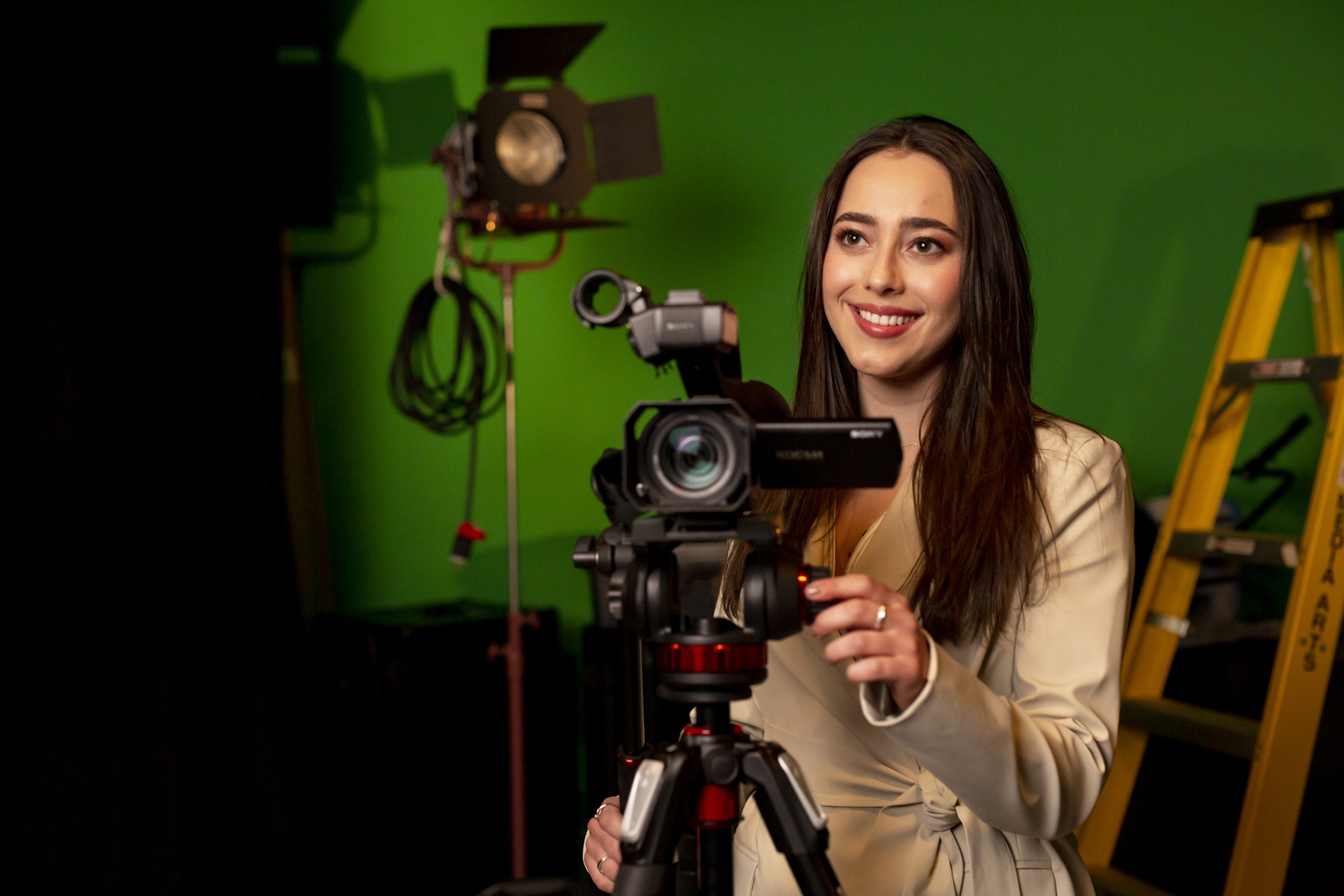 Photos by Kevin Maguire
She re-created a movie scene from "The Devil Wears Prada." She developed a retail strategy for Tracksmith New England, an elite running apparel brand. She wrote a business plan for Mamie's Pies. These are just a few examples of how Lindsay Toia '22 is getting creative in her Bentley coursework. Toia maintains a website highlighting this work as a student and her other roles. 
"I've always been an inherent storyteller," Toia says. "I enjoy effectively communicating across visual, verbal and written mediums to tell stories of brands, organizations and people." 
Toia is a Marketing major with a second major in Media, Arts and Society, but some of her most valued business lessons come from unexpected places. "The Devil Wears Prada" movie scene was shot on campus as part of a final project for a directing course with Senior Lecturer in Media and English Studies Jeff Stern. She took props from her dorm room to transform Jennison Hall into a Manhattan office. She managed casting (her roommates), wardrobe styling, and recreated the cinematography, art direction and editing style of each shot. 
It was during a first-year expository writing class where Toia "began diving deeper into the behind-the-scenes of the fashion industry" and came across the environmental hazards of fast-fashion items that use low-quality materials like synthetics for mass production. She developed an interest in sustainable fashion and later chose to research a socially responsible clothing company, Patagonia, for a Fundamentals of Marketing Operations course. 
"I enjoyed the combination of marketing and operations because I was able to understand how companies like Patagonia authentically support sustainability initiatives from an integrated supply chain and promotional standpoint rather than greenwashing — marketing themselves as sustainable when they're not," Toia says. 
I enjoy effectively communicating across visual, verbal and written mediums to tell stories of brands, organizations and people.
"THE MARKETER" 
In "The Marketer" section of her site, Toia lists the formal marketing roles she has held on campus. As social media specialist for Bentley's Student Programs and Engagement HYPE Marketing team, she led the social media launch of the #YouCanB Instagram campaign featuring Bentley student leaders. She also worked in Bentley's Office of Sustainability (OOS) as a public relations and outreach specialist.  
In addition to managing social media for HYPE and the OOS, Toia held the role of Director of Social Media for her sorority Alpha Phi through her sophomore year. She credits this role to getting her elected as the VP of Marketing for her sorority chapter. This presented more opportunities for Toia to use her creative interests by crafting the chapter's overall marketing strategy and working with members to design merchandise.  
"THE INFLUENCER" 
As a digital native, Toia learned to tell her story on social media before she learned to drive. Toia's online presence is strong. Paid campaign content creation is filed under "The Influencer" on her website. She posts sponsored content as a micro influencer for Dunkin' Brands, OPI Nail Polish, Sweat Fitness and Pinterest.  
"Micro-influencing allows me to make connections with brands that I already enjoy interacting with as a consumer.  It also has given me the opportunity to 'learn by doing' about influencer marketing," says Toia, adding that she has been able to see the different ways that companies brief influencers and the various platforms they use.  
"THE WORKING PROFESSIONAL" 
As if Toia weren't busy enough, "The Working Professional" section of her site highlights three internships: marketing intern at Waterworks luxury bath and kitchen; editorial intern at Luxe Interiors + Design Magazine; and most recently, intern at 305 Worldwide, a full-service multicultural agency launched by Horizon Media and Grammy Award-winning artist Pitbull.  
"When it came to working with clients and creating campaigns for 305 Worldwide, it was a really great internship because I worked laterally across every part of the agency — accounts, strategy and creative," Toia says. "I had a hands-on experience that entailed synthesizing research to develop new-business insights, briefing the creative team, contributing campaign ideas during creative brainstorms, making mockups for use in client presentations, and building out a social media plan and creating content in addition to account related responsibilities." 
Toia's confidence to sit at the table with some of 305 Worldwide senior leaders comes from experience. "Bentley courses provided in-depth corporate consulting experience spanning the creation of a retail expansion plan for Tracksmith, a full business plan (for Mamie's Pies) and a marketing plan (for The Organic Project)," Toia says of courses like Corporate Immersion course with Lecturer in Marketing Erin Flynn. Students work with senior executives from Bentley's corporate partners to tackle a real business issue. "This is what sets Bentley apart from other schools: You're learning not just as a student, but as a professional. These extensive projects are perfect examples to draw on during job interviews." 
Toia's advice to students: "You should always have your eye set on a goal you want to achieve, then sit down and develop the strategy to start making it a reality."