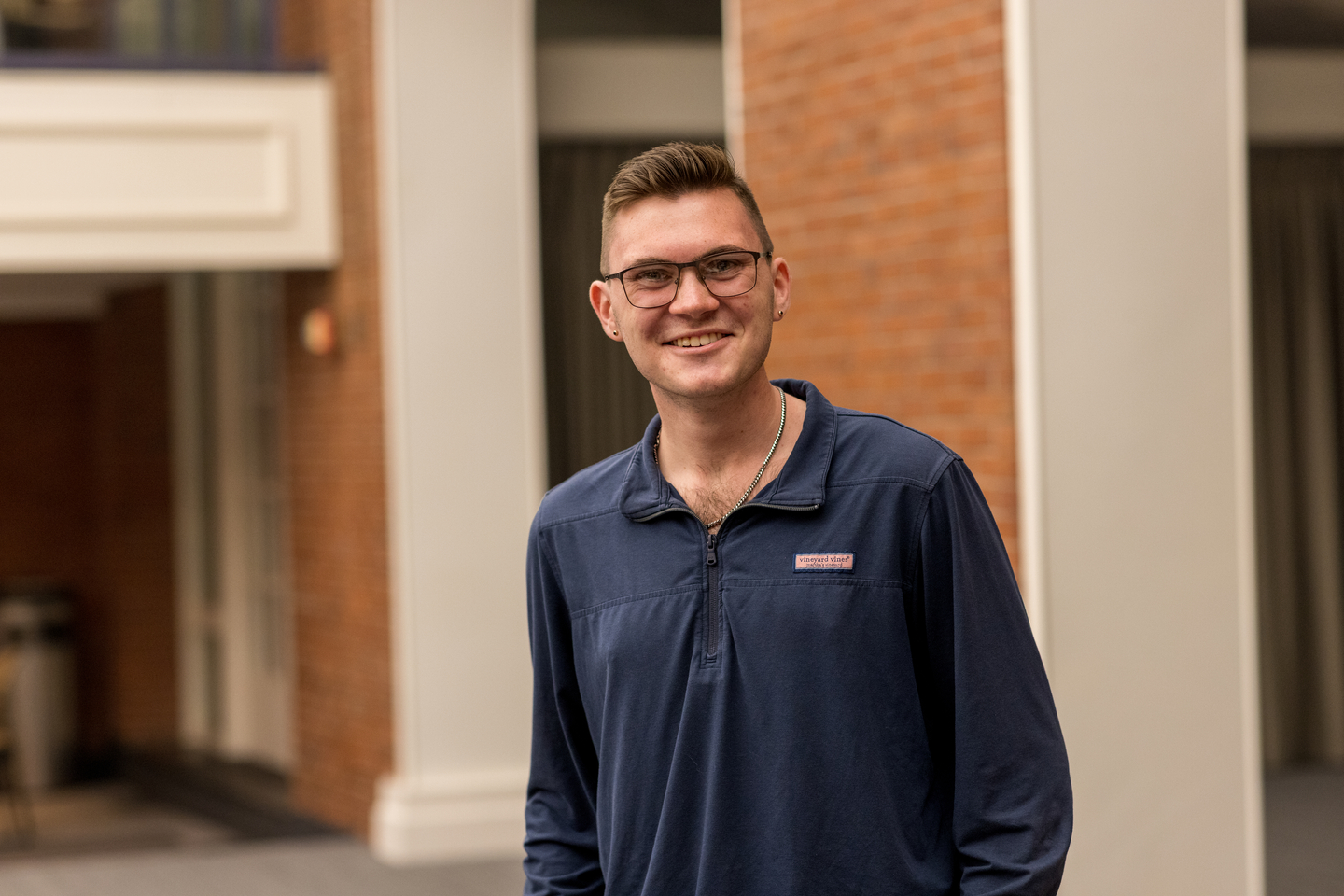 Photo by Kevin Maguire
Defining Voice for Inclusion
Andrew Fox '25 doesn't want anyone to feel like they're on the outside — so he's on a path of promoting inclusivity
Andrew Fox '25 knows what it's like to be on the outside. When he came out in high school, the initial response from his classmates was one of acceptance — but then he noticed stares in the hallways and undertones of judgment.   
"It was kind of, if you don't talk about it, it's not really there," Fox recalls of sharing that he is part of the LGBTQ+ community. "I felt like my voice didn't really matter and I wasn't valued as a person for who I am. And I never wanted anyone else to feel that way."  
At Bentley, he has found ways to make sure of that — including by educating himself by enrolling in the elective course Cross Cultural Understanding during his first semester.    
"Bentley is more diverse than the town where I grew up, and I wanted to know more about different cultures and perspectives in our campus community," he says.   
When Sociology Professor Dan Everett assigned the final research paper — a 10-page essay on any topic — Fox chose to dive deeper into the Bentley culture. Through the process of interviewing faculty, staff and student leaders, he challenged his own perception of the culture and also began to gain confidence about his role on campus: as a social advocate on diversity, equity and inclusion (DEI) initiatives and a voice for the student community.  
"The course really helped me start my path for wanting to get more involved in and see some change on this campus," Fox says.
RELATED: Bentley students consult on workplace DEI
CONVERSATION STARTER 
According to Fox, Student Government Association was his first "aha" moment to really get involved. "I was able to meet with leaders from different offices and departments on campus, which provided a foundation to listen to different perspectives and find out what conversations are happening, and then see where I can best link to them."  
Of particular interest to Fox: Bentley's Gender and Sexuality Student Programs, part of Student Equity and Inclusion. He met regularly with Matt Banks, associate director of Office of Diversity and Inclusion, and joined the LGBTQ+ Steering Committee, where he was able to freely share ideas and offer a student perspective. Fox advocated for more queer-inclusive policies for first-year students in residence halls, including during the housing selection process. "I know it would've calmed me down, coming into Bentley, knowing that I would be living with someone who supports me in my decisions and doesn't judge me for how I live my life," he says.   
As an orientation leader, he has worked directly with incoming students to help create a fun and inclusive environment from the get-go. "I enjoy seeing their progress from day one as they begin to open their minds through engaging sessions like Lowering our Shields and Forced Choices, which I personally led for my group of baby falcs."     
In December 2022, he took on the role of vice president of diversity, equity and inclusion of the Bentley chapter of Delta Sigma Pi - Lambda Tau. "I feel as though I have started difficult conversations where in the past, people have had a hard time expressing their feelings for others," Fox says of efforts to ensure an equitable experience for all brothers. "But honest conversations help people understand each other and ultimately create a more inclusive and open environment."  
Honest conversations help people understand each other and ultimately create a more inclusive and open environment. 
Corporate Finance and Accounting Major, Gender Studies Minor
Fox's advocacy for inclusion on campus has not gone unnoticed. He received the 2022 Rainbow Award for his connection and dedication to both the LGBTQ+ and wider Bentley communities. He has also taken his advocacy off campus, including as a communications intern in the Suffolk County District Attorney's Office in Boston in fall 2022. He collaborated with office staff who specialize in restorative justice programs, specifically working on Trans Awareness Week to compile a list of resources and events in the Greater Boston area.     
Fox has also found that his passion for DEI fits well with his aptitude for numbers. "I wanted to morph my passions for DEI into my Corporate Finance and Accounting major, which has been great having a Gender Studies minor. Throughout the classroom and my extracurriculars, I have been able to connect with people across all different majors and backgrounds to where I believe I am gaining a broader understanding of what it means to be an efficient and productive person in the workplace."  
Through networking and his own research, Fox has noticed that companies have started implementing business resource groups. He has even participated in corporate pride initiatives that have coincided with pre-recruitment events for internships.     
"What makes us different is what makes us special," Fox says. "Being able to highlight that and celebrate it through business resources groups has been great to see. It truly allows for anyone qualified to work in the business environment to be successful regardless of race, ethnicity, sexual orientation and more. I think the power of business will continue to elevate."