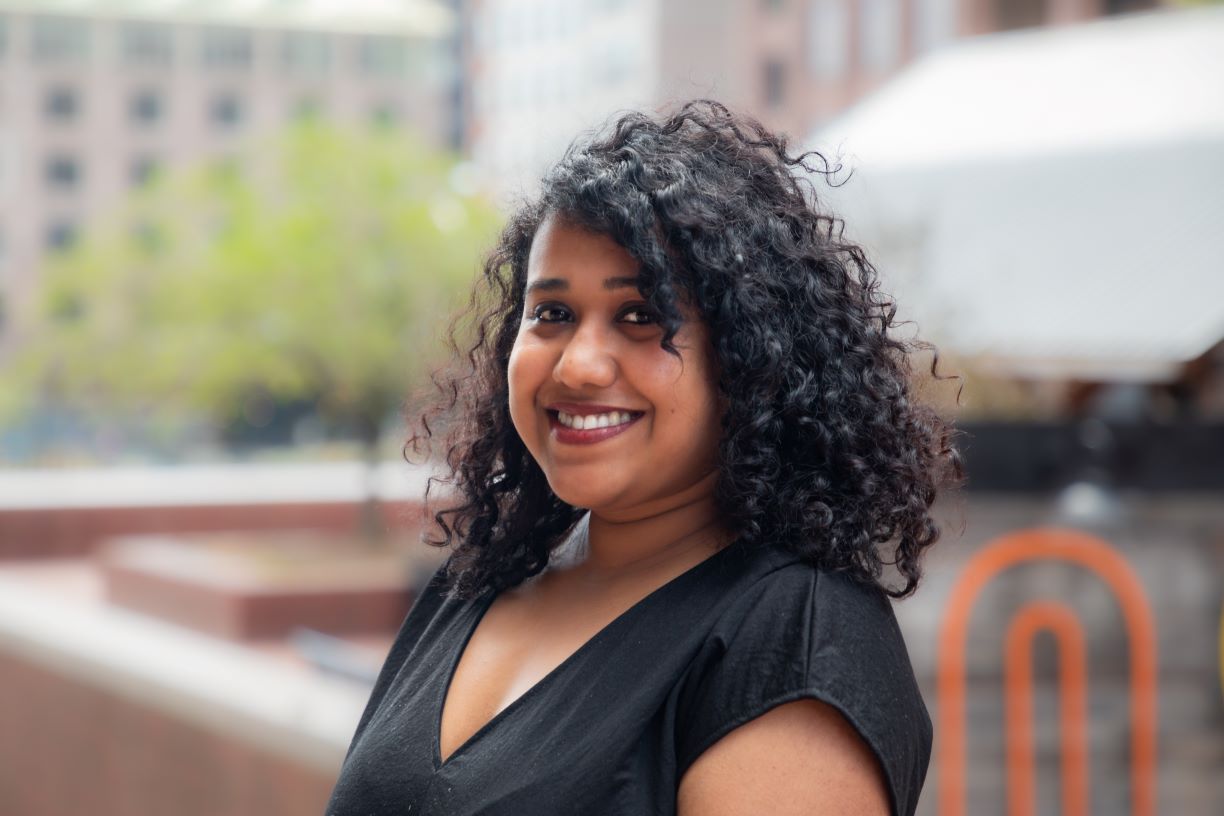 Photo by Kristina Vicario/City of Boston
Designing for a Difference
When Ankita Dutta MSHFID '22 first walked down the hallways of Boston City Hall, she felt empowered about the public service work she was about to begin as a summer design intern in the Mayor's Office of Language and Communication Access. That included implementing language accessibility training for municipal staff to raise awareness of the city's communication resources — including interpretation services, assistive technology and video language interpretation — for constituents who speak languages other than English or have a disability.  
"The crux of the matter is to help ensure all departments understand that they must provide equitable accommodations for constituents for any public event, service or informational document," says Dutta, who works alongside the department's director and learning and development coordinator. "It's a new department, and every day we are discussing ideas to make training more accessible. We're always asking what else we can do to help our constituents and create inclusive policies." 
Inclusivity and accessibility are what first inspired Dutta to explore Bentley's Master's in Human Factors in Information Design (MSHFID), where she enrolled in fall 2021. At the time, Dutta had worked as a learning experience designer at Accenture and Walmart Labs India, so the user experience (UX) space wasn't new to her — but the human factors perspective was.  
"I was used to simplifying complex problems to create intuitive designs, but my work had focused on developing training solutions for organizations," says Dutta, who came to Bentley from Calcutta, India. "I wanted to upscale my skills to cater to a larger demographic: designing accessible experiences for all different kinds of users. I care about people, and I want them to have a good experience no matter what service they engage in."
I wanted to upscale my skills to cater to a larger demographic: designing accessible experiences for all different kinds of users.
Dutta was also drawn to the Bentley MSHFID program because of its focus on real-world consulting experience and ethical design — a combination that gave her both a big-picture understanding of the industry and hands-on experience tackling specific problems.  
"We get an interesting mix of courses in human factors and business, which provides a holistic view," she says. "When you work for an organization, it is important to know how the business works and how you work with other teams." 
In Associate Professor Mounia Ziat's Multimodal Experience Design (HF766) course, Dutta was on a team that "created a working prototype of eyewear that gives pedestrians haptic signals — like vibration or blinking lights — when a car is approaching them. This was done to solve road safety issues in darker environments—the eyewear would sense the motion of a car and give the person wearing it signals to alert them." 
RELATED: Students use technology to design multisensory solutions
As a UX research and design associate in Bentley's User Experience Center (UXC), she conducts user interviews and usability tests for clients across domains like healthcare and EdTech. Dutta is particularly interested in the UXC lab's cutting-edge technology — from eye-tracking and GSR that allows analysis of emotional response of studies to virtual reality and intelligent video technology for tracking and streaming. 
"In the UXC, I have been moderating usability tests to understand people's experiences around clients' products to get insights into how products can be made intuitive for people of various levels of expertise," Dutta says. 
The need for a more inclusive digital landscape is necessary, according to a Forbes Magazine report finding that "despite the fact that one in four U.S. adults live with some type of disability, less than 2% of the world's top one million websites provide fully accessible user experiences." Research by the Mayor's Office of Language and Communication Access found that 12% of Boston residents (approximately 80,836 people) identify as having at least one disability. 
Dutta believes that planning and research — and effective listening — are critical to changing that landscape. As she approaches the completion of the MSHFID, she now calls herself "a staunch supporter of ethical design" and says, "We talk a lot about design ethics here at Bentley, and that's really inspiring to me."  
Those conversations also happen outside of the classroom. The User Experience Graduate Association (UXGA), for example, held a professional development event focused on deceptive design patterns that psychologically trick users into doing something they didn't mean to do — such as make a purchase or sign up for a free trial only to later get billed. 
"Sometimes design elements can really harm people, but if we can get the word out and take a stand, it will be something that we have contributed to the world," says Dutta, who is UXGA president. 
Through her work in the User Experience Center and with the city of Boston, Dutta sees the impact she's making.  
"UX is about rethinking the way we've been doing things: not just designing for accessibility as an afterthought, but making it mainstream right from the beginning," she says. "Though the government and corporate audiences are different, the UX community is a very diverse group of people all with the common goal of helping solve problems to make people's lives easier." 
RELATED: UX hackathon tackles isolation for pediatric patients