Reach Your Full Potential with a UX Degree
Bentley's Human Factors in Information Design (HFID) graduate program is an accelerator for successful careers in user experience (UX) research and design, as well as customer experience.
Students master UX research methods, including ethnography, field research, interviews, survey design, and formative and summative usability testing. Graduates with these in-demand HFID skills are sought after by top organizations across a variety of industries, from cutting-edge tech startups to the Fortune 500.   
upcoming events
Interested in learning more about the program?
Graduate Salaries
According to data from our recent HFID graduates, the average starting salary you can expect with this degree is $121,018.
Rankings & Recognition
The top-ranked HFID program is often cited for its strength of the curriculum and emphasis on helping students with career planning.
Personalize Your Experience
Program Overview
A Customizable Curriculum
The Masters in Human Factors is a 10-course program including three core human factors courses, five electives, and two business electives.
Human Factors Core: Up to Four Courses*
HF 700 Foundations in Human Factors
HF 710 Managing a User-Centered Design Team
or
HF 725 UX Leadership and Management
HF 750 Testing and Assessment Programs
HF 715 Innovation Bootcamp
Human Factors Electives: Five Courses**
HF 720

Internationalization and World-Ready Product Design

HF 730 Visualizing Information
HF 735 Design Ethics
HF 740 Information Architecture
HF 751 Measuring the User Experience
HF 760 Intelligent User Interfaces
HF 766 Multi-Modal Interface Design 
HF 770 Prototyping and Interaction Design
HF 775 Design Innovation
HF 795 Research Methods for Human Factors
HF 780 Field Methods and Human Computer Interaction
HF 785 Ethnography for Experience Design
General Electives: Two Courses**
CS 602 Data-Driven Development with Python
CS 607 Cybersecurity
IPM 652 Managing with Analytics
MG 632 Leading Effective Work Teams
ST 625 Quantitative Analysis for Business
* Students have the option to take either HF 710 or HF 725 as part of their three core course requirements. Students may take both, and count one as an HF elective. Online students in California will be required to also take HF 715. 

**This is a sample of courses you can select from, with more available in our program guide.
The combination of business, technology and design in the HFID curriculum prepared me to tackle complex user problems in any industry, leading me to top companies like Fidelity and Spotify.
Principal UX Designer at Fidelity Investments
Meet Our Faculty
Here is a glimpse of some of our distinguished faculty you will meet during the course of your program duration here at Bentley. Our professors serve as advisors, and mentors and collaborate with students on new and exciting projects.
Jon Ericson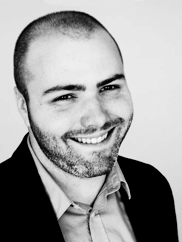 Jon Ericson holds a Ph.D. from Brown University. Ericson uses virtual reality (VR), motion tracking, and eye tracking technologies to study human-computer interaction and experience design. As a designer and consultant, his work has earned a mention in Forbes, driven investments, and received industry awards and nominations including a Webby nomination for Best User Interface and a rare 10/10 from Computer Music. As a researcher, Jon's work has been supported by Bentley University, Brown University's Brain Science Program, the National Science Foundation (NSF), and the NASA RI Space Grant. His current research interests include health care communication, data visualization, environmental design, sustainability, and creative interfaces.
Mounia Ziat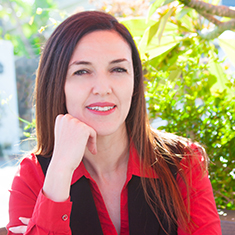 Relying on her multidisciplinary background, Dr. Ziat's approach to science is holistic; her goals are to better understand perception and human interaction with the natural and artificial environment. For the last eighteen years, she has been studying haptic perception by combining engineering, cognitive psychology, human-computer interaction (HCI), and neuroscience to understand all aspects of human touch. From the moment fingers contact a surface to the time information reaches the brain, her research focuses on making sense of sensations that lead to a stable perception of the world. Dr. Ziat holds an Electronic Engineering degree and a Master's and Ph.D. in Cognitive Science.
Our Thought Leadership Network
Frequently Asked Questions about the HFID Program
Cutting Edge Centers & Labs
The Bentley HFID program gives students access to three comprehensive learning centers and facilities that offer hands-on experience with real-world client work, utilizing state-of-the-art technology. 
Admission Details and Requirements
A key point of distinction for our program is the professionally experienced, talented, and intellectually capable students who join our ranks each year looking to push their careers to the next level. Consequently, we expect students to enter with the appropriate preparation to make an immediate contribution.
Candidates applying to Human Factors Information Design and choosing to apply without a standardized test should demonstrate relevant professional experience in a Tech or User Experience Design industry, exceptional academic credentials, and are required to complete an admission interview with the Program Director to better understand their experience in preparation for graduate school. Our admission committee will take into consideration all aspects of the application to evaluate your preparation for this program but the McCallum School of Business encourages candidates to submit a score as it could have a strong impact in strengthening an application for HFID.
Candidates considering applying with test scores should demonstrate preparation through a combination of GRE score (ideally 157 or higher on each section), educational background (completed bachelor's degree with preferably a 3.3 GPA or higher in a social science, design, or engineering field), and professional experience (at least three years in a user experience or technology-related role).
Candidates are encouraged to discuss their options and are strongly advised to schedule a consultation with the Program Director before applying. Prospective students new to the UX field who lack sufficient preparation should consider our non-credit boot camp and certificate options to develop relevant experience.
Program Director and Professor, Information Design and Corporate Communication
Talk to the Program Director
Contact Dr. Gribbons today to schedule a time during which you will discuss your background, career goals, and alignment with Bentley's top-ranked UX graduate program.
Begin Your UX Design Journey