A Doctorate in Making a Difference
Vasilia Vasiliou, PhD '20 teaches equity and inclusion to her college students
(Above: Vasilia Vasiliou, her husband Christos and their son Alexandros celebrate her PhD degree during a graduation ceremony for the Class of 2020 at Fenway Park.) 
Since she was a teenager, Vasilia Vasiliou, PhD '20 has been an advocate for gender equity. "It's something that has always influenced my thinking and my passion," she says. 
Born and raised in Nicosia, Cyprus, Vasiliou vividly recalls a formative moment: "My senior year of high school, I took an advanced course in engineering mathematics. I remember looking around and realizing that in a classroom with 12 students, I was the only woman." 
As someone who's "always been good at math and science," she was perplexed by this gender imbalance. She felt certain that more female students would share her enthusiasm for these subjects if encouraged to pursue them. And after earning a degree in mathematical science from City, University of London — where she graduated among the top five students in her class and received the Tanner Prize Memorial Award for Excellence in Exams (placing first in her class for three consecutive years) — she resolved to do what she could to make a difference. 
Vasiliou returned to Cyprus to teach at a private, English-language high school known for its academic excellence. Although she enjoyed helping students hone their math skills, her happiness was soon tainted by an unwelcome discovery. "I found out they were paying me significantly less than a male colleague with an identical background and position."     
Frustrated, Vasiliou decided to venture out on her own, establishing her own school, The Nicosia Institute of Mathematics, in 2006. In her new role as founder and director, she found herself becoming increasingly interested in business. Eager to learn more, she enrolled in the MBA program at Cyprus International Institute of Management, successfully juggling her responsibilities as a math teacher and business owner during the day with a demanding academic course load at night and on weekends. 
The professors in my PhD program were with me every step of the way, providing feedback, offering encouragement and doing everything in their power to help me succeed. That kind of support makes all the difference. 
Vasilia Vasiliou, PhD '20
Visiting Professor of Management, Clark University
In 2010, Vasiliou and her husband, Christos, moved to the Boston area so that he could pursue a PhD in economics. Soon after, she began looking at doctoral programs for herself and was immediately drawn to Bentley's PhD in Business. The Center for Women and Business was a major reason why. "I was so impressed by their research and advocacy efforts and knew right away that I wanted to be a part of it."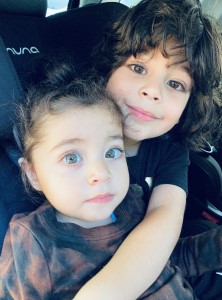 Faculty expertise proved another factor. Vasiliou recalls a lunch meeting with the Center's founding director, Betsy Myers. Myers invited Management Professor Susan Adams to join them — much to Vasiliou's delight. "I was absolutely starstruck," she says, having closely followed Adams' research on gender diversity and business leadership. After that encounter, she knew Bentley was where she was meant to be. 
The program itself, Vasiliou notes, is "academically rigorous" and encompasses a breadth of disciplines. A Philosophy course in her first semester proved particularly challenging. "Given my mathematics background," she explains, "I'm more comfortable with quantitative analysis. This class emphasized qualitative data, and I found myself really struggling." Her fellow students, however, "rallied together to help me," and Vasiliou ended up not only excelling in the course, but making qualitative methods the basis of her dissertation, which explores the persistent underrepresentation of women on corporate boards.  
Through a fellowship with the Center for Women and Business, Vasiliou was able to extend her advocacy efforts beyond the classroom. In fact, she initiated a fruitful partnership between the Center and the National Initiative on Gender, Culture and Leadership in Medicine — more familiarly known as C-Change — a consortium housed at Brandeis University. Working with both organizations, she says, enabled her "to move from conversation to action" in championing diversity and inclusion. 
While Vasiliou appreciates the academic component of Bentley's PhD program — which helped her secure a job offer as Visiting Professor of Management at Clark University a full year prior to her graduation — what she values most is the relationships she's made. "My professors were with me every step of the way, providing feedback, offering encouragement and doing everything in their power to help me succeed," she shares. "That kind of support makes all the difference." 
Now that she's a professor herself, Vasiliou strives to create the same environment for her Clark students. She also continues to champion diversity, equity and inclusion in the business courses she teaches. "As an immigrant, as a first-generation college student, as a woman in business, and as a mother"— she and Christos share a 4-year-old son, Alexandros, and 2-year-old daughter, Stavri — she understands better than most the importance of ensuring equal access to opportunity. Fostering the same awareness among her students is critical, she says, "because they're the future leaders of not only corporate America, but of the world." 
Real-world research and academic excellence: Bentley's PhD program