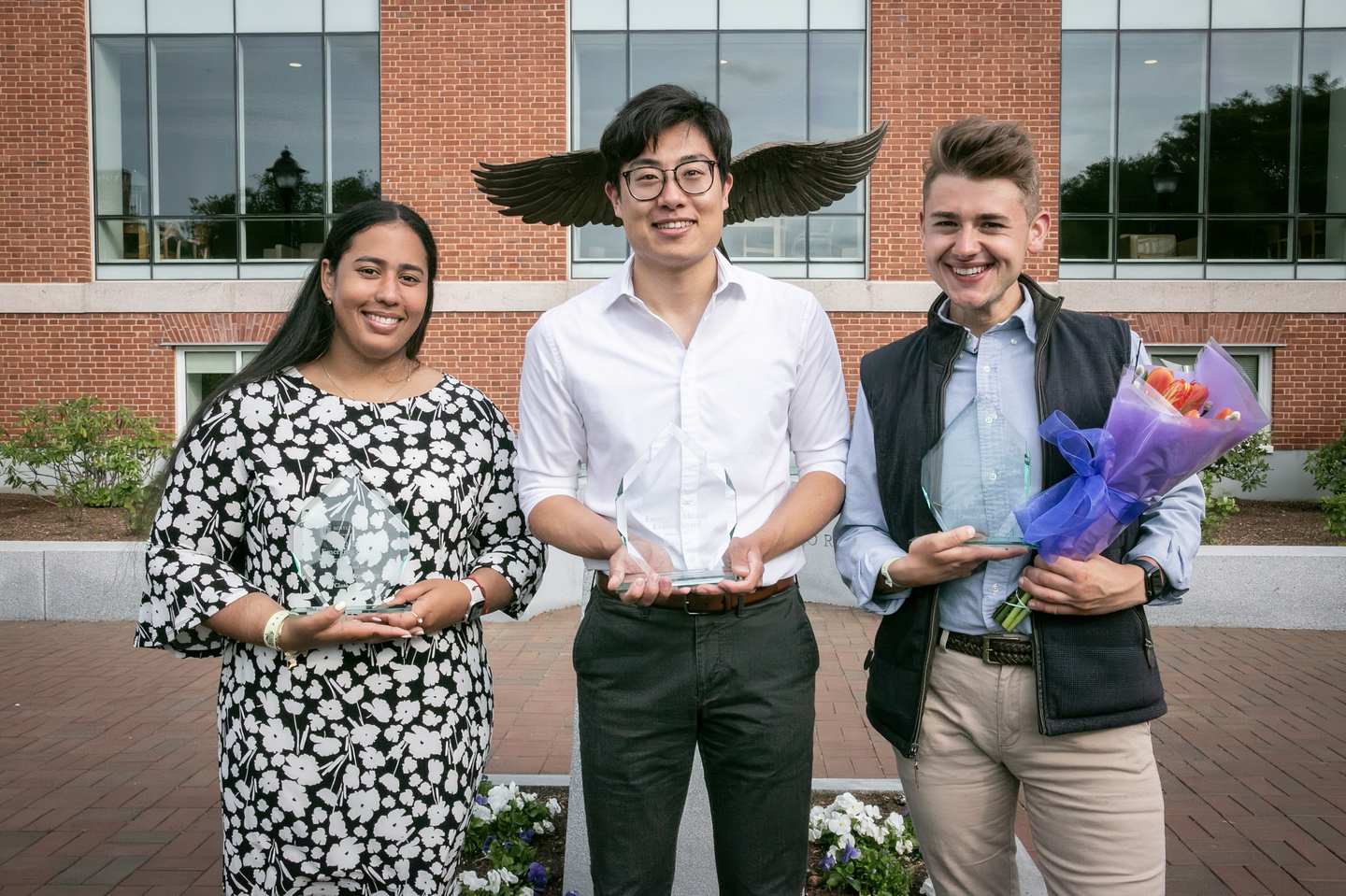 Photos by Steve Benoit
Ending Gun Violence and Promising Change
Meet the 2023 winners of the annual Global Alumni Board awards
Each spring, Bentley's Global Alumni Board sifts through dozens of nominations of outstanding alumni and graduating seniors. The selection is an honor and a privilege, says GAB Chair Keith Singletary '96, and certainly a highlight of the year. Meet the 2023 honorees.
HARRY C. BENTLEY ALUMNI ACHIEVEMENT AWARD
Sonya Yee Coleman '86
Honoring graduates who reflect the tenets of Bentley's founder by achieving excellence in their profession, their community or university engagement.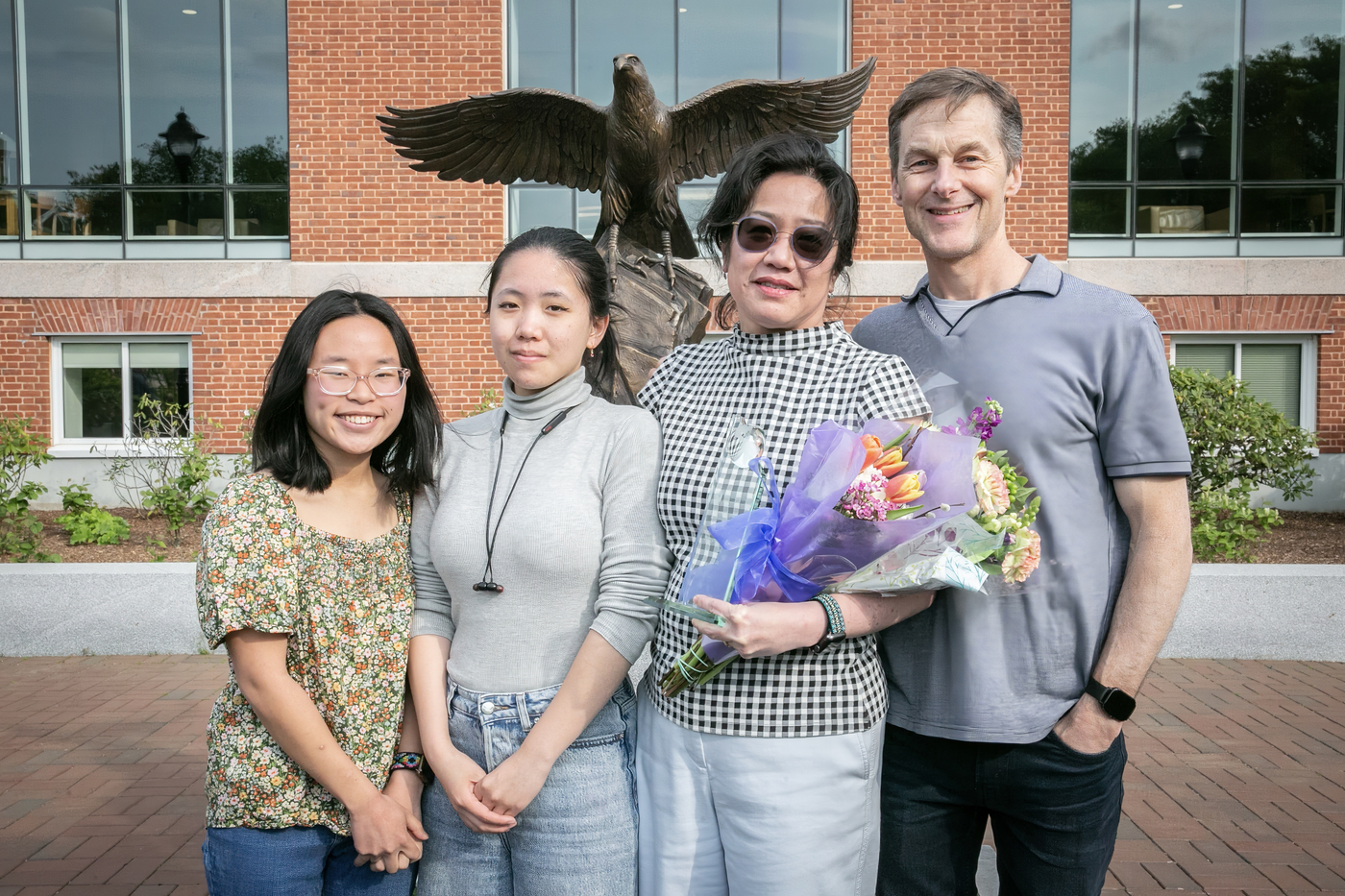 On December 14, 2012, the American news cycle was flooded with images of smiling children posing for their annual school photos. They were the victims of that morning's Sandy Hook elementary school shooting. Sonya Coleman couldn't look away, but the moment also proved to be a turning point from which she'd never look back.
"My two daughters were the same age as those babies murdered in that school," Coleman says. At the time, she had paused her accounting career to be a stay-at-home mom and regular classroom volunteer in Arlington, Mass. She could easily imagine herself at Sandy Hook with those children in the face of violence. "I just couldn't take it. I just couldn't let go of that image." 
She never has. Fast forward more than a decade and Coleman is now the executive director of Stop Handgun Violence, a nonprofit championing public awareness, education and policy advocacy. From Moms Demand Action for Gun Sense in America to States United to Prevent Gun Violence, over the years she has met hundreds of survivors and families, organized rallies and marches, and helped put legislation in place to protect the commonwealth from gun violence.
Driven by data and open conversation, Coleman has dedicated herself to saving lives, patiently waiting for a political tipping point. "We've seen marriage equality and other social rights reach their goals," she says. "Our time has to come. It's a marathon, not a sprint, and I have no intention of stopping."
This year's recipient of the Harry C. Bentley Award for Alumni Achievement for her community leadership and service, Coleman was emotional when she received the news. "I almost cried," she says. The recognition was an affirmation "from an organization of my roots, where I learned to grow." She adds: "That means a lot."
EMERGING ALUMNI LEADER AWARD
Recognizing graduating seniors whose Bentley tenures reflect their potential to be esteemed and involved members of the alumni community, based on three key criteria: impact, inclusivity and honesty.
Growing up in Branford, Conn., Bobby Olejarczyk was fortunate to have what he remembers as a great public school experience. In the student mix at Bentley, he started to see that wasn't the case for many of his peers. 
An internship with the U.S. Department of Education further enlightened him: "I saw how government can play a good role in providing equitable education across the country." It's a passion he plans to pursue after graduation either in the Peace Corps. or nonprofit sector. "I can only assume that as I grow and become a little bit more well-versed in my scope of life, more will come."
A faculty trip to Ghana. A semester abroad in Normandy. A leading voice for the Racial Justice Task Force, Rainbow Luncheon, Student Programs and Engagement and more. Olejarczyk's name is on almost every campus list — including the President's and Dean's. In fact, whenever Victor Liu '23 (below) found himself with a free moment at Bentley, he often asked himself: "What would Bobby do?"
A public policy major, Olejarczyk says: "It feels amazing to be recognized, but I also feel it's my responsibility to do something good in the world. Look me up in ten years and hopefully I'll be making a difference in D.C."
Anyfern Gonzalez is a "first" in name — and action: a first-generation American, the first in her family to graduate from college, the first to earn a degree in Diversity, Equity and Inclusion in the university's history, the first student to receive the Dr. Earl L. Avery MLK Leadership Award, and, perhaps most importantly, the first to raise her hand and her voice when a challenge arises.  
As a student leader of the Racial Justice Task Force, Gonzalez used that voice to transform conversations and advocate for members of marginalized communities, says Claudette Blot, assistant director of Mentorship and Advising. "And as the vice president of Coming Full Circle, Anyfern has made it her mission to ensure that young women with identities others might see as a deficit are assured a tolerable experience, alongside a support group that ensures they feel included."
A familiar name on the President's and Dean's Lists, the Salem, Mass. native has also participated in the Women's Leadership Program, captained the Women's Track and Field team and more. When deciding her unique major, Gonzalez says, "I began to learn why my identity matters so much in a business environment, and DEI encapsulates everything I'm advocating for, including immigrant communities. And that's something I love."
When asked about Victor Liu, Lecturer Lynn Wolf says, "Victor has gone above and beyond to help fellow Falcons, from the ACELAB to the LEAF, from Beta Alpha Psi to ISACA, from student government to committees for diversity, equity and inclusion, and, most recently, by bringing student perspective to the design of AC115." 
His smile and positive attitude are famous. "He embodies the motto No Falcon Left Behind," Wolf says. Adds Accounting Professor Tracy Noga: "I have been at Bentley for 18 years and Victor is the student that stands out as the most committed to each academic and extracurricular endeavor." 
They both agree: His integrity has been unmatched.
Liu grew up in China and moved to Wilbraham, Mass. during high school; he knows how important support can be. "At Bentley, I always really wanted to be the person younger students could come to," he says, "and I hope that will make an impact so when they're seniors, they do the same for baby Falcs." When interviewing for his new role as an analyst at John Hancock Investment Management, he says, "I was proud of how much I had done for my peers and the accounting department that I now call family."
Do you know a Falcon changing the world?