Extracurricular Growth
Asimina Morris '21 helps her classmates live bigger, better lives
From the very beginning, Bentley was too loud for Asimina Morris '21 to ignore. 
"I was interested in business all throughout high school," says Morris, an Economics-Finance major with a minor in Law who's from Bedford, Mass. "I knew it was something I wanted to go into so, of course, I toured the normal business schools. Nothing hit me like when we came to Bentley for the fall Open House.  
"You drive onto campus. There are kids lining the sidewalks, there's screaming, there's music. It just felt so lively. Everyone was so excited to be here. Every other open house I went to paled in comparison. I kept thinking, if I'm looking at every school saying, 'This is just not like Bentley,' that's a pretty strong indication of what I should do." 
Now, more than four years later, Morris leaves the campus she fell in love with having helped lead her class through a pandemic, a racial justice reckoning, and a search for a new president.  
"I said it as a high school senior and I said it literally two weeks ago: If I didn't get into Bentley I was done. I'm so glad I still feel that way."  
Like a lot of Bentley students, Morris plugged in to extracurricular activities early, and often. First was the Adamian Law Club. Then came the Bentley Real Estate Group, and helping out as a tutor at the Writing Center. She had a two-year internship at McLean Hospital; was editor-in-chief of the Honors Program newsletter, Columnas; and chaired the Allocation and Internal Audit (AIA) Committee, helping oversee how nearly $1.6 million in student activity fees is allocated among more than 110 student clubs and organizations. And Morris joined that  screaming bunch of Orientation leaders whose cheers lured her to Bentley.
"I love my extracurriculars," she says. "They're not just something to tack onto a résumé. I know I've grown from them, and I know other students can grow from them, too." 
Supporting those opportunities is a huge part of what AIA does — a job made even more complicated by the COVID-19 outbreak. The 11-student board meets every week for two hours to review budget requests from student organizations or hear funding appeals for special events. 
"It's about providing an opportunity to do something better," says Morris. "I love when orgs come in and want to change things up, to make it even bigger. I'm going into consulting when I graduate, and being involved in AIA has been so helpful. One, it's part of working with a team. It's a true example of collaboration. And then having orgs come in feels like working with companies, where we have to figure out what can we do, how we can help." 
Morris says the COVID-19 campus shutdown in March 2020 "hit everyone like a truck." More than a year later, she believes it taught lessons of resilience that made the Class of 2021 even stronger.  
"I know, as a student leader, it has forced orgs to really learn to adapt," she explains. "With AIA, one of my board members was in China, one was in Kuwait. So we had to battle that. 
"As a student, it made me comfortable with living in the gray. I'm a person who likes to know what's going on. I like to have a plan. And the last year has thrown any semblance of that out the window. We've had to find different ways to have senior year be something we can enjoy on campus and navigate that safely in a pandemic world." 
I love my extracurriculars. They're not just something to tack onto a résumé. I know I've grown from them, and I know other students can grow from them, too.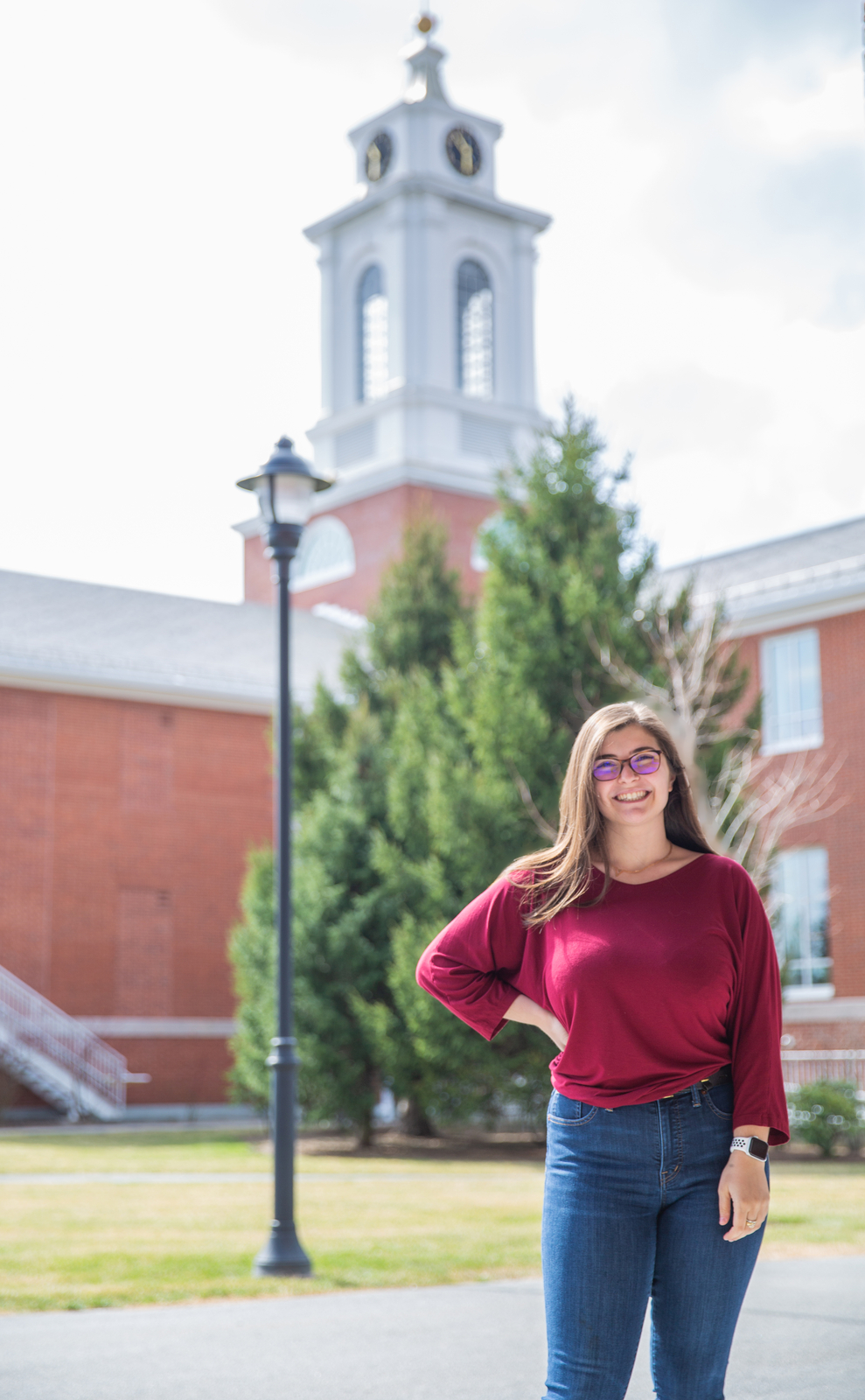 Morris's college career got even busier this past fall, when she received an unexpected voicemail. Board of Trustees Chair Paul Condrin was asking her to serve on the search committee to select Bentley's next president.  
"I freaked out," she says. "I'll always save that voicemail. I'm almost glad I missed that call so I have it." 
The "intense" process put Morris on a team with faculty, staff and alumni that held listening sessions, reviewed applications and interviewed candidates. She's thrilled with their choice:  Brent Chrite, PhD. 
"I am so excited for Bentley's future," says Morris. "I think we have someone who can come in, understand the environment, immerse themselves in the culture, and bring campus together. Dr. Chrite is someone who can unite us, and we can do so much moving forward."  
That unity is something Morris says is critical amid the rising calls for racial justice that started in summer 2020.  
"The last year has shown that Bentley is like any other institution, especially any other predominately white institution. We have so much to do and the way we get that done is being a community. That means being with each other, supporting each other and providing opportunities for marginalized groups to speak up and share their stories and for non-marginalized groups to learn about it. That is a lot of holding ourselves and each other accountable."  
As editor of Columnas, she wanted to help give marginalized groups a voice by offering up her pages for a frank discussion on race at Bentley. When she approached Honors Program Director Christian Rubio with the idea, "He said, 'Yup, let's get it together.' No questions asked. I'm biased, but I think it does a wonderful job of continuing that conversation." 
Brent Chrite, PhD, named Bentley's ninth president
After graduation, Morris will join Deloitte Consulting as a business technology solutions analyst, working out of Boston. She's proud of the impact she's made and her work to help fellow students explore their passions. 
She'll miss those loud cheers of Orientation leaders most of all.  
"All the crazy students who were lining the sidewalks during Open House were people I got to work with — and got to be crazy with myself."