Fantastic Fall
Bentley student-athletes and coaches prepare to welcome back their Falcon fans
The 2020-'21 school year was unlike any before, and athletics were no different. If sports were played at all, Bentley games happened in empty arenas with no fans or family there to witness.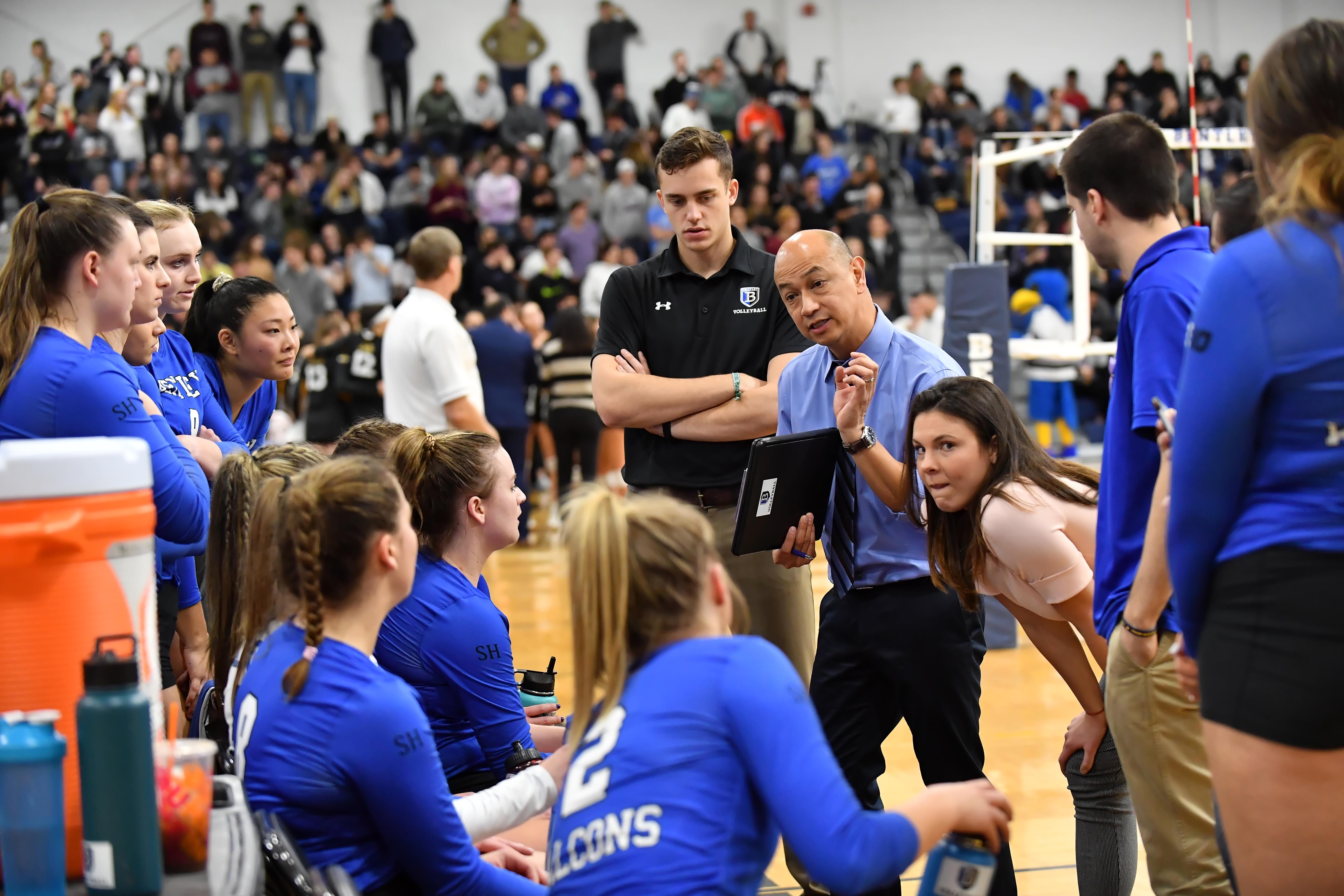 As the Northeast-10 athletic conference prepares to welcome fans back to fall sports, we spoke with Bentley coaches and players to see how they're feeling about competing again, and how they're getting ready to reunite with the Falcon faithful. 
Joey Pacis, head volleyball coach: Last year was a different coaching experience for many reasons. The most obvious was not having any Northeast-10 conference matches or official intercollegiate competition. The feeling was analogous to being a professional musician and not having an opportunity to perform on-stage in front of an audience. In addition, limited practices and controlled interactions with our student-athletes made it challenging to start and nurture relationships.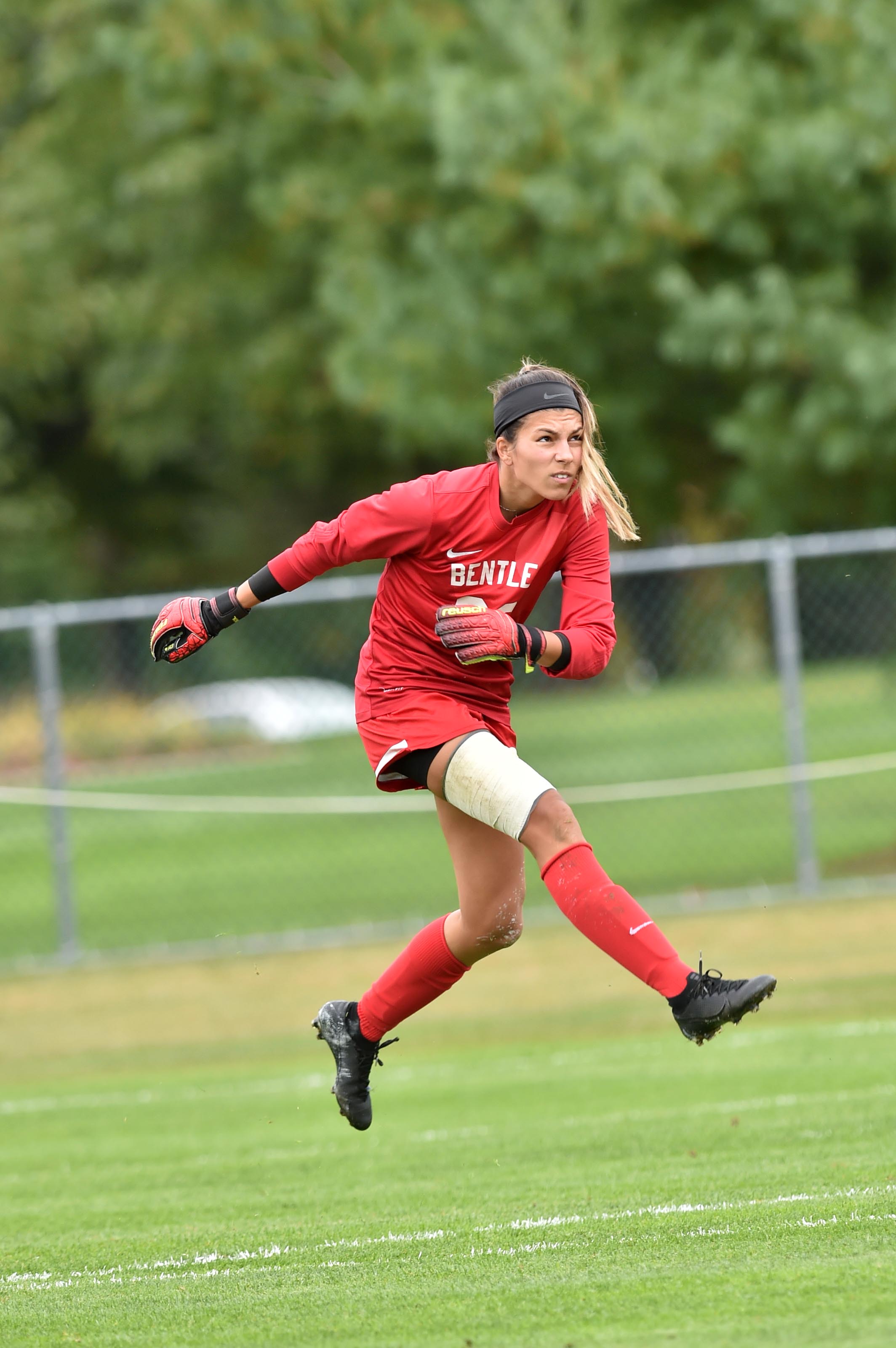 Kat Hassapis '22, soccer goalie and team captain, 2021 Powers Award winner as Bentley's premier senior scholar-athlete: It was challenging both on and off the field, because we were hit with a lot of adversity. It was extremely difficult to have my senior season cancelled so abruptly, but this change came with many life lessons. It reminded us all that we need to continue to be thankful for the opportunities we have to play here at Bentley, to "seize the moment" and take in all the opportunities we were still given, no matter how small. Things were definitely different, but at least we were able to come back to Bentley in some capacity.  
Jess Spencer '98, former two-time All-American in field hockey as a Bentley student, current head field hockey coach: Coaching the team during the pandemic restrictions shifted the focus from X's and O's to student well-being. It also gave coaches the opportunity to be more creative using technology and helping players connect off the field.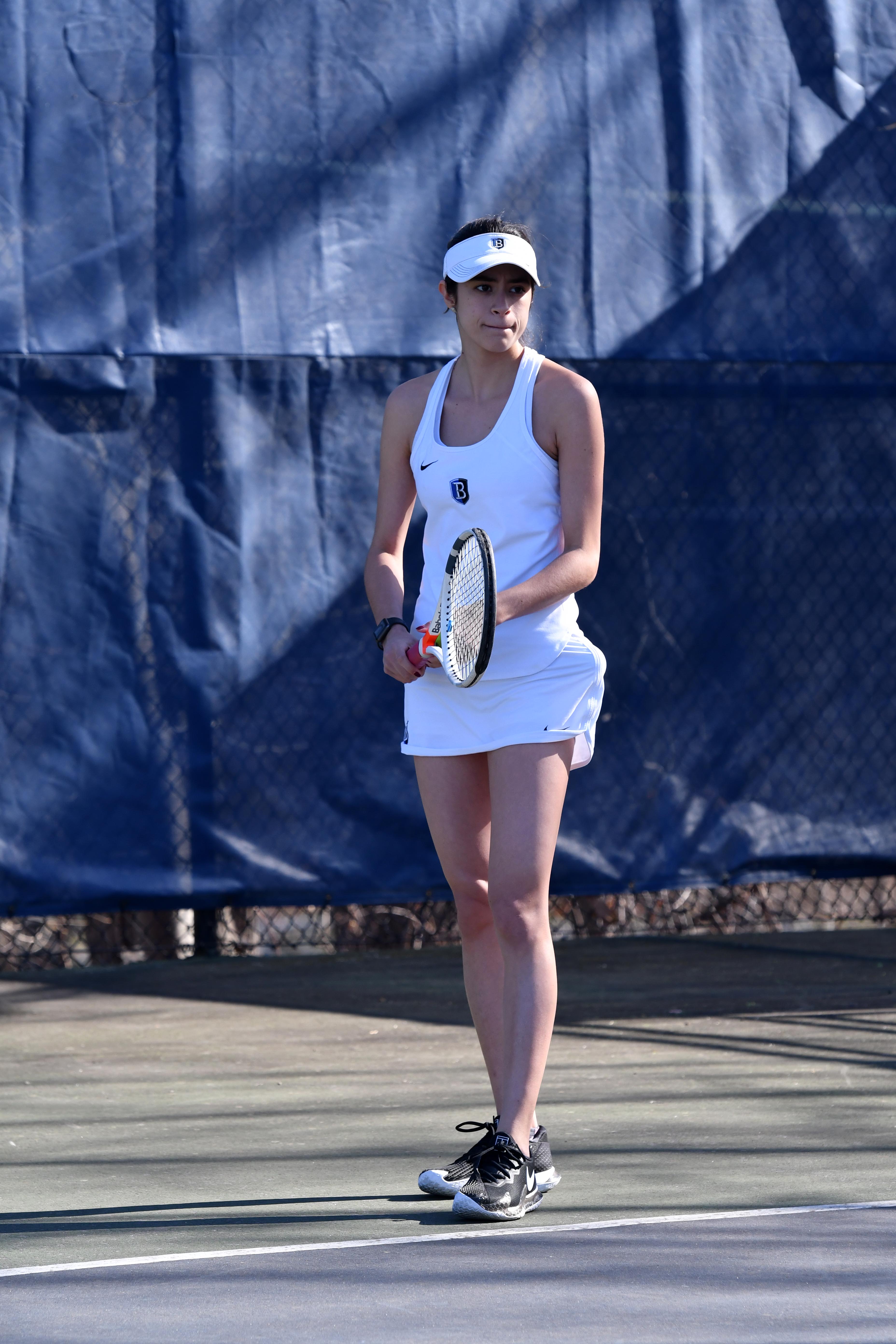 Student-athlete well-being always comes first. Mental health is a top priority in our athletics department and it's something I have always talked about with the team. Many of our players were dealing with many unknowns, prolonged uncertainly and more isolation than ever before. I do feel more prepared moving forward, but it's an ongoing learning process for myself and the coaching staff. 
Alessa Matuty '22, tennis: Last year was a year full of changes and unexpected news. We as athletes were not always prepared for practices and matches being cancelled constantly last semester. Also, it was frustrating not being able to play and practice as much as we wanted to, but we got the most of it.  
Ronan Fitzpatrick '22, soccer midfielder and team captain: As a student-athlete, last year was a foreign experience. Having missed out on an entire season, it really feels like we missed an entire year of college. Competition is the heart of all sports, and we lost that last year. Virtual classes and having to spend the vast majority of your day in your room was by far the worst part for me.  
Matuty: I definitely missed competing and being able to get into our regular routine of matches and practice each week. Also, not being able to see my teammates was something that I missed a lot.  
Hassapis: Personally I missed the pregame locker room speeches and bus rides with my teammates. Over the past four years, those were the times that I was able to bond with my teammates and create some of my most memorable moments.  
It reminded us all that we need to continue to be thankful for the opportunities we have to play here at Bentley, to "seize the moment" and take in all the opportunities we were still given, no matter how small.
Pacis: I missed having "normal" interactions with our athletes — for example, casual conversations on the bus or an athlete stopping by my office to print out a paper.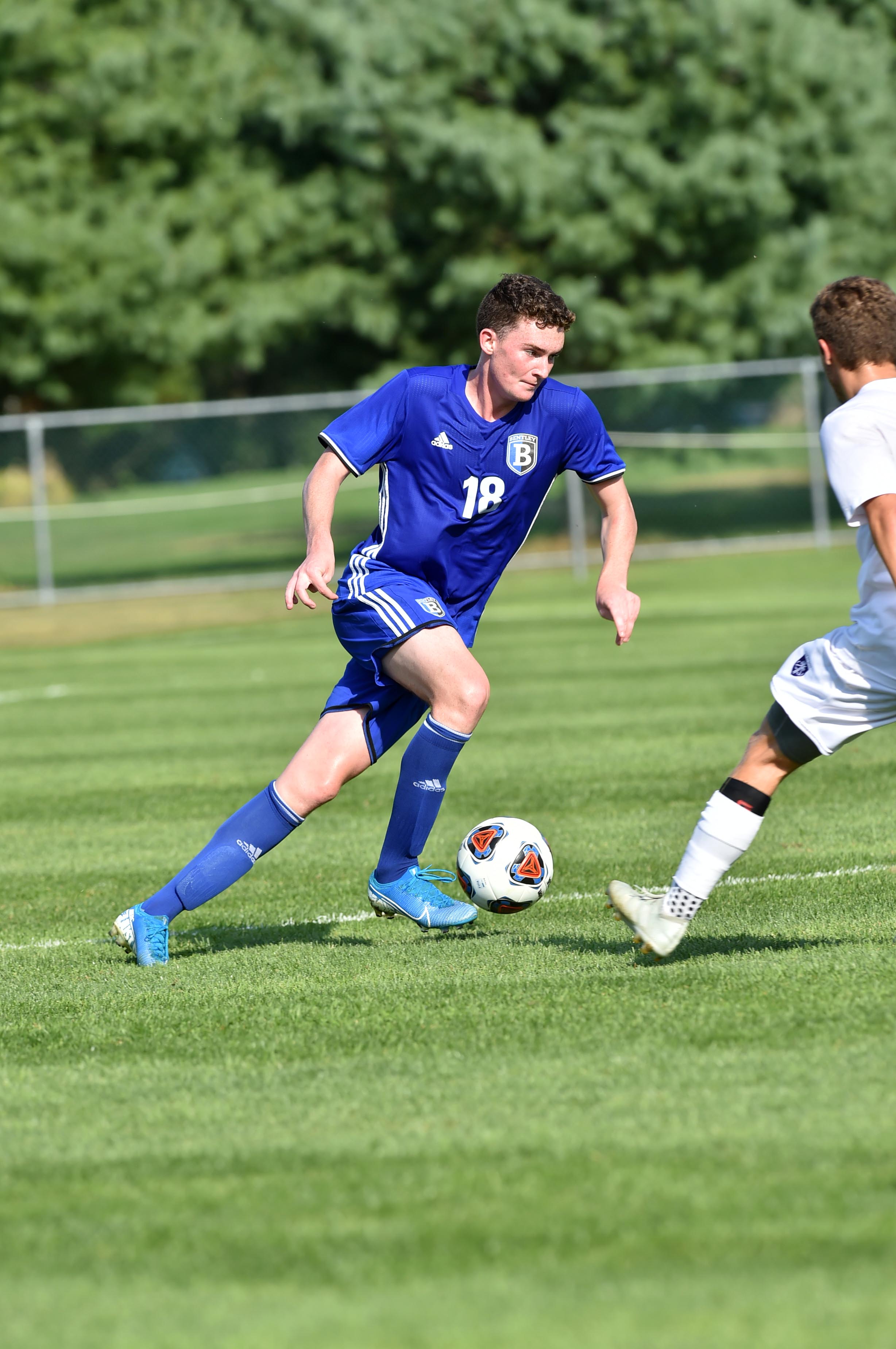 Fitzpatrick: Nothing can replace competing alongside your teammates week in and week out. The camaraderie that is built throughout the season between the locker room, training sessions, matches, and free time on the weekend is priceless.  
Spencer: I missed having the opportunity for players and coaches to connect more in person. Team meals, outings and even time in the locker room are all things we will no longer take for granted. 
Hassapis: Preseason has felt more normal in comparison to last year. We are all incredibly thankful to be out there again, however we realize that we still need to be careful and thankful for what we will get out of this year.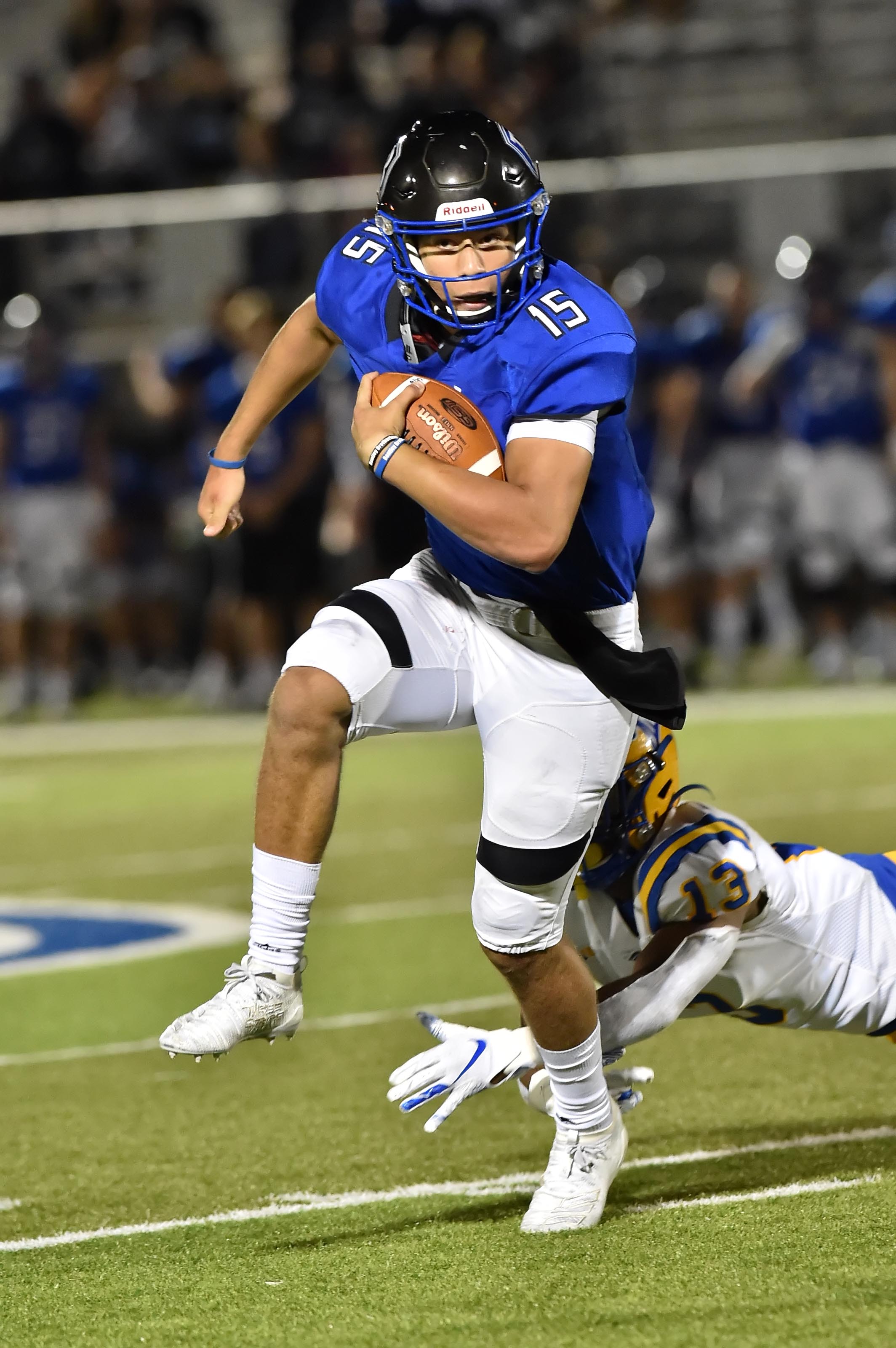 Matuty: The preseason was a perfect transition from not playing at all to beginning to practice and seeing everyone again back at the courts. Despite having several cancellations and postponed matches, we were able to get back on the court, which was the most important.  
Fitzpatrick: Preseason will be a real wake-up call for the boys as it's our first real season in two years. It is also a much-needed time to build some team chemistry and match fitness. 
Pacis: If I had to base our volleyball student-athletes' excitement for preseason on the flurry of emails and messages, it's going to be amazing. 
Spencer: I'm really looking forward to having the restrictions lifted and having the opportunity to prepare to compete on a regular basis. Getting more time with the players off the field. When they play the anthem at our first home game September 3 against Bloomsburg, it's going to be thrilling. 
Matuty: I am mostly looking forward to the competition this year, that way we'll be able to have a steady and positive season.  
Pacis: I can't wait to see our team get out of their comfort zones, grow and ultimately, get on the "stage" and compete! 
Fitzpatrick: I'm looking forward to wearing the armband with my fellow captain Connor Mote, and doing everything in my power to make sure we have a successful year. 
Hassapis: I can't say enough how thankful I am for the opportunity to get a senior season. I look forward to just playing the sport I've loved since I was 4 years old with some of the greatest teammates I've ever had. 
Cool Lessons from a Bentley Hockey Captain