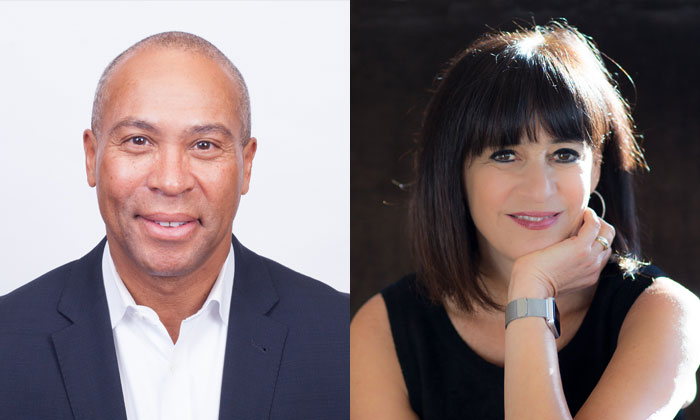 Patrick will Keynote Undergraduate Ceremony, Hessan will give Graduate School Address
Former Massachusetts Governor Deval Patrick will deliver the keynote address at Bentley University's 99th undergraduate commencement ceremony this May. Patrick, who spoke at the inauguration of Bentley President Gloria Cordes Larson in 2008, will return to campus for what will be one of Larson's final events at the university before she steps down in June.
Diane Hessan, founder and chairman of the market research company C Space (formerly Communispace), will deliver the address to graduate students at the 43rd annual commencement ceremony for Bentley's McCallum Graduate School of Business. 
Bentley University's undergraduate and graduate commencement ceremonies will be held on Saturday, May 19, 2018. Approximately 1,470 students will receive diplomas and will be joined by more than 7,000 members of the university community, family members and friends. During the respective ceremonies, Patrick and Hessan will receive honorary Doctor of Commercial Science degrees. Undergraduate students will receive bachelor's degrees from a variety of business and liberal arts programs that prepare them for career and life success in today's innovation economy. Graduate students will receive advanced degrees that include a Master's in Business Administration, Master's in Business Analytics and Master's in Accounting.
"It's fitting that on this momentous day in their lives, our graduates will have the opportunity to hear from accomplished individuals who reflect the kind of life and career we hope our students will pursue," said President Larson. "Deval Patrick and Diane Hessan have both exhibited a lifetime of commitment to service and leadership, values we strive to encourage in all our students at Bentley. It will be an honor to welcome these two inspiring individuals for this year's commencement ceremonies."
Patrick served two terms as governor of Massachusetts (2007-2015), during which time the state became a national leader in education, innovation, entrepreneurial activity and sustainability, all areas that reflect Bentley's forward-thinking educational mission. President Larson co-chaired his transition team in 2006 and later advised the administration as a member of the business advisory cabinet. In 2014, Patrick unveiled the Corporate Challenge at the Bentley Center for Women and Business, which was founded by President Larson in 2011. Patrick now serves as a managing director of Bain Capital Double Impact, seeking to invest in companies focused on three core themes: sustainability, health and wellness, and community building.
Hessan is a renowned entrepreneur, researcher and author who created C Space, one of the hottest companies in Boston's innovation economy. C Space disrupted the market research industry with its online communities, used by major brands to gain insight and inspiration from their consumers. Hessan embodies what a Bentley graduate education is all about, a combination of business, creativity and critical thinking skills, with an understanding that innovation is a must, no matter where you go next. She is currently CEO of Salient Ventures, an investment and advisory company with a portfolio of angel investments focused on Boston technology companies.
About Deval Patrick
Originally from the South Side of Chicago, Patrick came to Massachusetts at 14, when he was awarded a scholarship to Milton Academy. After Harvard College and Harvard Law School, he clerked for a federal judge and then launched a career as an attorney and business executive, becoming partner at two Boston law firms and a senior executive at Texaco and Coca-Cola.  In 1994, President Clinton appointed Patrick to the nation's top civil rights post, assistant attorney general for civil rights. In 2006, in his first bid for public office, he became Massachusetts' first African-American governor.  In two terms as governor, Patrick oversaw the expansion of affordable health care to more than 98 percent of state residents, launched initiatives stimulating clean energy and biotechnology, and steered the state out of recession to a 25-year high in employment. Patrick currently serves as a managing director of Bain Capital Double Impact, where he focuses on investments that deliver a competitive financial return and significant positive social impact. He is a Rockefeller Fellow, a Crown Fellow of the Aspen Institute, and the author of two books, A Reason to Believe: Lessons from an Improbable Life and Faith in the Dream: A Call to the Nation to Reclaim American Values.
About Diane Hessan
Hessan is a successful entrepreneur, marketer and author. She is the founder and chairman of C Space, formerly Communispace, and was CEO during 14 years of exponential growth as C Space disrupted the market research industry with its online communities, used by major brands to gain insight and inspiration from their consumers. A serial entrepreneur, Hessan has consolidated her investment and advisory work into a new company called Salient Ventures, which will help accelerate the next generation of growth companies in tech. Most recently, Hessan researched voters across the U.S – first for the Clinton Campaign and now on her own. She has personally interviewed nearly 1,000 voters. She has appeared on national and local television shows, and writes regular op-eds about voter sentiment. Hessan has also led two companies in the education space: as CEO of Startup Institute, which helps young professionals develop 21st-century skills; and as executive vice president of The Forum Corporation, a large training and development company. Hessan is co-author of Customer-Centered Growth: Five Strategies for Building Competitive Advantage; serves on the boards of Panera, Eastern Bank, Brightcove, Tufts University, Mass Challenge, CoachUp, and Beth Israel Deaconess Medical Center; and is special advisor to Datapoint Capital.
Commencement Information
Bentley's 2018 commencement will take place on the university's south campus. The undergraduate ceremony will start at 10 a.m. and the graduate ceremony will start at 3 p.m. Both ceremonies will be held under the tent on the football field. Indoor viewing on a large monitor will be available in the Dana Athletic Center and the ceremonies will be held rain or shine. Buses will run from the parking lots on the main campus to the south campus. More details can be found on the Bentley University web site:  http://www.bentley.edu/events/commencement