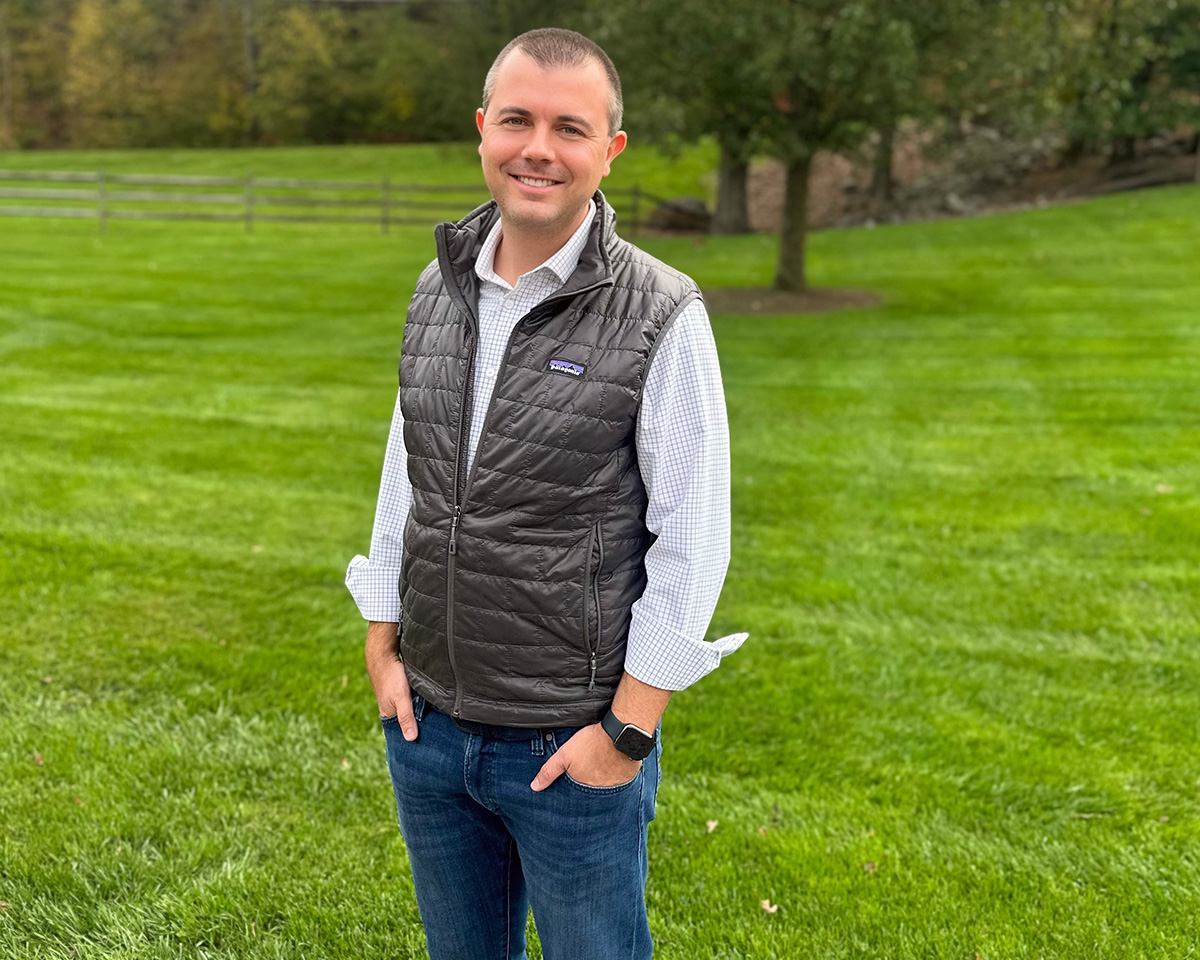 A Formula for Entrepreneurship
Steve '08 and Samantha Somers invested $1M in Bentley's Entrepreneurship Hub, building an ecosystem to foster entrepreneurial skillsets and mindsets.
For Steve '08 and Samantha Somers, giving back to Bentley is an investment. Steve thinks of their $1 million donation to Bentley's Entrepreneurship Hub (E-Hub) as the beginning of a self-sustaining ecosystem: giving students the support they need to build successful businesses will create more alumni running successful companies, who will then be able to give even more philanthropic support to Bentley. It's a tradition and a culture he's committed to helping create.
"I'm lucky enough to have a group of close friends from Bentley and it gave us a great foundation, but for some reason we don't have as strong of a connection to Bentley itself as we do to each other." When Somers learned about the burgeoning Entrepreneurship Hub at Bentley, he thought there may be a way to help create that connection to the university within the entrepreneurship community, so that like-minded students and alumni could stay in touch, help each other and build a network.
That ecosystem environment is exactly what Sandeep Purao, director of the Entrepreneurship Hub, intends to build. "Entrepreneurship is both a mindset and a skillset. We are building the infrastructure and programs for our students that will be uniquely Bentley," he says.
We are honored with this endorsement from Steve and look forward to working with him to continue to build the E-Hub.
Director, Entrepreneurship Hub
A uniquely Bentley approach to entrepreneurship is the key. With a particular emphasis on finance, health care, creative industries and technology — areas in which Bentley excels and that promise significant, unprecedented change in the coming decades — the E-Hub curates high-touch experiences and connections, letting students explore its many pathways. 
When Somers met Purao, he was impressed with his leadership and with the developments that had been made in the entrepreneurship realm since his years at Bentley. Activities already ongoing: coaching sessions with alumni mentors, an Entrepreneurial Studies minor, collaborations with student clubs and a physical space — now the Somers Garage, named in recognition of the $1 million donation, which gives students a place to work together, find new ways of looking at possibilities and recognize opportunities. Future possibilities include pitch competitions, an entrepreneur in residence, seed funding and expanding the physical footprint — and Somers' investment will make more opportunities viable.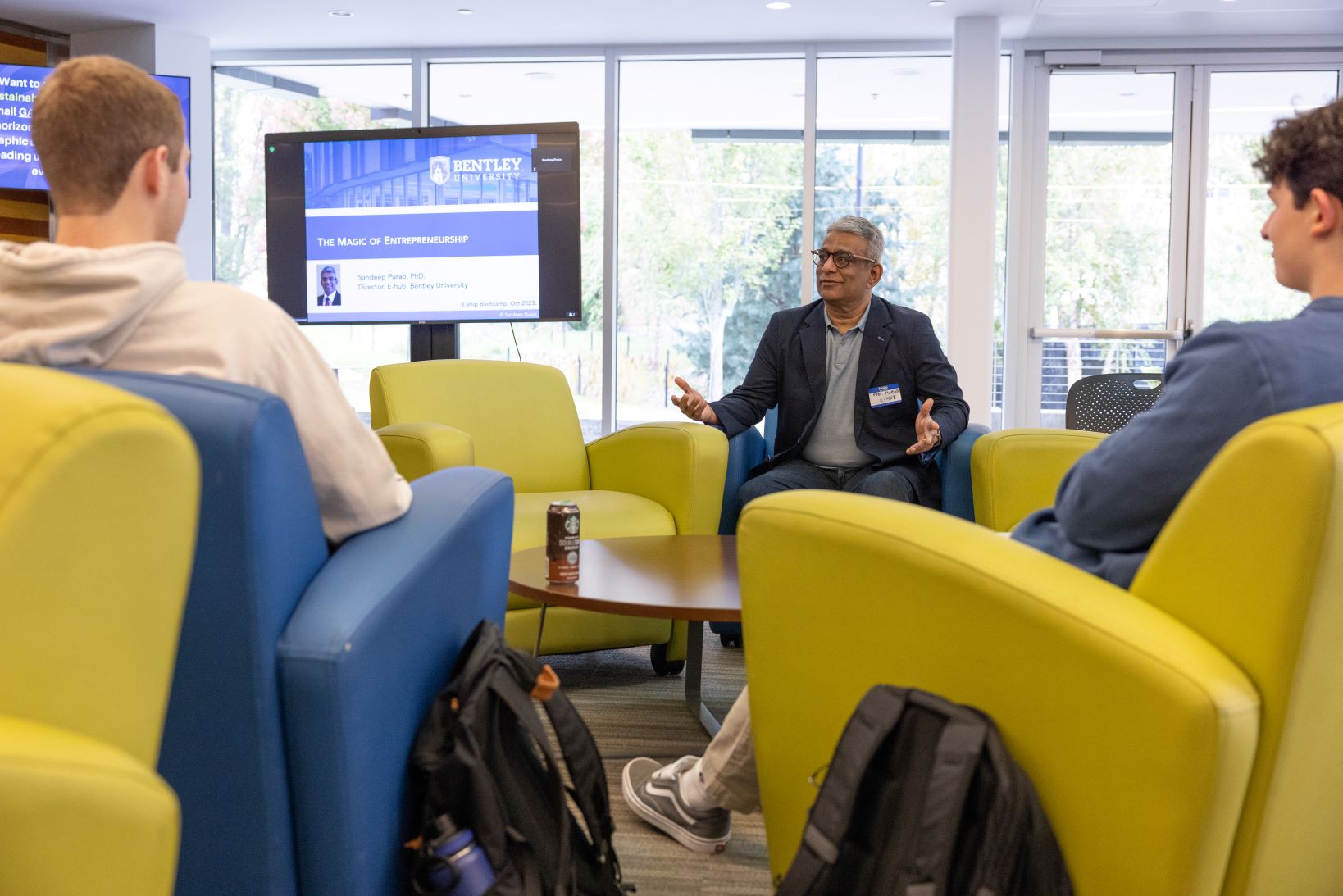 A new generation of innovation: the E-Hub at Bentley
Creating a product or service is not the only way to put entrepreneurial thinking into practice. Innovating within a family company, for example, can be an entrepreneurial venture in itself. Somers knows that path well.
After two summers interning at Goldman Sachs in the real estate area, Somers worked there for a year after graduating from Bentley, followed by a stint at a tech start-up before returning to work at the chemical company owned by his father, Steve Sr. It was 2008 — not a great time for the employment market — so his plan was to work there for just a few years and then get an MBA. Half his plan held true: Somers earned an MBA from the Wharton School at the University of Pennsylvania in 2018, but he never did leave the family company.
Somers stayed on, putting his entrepreneurial talents to work. "When you work at a small company, you can come up with an idea and execute it right then. Whether it's an IT idea, new customer or new way of doing business, you can quickly pivot and change strategies, and that really worked well for us over the years to help build the company."
It worked so well, in fact, that in 2021 the family sold their company. Somers and his father both stayed on as employees, and are now exploring ways to increase their philanthropy.
With this investment, Somers is now a Great Benefactor, Bentley's highest distinction that honors its most generous and dedicated supporters — those whose total lifetime giving is $1 million or more.
"I'm thrilled with Steve's affirmation of and investment in Bentley's E-Hub," says President Brent Chrite. "Bentley students have been entrepreneurs for generations, and I'm proud of the work we're doing to give today's students the opportunities they deserve to expand entrepreneurial mindsets and hone their skills. I'm grateful to Steve for his commitment and to the many alumni who are serving as coaches, mentors and advisers."