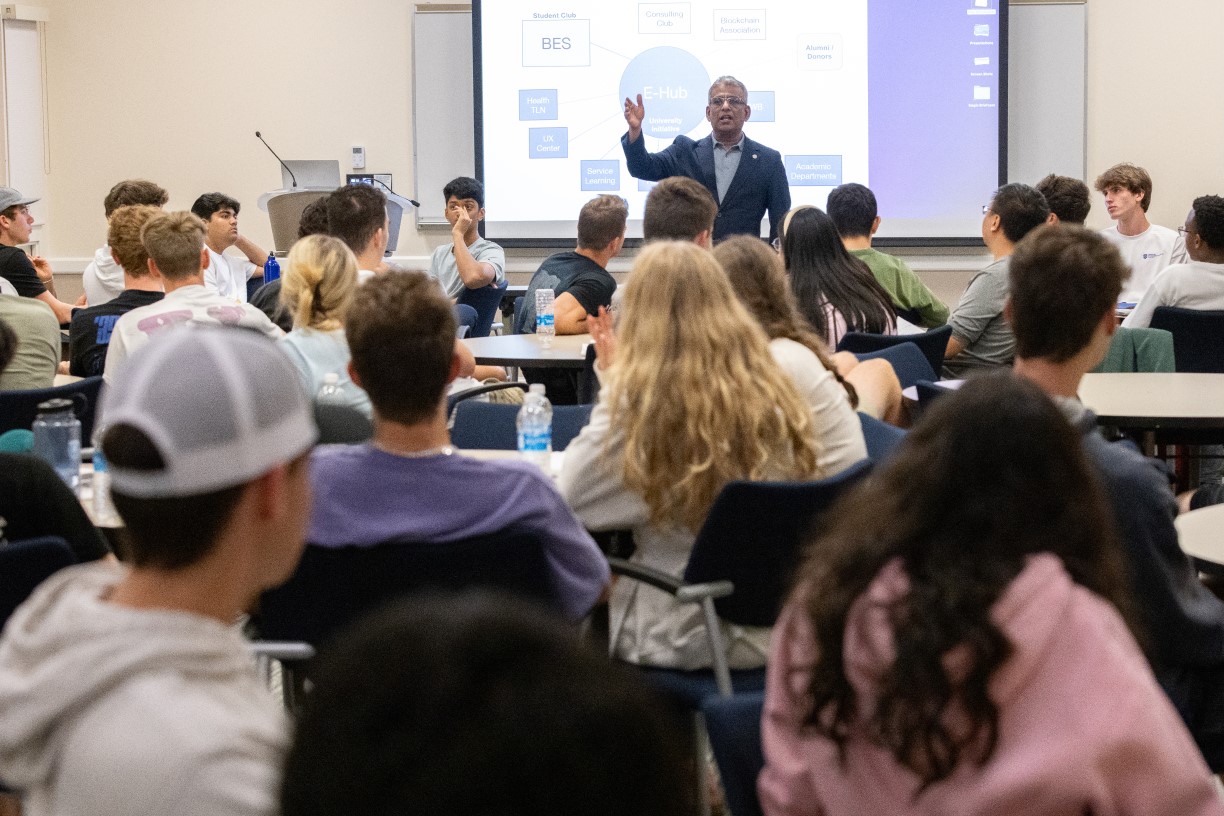 Professor Sandeep Purao, director of the Entrepreneurship Hub, speaks with members of the Bentley Entrepreneurship Society. (Photo by Maddie Schroeder)
A New Generation of Innovation
Entrepreneurship Hub helps students explore the possibilities of and pathways to building their own businesses
Sandeep Purao says it's time to debunk the myth of the "genius" entrepreneur. 
To be clear, the Trustee Professor of Computer Information Systems (CIS) isn't dismissing the ingenuity and achievements of business moguls like Jeff Bezos, Elon Musk and Mark Zuckerburg. But Purao doesn't believe that successful entrepreneurs possess innate, ineffable abilities that give them a distinct competitive edge. As he explains, "It's not enough to simply have a brilliant business idea. Entrepreneurs draw upon a broad range of knowledge and skills, nearly all of which can be learned and developed, to ensure that their innovations have impact."   
As director of the university's new Entrepreneurship Hub (E-Hub), Purao is committed to helping Bentley students discover and develop these essential qualities. The E-Hub initiative — made possible, in part, by a generous donation from Stephen Somers '08, entrepreneur, philanthropist and managing director of Vigon International, and his wife, Samantha — consists of both academic courses and co-curricular activities that collectively introduce students to the fundamentals of entrepreneurship and provide options for continued exploration based on personal interest.
"Entrepreneurship is more than just a course, a curriculum or a career — it's a way of thinking and a way of acting," Purao says. "Through the E-Hub, Bentley is creating a comprehensive ecosystem that provides opportunities for students to cultivate an entrepreneurial mindset and skillset."  
He also emphasizes the E-Hub's intention to educate and inspire all Bentley students, not just those intent on becoming the next Steve Jobs. "Our goal is to make students aware of the many pathways and possibilities that exist in the entrepreneurial space," including family businesses, non-profit organizations and social enterprises, he explains. "Whether or not they decide to start their own businesses, the knowledge and skills they've gained through their E-Hub experiences will set them up for success in their chosen careers."  
Entrepreneurship is more than just a course, a curriculum or a career — it's a way of thinking and a way of acting.
Director, Entrepreneurship Hub
While some E-Hub components, such as Bentley's minor in Entrepreneurial Studies, are pre-existing, others have recently debuted or will be implemented in the months ahead. Purao notes that the Bentley Entrepreneurship Society, a student-led organization for which he serves as faculty adviser, has played an integral role in conceptualizing E-Hub activities. Last spring, for example, the society organized a Start-Up Fair to celebrate students with emerging business ventures, including Lucas Vanroybos '23, founder of EndorseMate, which facilitates endorsement deals for college athletes, and Anastasia Liakopulos '24, who started House of Clio with her sister to sell original jewelry designs that reflect their Greco-Panamanian heritage. 
The organization also co-hosted E-Hub events in the Somers Garage, a newly dedicated meeting space in Jenison Hall where its members — and those from other student groups, such as the Bentley Consulting Association and Bentley Blockchain Association — can gather with faculty and alumni mentors to discuss, develop and launch their own start-ups. 
Mourad Mokrani '26, vice president of operations for the Bentley Entrepreneurship Society, characterizes these experiences as empowering. "When a student-run group is given the privilege of hosting industry professionals at speaker panels for their student base, it's a big deal," he says. Mokrani, who is pursuing dual majors in Management (with an Entrepreneurship concentration) and Health Studies, has also enjoyed meeting Bentley alumni who are making a positive difference through their business ventures. As he sees it, "It's our job, as Bentley students and alumni, to apply the knowledge we possess to create change where everyone benefits. As entrepreneurs, we have the potential to make a lasting impact on the world." 
RELATED: How I Made Laundry Locker with Arik Levy '96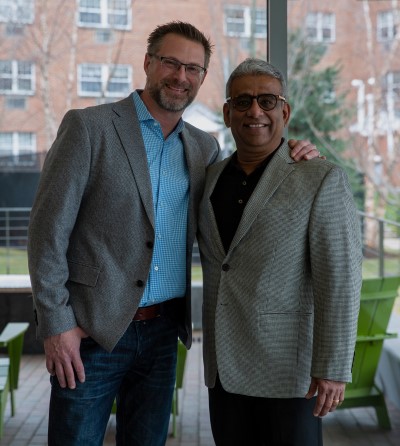 Facilitating connections between current students and Bentley alumni, Purao says, is fundamental to the E-Hub's mission: "It's important for students to engage directly with graduates who have been successful in this space and to learn from their personal and professional experiences."  
To date, alumni have led small group coaching sessions on topics ranging from how to build a pitch deck to the ABCs of angel investing and participated in panel discussions as part of a newly launched speaker series. Purao hopes to build on this successful start by introducing additional E-Hub events and activities — including pitch competitions, an entrepreneurship bootcamp and internship opportunities with alumni-led start-up ventures — that further engage Bentley's impressive and influential alumni network. 
Among those alumni already engaged is Arik Levy '96, a California-based serial entrepreneur and founder of three separate companies pioneering the use of 24-hour, self-service lockers for dry cleaning and package delivery, who participated in an E-Hub speaker series event in March. Having successfully sold his start-ups for upwards of $100 million, Levy now serves as general partner of Locker One Ventures, a $10 million venture capital fund focused on extending and advancing the use of public storage lockers.  
"I attribute much of my success to my Bentley education," says Levy, praising the university's holistic approach to business instruction. As an undergraduate, "I learned about every aspect of business — operational logistics, marketing, sales, finance, technology — and came out on par with many of my peers who had received their MBAs," he explains. Although "I never planned to be an entrepreneur," he says the fundamentals of business he learned at Bentley nonetheless provided the perfect springboard: "The more well-rounded you are, the more ability you have to approach a problem from any angle and find unique solutions." 
Levy's success as a business innovator, he says, "defines who I am and has shaped my life in so many ways." That's why he's proud to pay it forward as an active participant in Bentley's E-Hub initiative. "The best way I can help other aspiring entrepreneurs is to share my journey with them and help them learn from my experiences," he explains. "I'm excited to help stimulate the next generation of innovation." 
RELATED: How Paul Cheek '14 inspires the creation of socially-conscious companies